BECIL Admit Card 2020-21 for Group B and Group C Out @becil.com, Download AIIMS Bhopal Non Faculty Call Letter Here
Broadcast Engineering Consultant India Ltd (BECIL) has released the admit card for Computer Based Test (CBT) for recruitment to various Non-Faculty Group C and Group B Posts in All India Institute of Medical Sciences, Bhopal on its website -becil.com. Download Here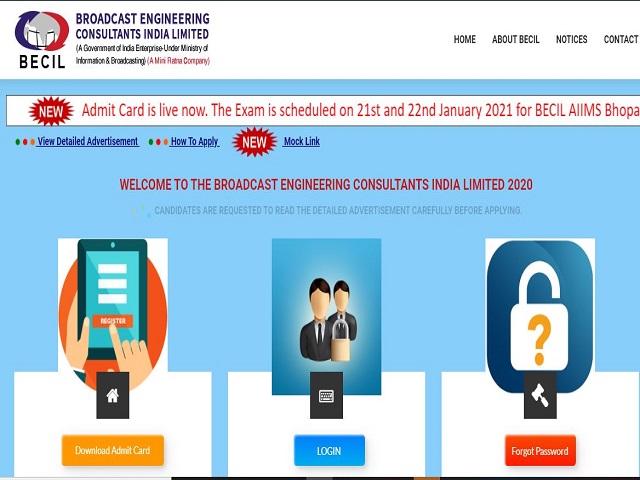 BECIL Admit Card
BECIL Admit Card 2020-21: Broadcast Engineering Consultant India Ltd (BECIL) has released the admit card for Computer Based Test (CBT) for recruitment to various Non-Faculty Group C and Group B Posts in All India Institute of Medical Sciences, Bhopal on its website -becil.com. Candidates can download BECIL Non Faculty Admit Card, from the official website i.e. becilaiimsbhopal.cbtexam.in.
BECIL Admit Card Link is given below. The candidates can download BECIL AIIMS Bhopal Admit Card, directly, through the link:
BECIL Admit Card Download Link
How to Download BECIL Admit Card 2021 for AIIMS Bhopal Non Faculty Posts ?

Go to official website of BECIL Recruitment - becilaiimsbhopal.cbtexam.in
Click on the link - 'Download Admit Card'
A new window will open where you need to enter your Login ID and Password
Download BECIL Non Faculty Admit Card for AIIMS Bhopal
BECIL Exam is scheduled to be held on 21 January 2021 (Thursday) and 22 January 2021 (Friday).
BECIL Exam Pattern for Non Faculty at AIIMS Bhopal
The test will consist of one paper and consist of 90 multiple choice objective type questions on English, Math, Logical reasoning, GK/GA or English, Hindi, Math, Logical reasoning, GK/GA, depending on the level of post.
There will be a total of 90 questions, each carrying equal marks.
The Paper shall be of 90 minutes duration
The medium of the exam is Hindi/English
The exam is being conducted to fill 700+ following Group C Posts and Group B Posts in AIIMS Bhopal:
Sanitary Inspector Grade-II (Group C)
Manifold Technician (Gas Steward) (Group C)
Cashier (Group C)
Electrician (Group C)
Stenographer (Group C)
Assistant Laundry Supervisor (Group C)
Security Cum Fire Jamadar (Group C)
Modellar (Artist)(Group C)
Jr Scale Steno (Hindi) (Group C)
Junior Warden (House keepers) (Group C)
Operator (Group C){E&MI/Lift Operatort
Plumber (Group C)
Wireman (Group C)
Upper Division Clerk (Group C)
Social worker (Group C)
Gas/Pump Mechanic (Group C)
Library Attendant Grade ll (Group C)
Store Keeper-cum-Clerk (Group C)
Lower Division Clerk (Group C)
Dissection Hall Attendant (Group C)
Mechanic (Air Conditioning & Refrigeration (Group C)
Mechanic {E&M) (Group C)
Lineman {Electrical (Group C)
Manifold Room Attendant (Group C)
Driver (Ordinary Grade) (Group C)
Tailor Grade III (Group C)
Data Entry Operator Grade (Group C)
Office/Stores Attendant (Multi-Tasking) (Group C)
Hospital Attendant Grade III (Nursing Orderly) (Group C)
Public Health Nurse (Group B)
Ass. Admin Officer (Group B)
Asstt. Engineer (A/C & R) (Group B)
Assistant Engineer Civil (Group B)
Asstt. Store Officer (Group B)
Dietician (Group B)
Legal Assistant (Group B)
Librarian Gr.1 (Document List) (Group B)
Manager/Supervisor/Gas Officer (Group B)
Medical Social Service Officer Gr.1 (Group B)
Medico Social Worker (Group B)
PACS Administrator (Group B)
Private Secretary (PS) (Group B)
Technical Officer (Technical Supervisor) (Group B)
Transport Supervisor (Group B)
Warden (Hostel Warden) (Group B)
Assistant Security Officer (Group B)
Audiologist (Group B)
Junior Reception Officer (Group B)
Junior Accounts Officer (Accountant) (Group B)
Junior Hindi Translator
Laundry Manager (Group B)
Librarian Gr. III (Group B)
Medical Record Officer (Group B)
Multi Rehabilitation Worker (Physiotherapist) (Group B)
Occupational Therapist (Group B)
Office Assistant (NS) (Group B)
Officer Superintendent (Group B)
Personal Assistant (PA) (Group B)
Psychiatric Social Worker (Group B)
Radiographic Technician Grade I (Group B)
Store Keeper (Group B)
Speech Pathologist (Group B)
Technical Assistant/Technician (Group B)