CBSE Class 10 Hindi A Syllabus 2023: The Central Board of Secondary Education (CBSE) is going to conduct the Hindi A Board Exam for Class 10 on March 17, 2023. Students preparing for the exam must check the revised CBSE syllabus here before they wind up with their last minute preparations so that they do not miss any important point.
We have provided below the CBSE Syllabus 2022-2023 for Class 10 Hindi A subject. This syllabus is helpful for students to understand the course structure and the pattern of examination. They must go through the syllabus and plan their studies accordingly. The CBSE Class 10 Hindi A Syllabus 2022-2023 can be downloaded in PDF from this article.
Must Read|
CBSE Class 10 Hindi A Course Structure 2022-2023 (Code No. 002)
हिंदी पाठ्यक्रम-अ (कोड सं.002)
कक्षा 10वीं हिंदी- अ परीक्षा हेतु पाठ्यक्रम विनिर्देशन 2022-23
प्रश्नपत्र दो खंडों 'अ' और 'ब' में विभक्त होगा।

खंड 'अ' में 49 वस्तुपरक प्रश्न पूछे जाएंगे, जिनमें से केवल 40 प्रश्नों के ही उत्तर देने होंगे।

खंड 'ब' में वर्णनात्मक प्रश्न पूछे जाएंगे। प्रश्नों में उचित आंतरिक विकल्प दिए जाएंगे।
भारांक - 80(वार्षिक बोर्ड परीक्षा) +20(आंतिरक परीक्षा)
Related: CBSE Class 10 Hindi A Sample Paper, Marking Scheme for Board Exam 2023
Section A (Subjective Questions)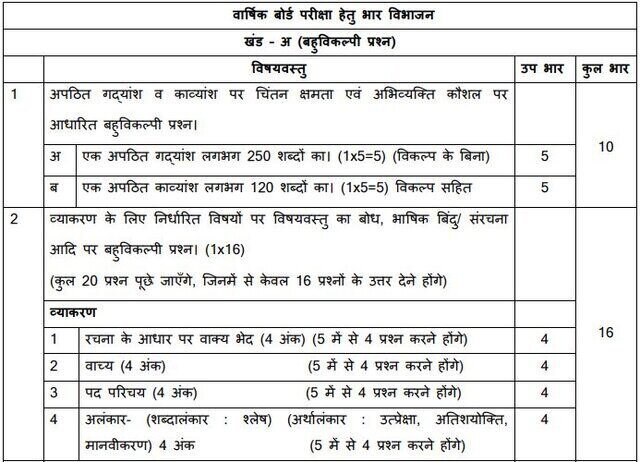 ALSO CHECK: CBSE Class 10 Syllabus for Academic Session 2022-23 (All Subjects)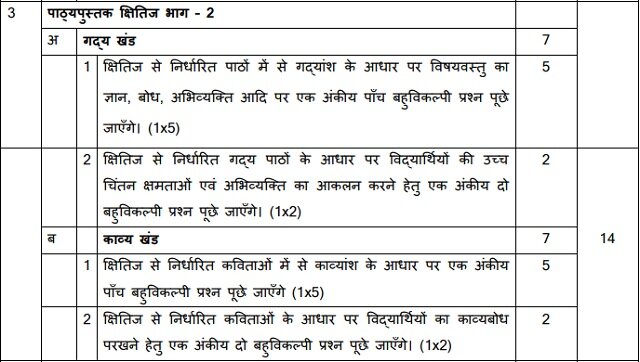 Section B (Descriptive Questions)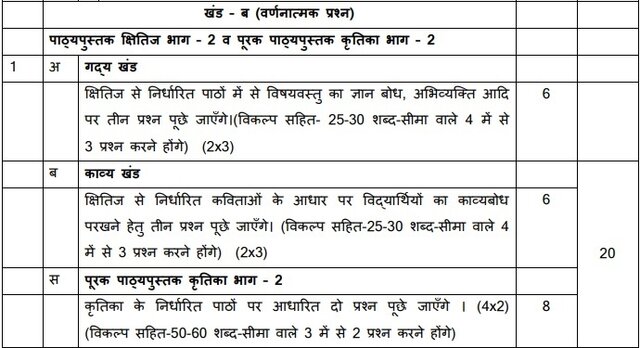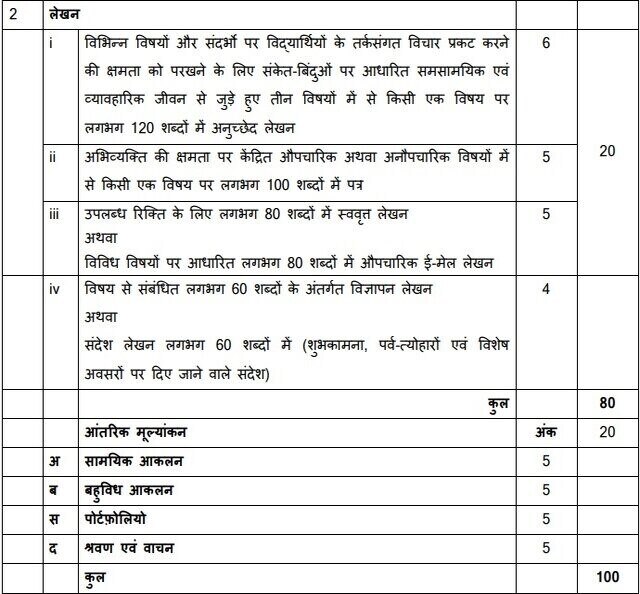 Prescribed Books for CBSE Class 10 Hindi Course A
निर्धारित पुस्तकेंः
1.क्षितिज, भाग-2, एन.सी.ई.आर.टी., नई दिल्ली द्वारा प्रकाशित नवीनतम संस्करण
2.कृतिका, भाग-2, एन.सी.ई.आर.टी., नई दिल्ली द्वारा प्रकाशित नवीनतम संस्करण
CBSE Class 10 Hindi A Deleted Chapters from Syllabus for 2022-23 Session:
Certain chapters have been removed from the CBSE Class 10 Hindi A Syllabus 2022-2023 as a part of rationalising the syllabus. Students must know the names of these chapters to avoid reading any irrelevant content during their course.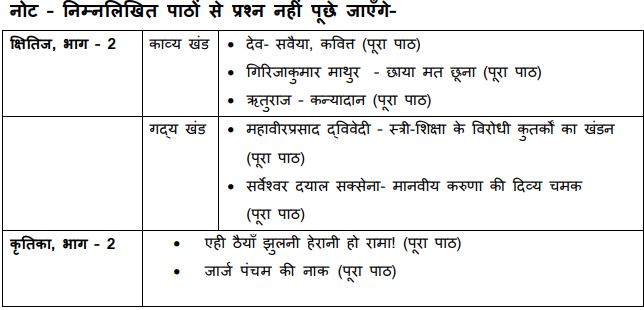 CBSE Class 10 Hindi A Paper Pattern for Annual Board Exam 2023
CBSE Class 10 Hindi A Question Paper 2023 will have questions of objective and subjective types. The paper will be divided into 2 sections:
Section A with objective type questions based on unseen passage, grammar and textbooks. It will be for total 40 marks.
Section B with subjective type or descriptive type questions based on textbooks and writing skills.
The question paper will be of total 80 marks. 20 Marks will be calculated from the internal assessment.
Related: CBSE Class 10 Hindi Exam: Letter Writing Format with Important Examples for Full Marks
NCERT Books for Class 10 Hindi (Latest Edition)
Related Syllabus:
Now practise with the best resources available for you to ensure best performance:
Best of luck to all the candidates.