CBSE Class 10 Science Topper Answer Sheet: CBSE Class 10 Science Exam 2023 is going to be held on March 4, 2023 (Saturday). Students would definitely want to give their best in this major exam before Holi, so that they can enjoy the festival of colors happily without any regrets about the exam. Along with practice and revision of syllabus, the way of writing the exam also matters a lot. And to learn the exam writing skills, nothing can be better than following the topper answer sheets.
The Central Board of Secondary Education (CBSE), every year, releases the answer sheets of the subject toppers of the last year's board exams. The board releases these answer sheets to present as the model answers for the candidates to learn from them how to write precise answers in board exams to secure best marks. We have provided here the CBSE Class 10 Science Topper Answer Sheet of Board Exam 2022 in PDF. Students must go through this answer sheet to learn the answer writing and presentation skills followed by the topper that helped him in securing the highest marks.

CBSE Class 10 Science Topper Answer Sheet 2022 Preview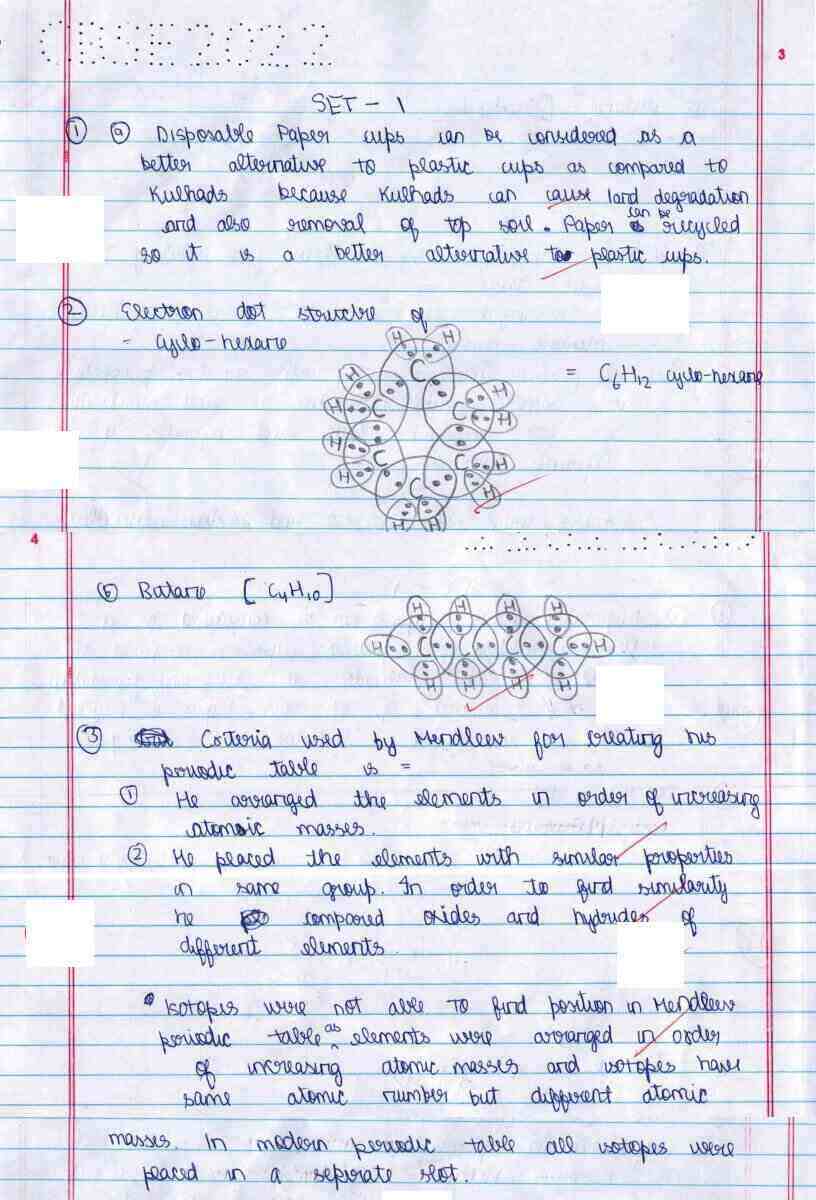 Check the complete answer sheet from the following link:
You can also check the topper answer sheets for years 2020, 2019 and 2018 from the respective links as given below:
Important exam writing tips for CBSE Class 10 Science Exam 2023
If you also want to join the list of CBSE toppers and grab a place in the hall of fame, then here are important exam writing tips for you.
Read the question paper carefully in 15 minutes reading time and mark your preferable questions.
It's better to solve questions starting from the first section to the last.
Do not spend more than the required time on a question.
Write the answers according to their weightage.
Do not stick to a question if you cannot answer it. It's better to move to the next question.
Try to add figures and diagrams wherever possible in your answers.
Highlighting or underlining headings, important points or keywords is the best way to present your knowledge.
Be careful about the symbols and signs used in chemical reactions.
Keep your answers concise, do not write long form answers.
Try to maintain speed and accuracy.
Do not forget to revise your answer sheet at last.
Important Study Materials for CBSE Class 10 Science Board Exam 2023
Also check the following study materials which will help you in last minute revision for the CBSE Class 10 Science Board Exam 2023.
CBSE Class 10 Science Deleted Syllabus
CBSE Class 10 Science Sample Paper for Board Exam 2023
CBSE Class 10 Science Important Questions and Answers