CBSE Class 9 Social Science Exam 2020-2021: Check Chapter-Wise Important Questions with Answers
Get chapter-wise important questions and answers for all chapters of CBSE Class 9 Social Science subject. All these questions are prepared by the subject matter experts.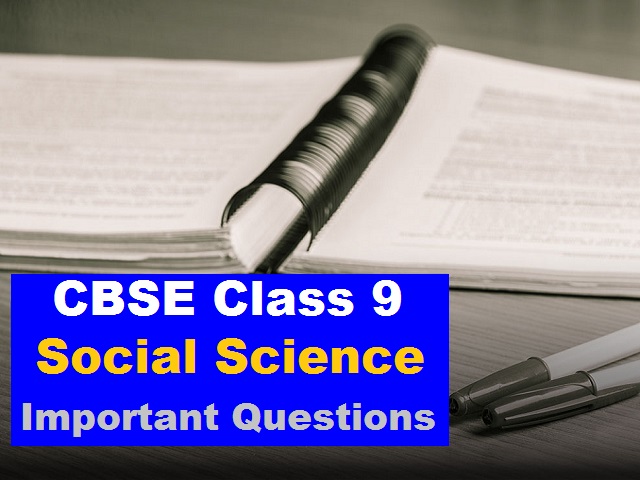 CBSE Class 9 Social Science Important Questions and Answers
Important questions and answers for CBSE Class 9 Social Science subject are provided here to help you prepare for the upcoming CBSE Annual Exam 2020-2021. Here, you will find important questions from all chapters of Class 9 History, Geography, Civics and Economics. This question bank is prepared by the subject matter experts after analysing the previous years' examination trends. It covers important terms and concepts that you must prepare thoroughly for the Social Science exam. Answers to all the questions have been provided for your convenience so that you can check the correct answers while practicing with the questions and improve your mistakes. While checking the answers, try to understand the format of the answers carefully. Most of the answers have been structured into small paragraphs and bullet points. This not only makes it easier to learn the answers but also is the appropriate way of presenting your answers. Therefore, with the help of important questions and answers provided here, students can also learn the answer writing skills that will help them secure maximum marks in their annual exam.
Chapter-wise important questions and answers for CBSE Class 9 Social Science can be accessed from the following links:
All the important questions are entirely based on the NCERT Class 9 Social Science book. Therefore, before working on these questions, students should read the NCERT Book thoroughly to have a clear idea of the concepts, topics and terms occurring in the subject. Only then students will be able to understand the questions properly and script the right answers for them. We have provided below the links to check the latest NCERT Book and NCERT Solutions for CBSE Class 9 Social Science:
NCERT Books for Class 9 Social Science (Latest edition for 2020-2021)
NCERT Solutions for Class 9 Social Science - History, Geography, Civics & Economics
Also Check: CBSE Class 9 Social Science Complete Study Material for Annual Exam 2020-2021