Gandhi Jayanti Board Decoration Ideas 2023: India is about to celebrate one of its most important days from the calendar, Gandhi Jayanti. On 2nd October, India will celebrate the 154th Birth Anniversary of Mahatma Gandhi, the greatest freedom fighter of the country who gained respect and momentum in the foreign land as well. To commemorate the remarkable philosophies, deeds, and struggle for liberating India from British rule, Gandhi Jayanti is marked as a national holiday in the calendar. It is one of the three national holidays celebrated in India. Worldwide, this day is observed and celebrated as 'International Day of Non-Violence' to honor Mahatma Gandhi's philosophy on Non-Violence. Gandhi's approach towards non-violence gained worldwide respect and love since it brought the idea of fighting through facts, in the world. He introduced the concept of winning war through words, conversations, messages, laws, and facts instead of nuclear weapons and murders. Schools organize grand events to celebrate the day with great enthusiasm. Students take part in the decorations, skits, plays, dramas, competitions, and various such interesting activities.
Gandhi Jayanti is an important day for schools as well since they teach about the Indian freedom struggle, our national heroes and freedom fighters who fought until the last ounce of blood and sweat ended in their bodies. It is not just a day, it is a festival of celebrating freedom fighters like Mahatma Gandhi who gave their all to provide us the freedom we live in today. Thus, to add to your grand celebrations on Gandhi Jayanti, here are some Gandhi Jayanti Board Decoration Ideas for School Students.
Gandhi Jayanti Board Decoration Ideas
These Gandhi Jayanti Board Decoration Ideas will enhance your Gandhi Jayanti Celebration in schools. Students will also get a chance to showcase their talent, and creativity, and add some value to their celebrations. These ideas can be used as a source of inspiration and students can use these ideas to create something new and extravagant.
Draw Sketch of Mahatma Gandhi and related historic events- Students can take advantage of blackboards and draw a sketch of Mahatma Gandhi along with some minute details of significant events led by him. Students can use colorful chalk for the sketch. This will look intriguing and creative.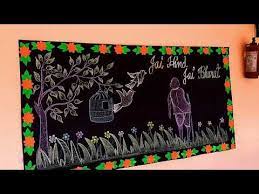 Source: YouTube
Decorate the edges of the board with handmade crafts- Classroom boards can be decorated with various handmade craft strings of various shapes. Hearts, butterflies, flowers, etc. are some of the easiest to make. This will make your classroom look colorful and attractive.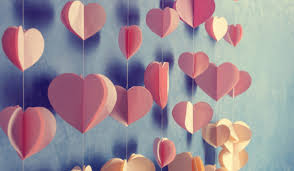 Source: Housing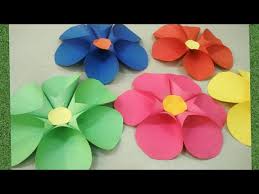 Source: YouTube
Notice Boards can be filled with drawings- Students can submit their meaningful drawings on Gandhi Jayanti or Mahatma Gandhi-related topics to the school authorities. They can then paste all the chosen ones on the notice board of the school.
Source: Pinterest
Write Slogans of Mahatma Gandhi- The classroom board can be used to write slogans of Mahatma Gandhi. Again colourful chalks can be used to write these. This will provide some relevant information to students while decorating the classroom.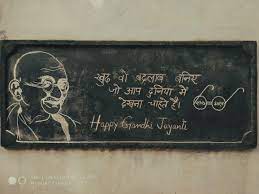 Source: YouTube
Add some Indian elements to the blackboard- Since Gandhi Jayanti is a special day for India and Indians, it would be great to add some Indian touch to the decoration. Students can either color the blackboard using tricolors or draw the flag of India. Students are open to using their own creativity and thoughts while doing this activity.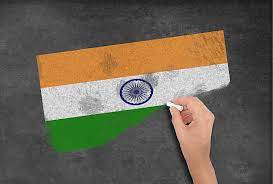 Source: iStock
Use crafts to decorate blackboard- Using crafts would give a more realistic and interesting touch to the decoration. This would also make the classroom look attractive and colorful. Students can also utilize their creativity in doing the same.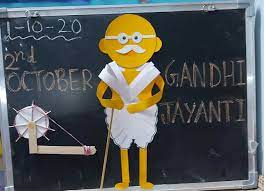 Source: Pinterest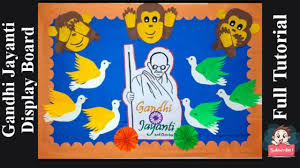 Source: Pinterest
Draw elements related to Gandhi- Here, students can draw elements and things associated with Gandhi such as round glasses, Dandi, a spinning wheel, books, and more. These associations can be drawn along with Gandhi's portrait to reflect his personality, important events in his life, and movements.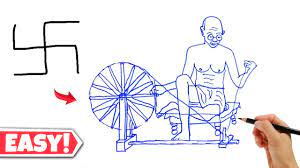 Source: YouTube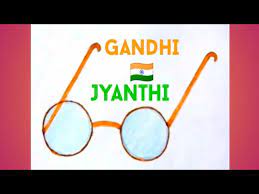 Source: YouTube
Use tricolor crafts to decorate the blackboard and classroom- Students can make a variety of crafts using tricolor to decorate the classroom and blackboard. These crafts can be used to create certain portraits or reflect on some important event related to Indian history.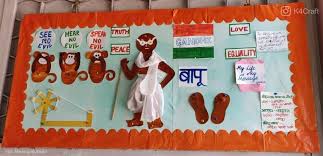 Source: K4 craft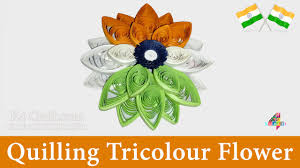 Source: K4 Craft
These are a few ideas to add to your grand Gandhi Jayanti celebrations. Students can have a close look at these pieces of art and use these as inspirations to produce something of their own. Make sure that you use your creativity, understanding of the importance of Gandhi Jayanti, and dedication to creating something good while indulging in these Board Decorations.
We hope these Gandhi Jayanti Board Decoration Ideas will prove to be of some use to you. These colorful and vibrant board decoration ideas will help you stand out from the rest of the classes and might get you the best classroom decoration certificate from the school. If you liked the article, keep following JagranJosh.com for more such educational content.
Also Check: