How to balance your startup dreams along with college?
Dreaming of building your start-up right from college days? Read, how other successful entrepreneurs manage their start-up dreams as well as college studies together.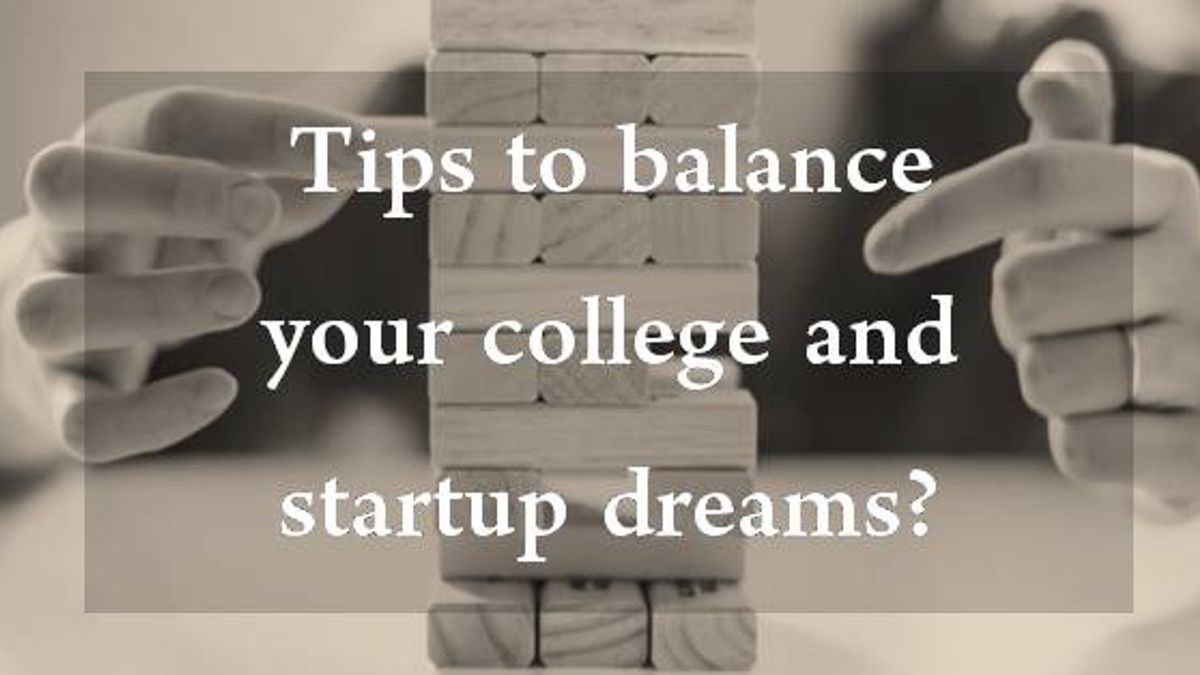 How to balance your startup dreams along with college?
Startup has become the buzzword on college campuses today. Almost, every other student in college dreams of becoming an entrepreneur and kick-start his dream venture right from the college days. This boom in the startup culture has also led to an increase in the student dropout rates in even from the most prestigious of colleges. But is dropping out of college to pursue your startup dreams the right choice? There is high uncertainty about the odds of your startup ideas success or failure. Why gamble with your future when you can balance both college and your startup dreams? Sure there are big names like Mark Zuckerberg, Bill Gates, Ritesh Agarwal etc. who are college dropouts turned successful entrepreneurs. But that doesn't mean that dropping out of college is the path to success for an aspiring young entrepreneur.
So, if you are also confused as to how you can balance your college studies and startup dreams; this article will help you out!
Use College Resources to your Advantage
Many successful entrepreneurs have termed college as the 'ideal incubator'for fresh startups, and there is a very good reason behind it. College is one place that has all the resources that you need at your fingertips. Whatever resources you need, be it academic or technical or even expert advice you have access to everything in college. Depending on your target audience of your startup, college campuses can also be the perfect beta testing grounds. Recommendations and insights gained from on your professors and peer reviews could do wonders for your startup idea. You could also gain publicity and attract investors for your ideas at the numerous competitions and conferences held in college.
Find the Right Partners
In college, you are surrounded by many like-minded people which makes it the perfect place for you to scout for right partners for your business venture. Remember it's essential to find the right partners as they are crucial to the success of your project. They need to have the same level of commitment and feeling of ownership for the project as you. You could start off with your roommate but make sure they are the right fit for the job. It's important to get people who are not just smart but also reliable and trustworthy on board for your dream project.
Don't be Afraid to Fail
Chances are your first dream project might not succeed and fail miserably. You might not even be able to recover the initial investment that you made. But remember, that not everyone succeeds the first time. But that doesn't mean that you pack your bags and leave behind your entrepreneurial dreams. Failures make you wiser. And moreover, college is the perfect place to experiment with the ideas. You are more willing to take risks as a student than later on when you'd be a working professional with loads of other responsibilities. So, don't be afraid to fail, take it as the stepping stones to success.
Make your studies and startup mutually inclusive
Looking for a startup idea to pursue your entrepreneurial dreams? Why not take up something based on your coursework? Or it could also be the other way round where you could take up a course that could help you run your business. You cannot be an expert in everything. But having a basic knowledge of things can help you run your business more smoothly. Try to make your studies and your startup idea mutually inclusive instead of viewing them as two completely different things.
8 Essential Digital Skills for College Students
Lastly, Remember that college is expensive
Remember, College is expensive, but still you and your parents have toiled hard for you be there. What use would that huge investment be, if you fail to have an active participation or get good grades to lean back on incase your venture fails to register success. Following your dreams might seem like a very lucrative idea at first, but skipping classes to work on the project is simply not justified. Therefore, finding a balance between the two is important. You might want to set apart a certain time to work on your startup project instead of having to skip classes every now and then. Remember college studies are important too.
Must read books for aspiring young entrepreneurs
To Conclude,
Hope the above mentioned tips would prove to be helpful for you in managing your startup dreams along with college. Please don't forget to share the article with your friends. For more such articles please visit, www.jagranjosh.com/college. Alternatively, you can also get them directly in your inbox by submitting your email-id in the box below.