ICSE Class 10 Chemistry Question Paper 2023: The 2023 Indian Certificate of Secondary Education (ICSE) exams, conducted by the Council for the Indian School Certificate Examinations (CISCE), began last month, and the very important Chemistry paper was conducted today from 11:00 AM to 1:00 PM. Chemistry is part of the Science course (Code: 52) in ICSE Class 10. The subject consists three papers: Physics, Chemistry and Biology. Due to the advanced curriculum of the ICSE 10th standard, the science course is divided into three sub-divisions, and separate papers are held for all three. As such, Chemistry is one of the most challenging subjects in ICSE class 10.
Chemistry is also subject that requires a good grasp of the fundamentals. Students have to learn formulas and various rules of chemistry and apply them to solve questions. Concepts like organic chemistry are also introduced in the ICSE Class 10 Chemistry syllabus. Find out the level of the 2023 ICSE Class 10 Chemistry exam here and evaluate your performance with the question paper PDF and answer key.

Related: ICSE Class 10 Chemistry Paper Analysis 2023
ICSE Class 10 Chemistry Question Paper 2023
The CISCE hasn't released the 2023 Class 10 Chemistry exam papers yet, but students can view and download the ICSE Class 10 Chemistry Question paper 2023 PDF in the following sections.
ICSE Class 10 Chemistry Paper 2023 Pattern and Type of Questions
The ICSE Board class 10 Chemistry paper was of 80 marks and two hours long.
The questions were of various types like objective, short answer and long-answer types.
15 minutes were given to students for reading the question paper.
The ICSE Class 10th Chemistry exam comprised two Sections (A and B) of 40 marks each.
All questions from Section A were compulsory, while students were allowed to choose any four questions of their choice from Section B.
ICSE Class 10 Chemistry Question Paper 2023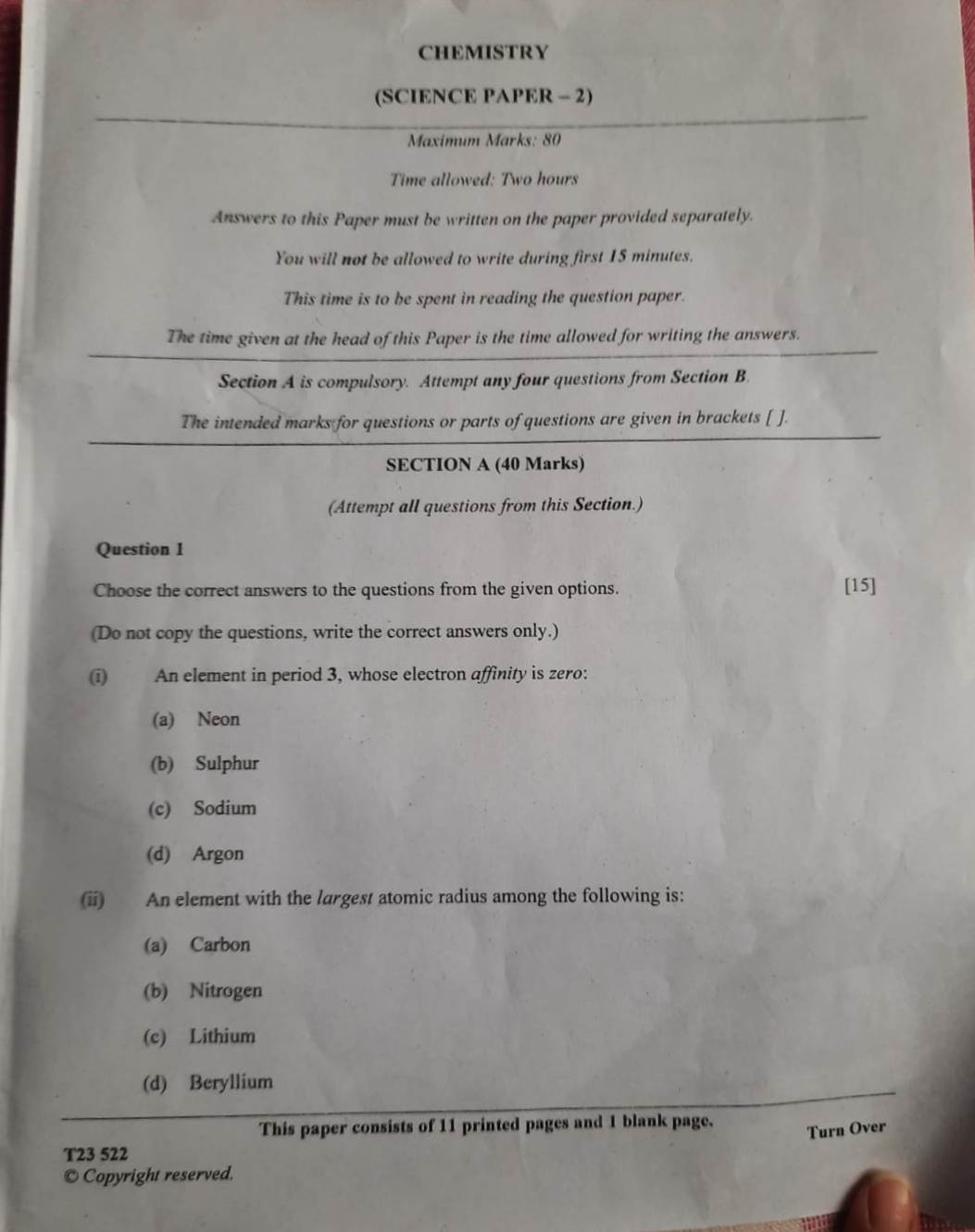 ICSE Class 10 Chemistry Question Paper Answer Key 2023
ICSE Class 10 Result Date 2023
ICSE Class 10 board exam results will be announced in May or June 2023 (tentative). The compartment exams will begin after.
You will be able to view your ICSE Class 10 Results by checking the links provided below: Until them, keep posted.
---
Check the following ICSE 10th Chemistry Material for your reference.
Other Important Study Resources for the remaining 2023 ICSE Class 10 Exams are provided below.