ICSE Geography Specimen Paper 2023 for Class 10: The Council for the Indian School Certificate Examinations (CISCE) has published the specimen papers for the Indian Certificate of Secondary Education (ICSE) exams for the ongoing 2023 exam session. The ICSE class 10th exams began on February 27, and the next paper is of Geography. It is part of the (H.C.G) History, Civics and Geography course (Code: 50) in ICSE Class 10 and is an easy-scoring subject. Geography is quite fascinating for students due to its descriptive and scientific appeal. Even though the ICSE board Geography paper is much different from other school boards, thanks to its advanced syllabus and increased difficulty level, Geography is one of the easier subjects in ICSE Class 10. One good way to increase your odds of succeeding in the subject is by solving the ICSE Geography specimen paper. In these final stages of exam preparation, analyzing specimen papers can give an idea of the exam pattern, marks distribution and the difficulty level of questions to expect. Students also gain confidence by solving sample papers as part of their last-minute revision. Check here the ICSE Geography Specimen Paper Class 10 and download the pdf.

Related:
ICSE Class 10 Geography Specimen Paper 2023
The ICSE Board Class 10 Geography paper totals 80 marks and will be two hours long.
The questions in the exam will vary between short answer, MCQs, long-answer type and map work.
15 minutes of reading time will be allotted to students before the exam only to read the question paper. Writing answers will be forbidden.
The ICSE Class 10th Geography exam will consist of two parts: I & II.
All questions from Part I will be compulsory, while students will be allowed to pick any five questions of their choice from Part II.
Related: ICSE Class 10 Geography Syllabus 2023
Check the 2023 ICSE Geography Specimen Paper for class 10 in pdf format here. The download link is attached towards the end.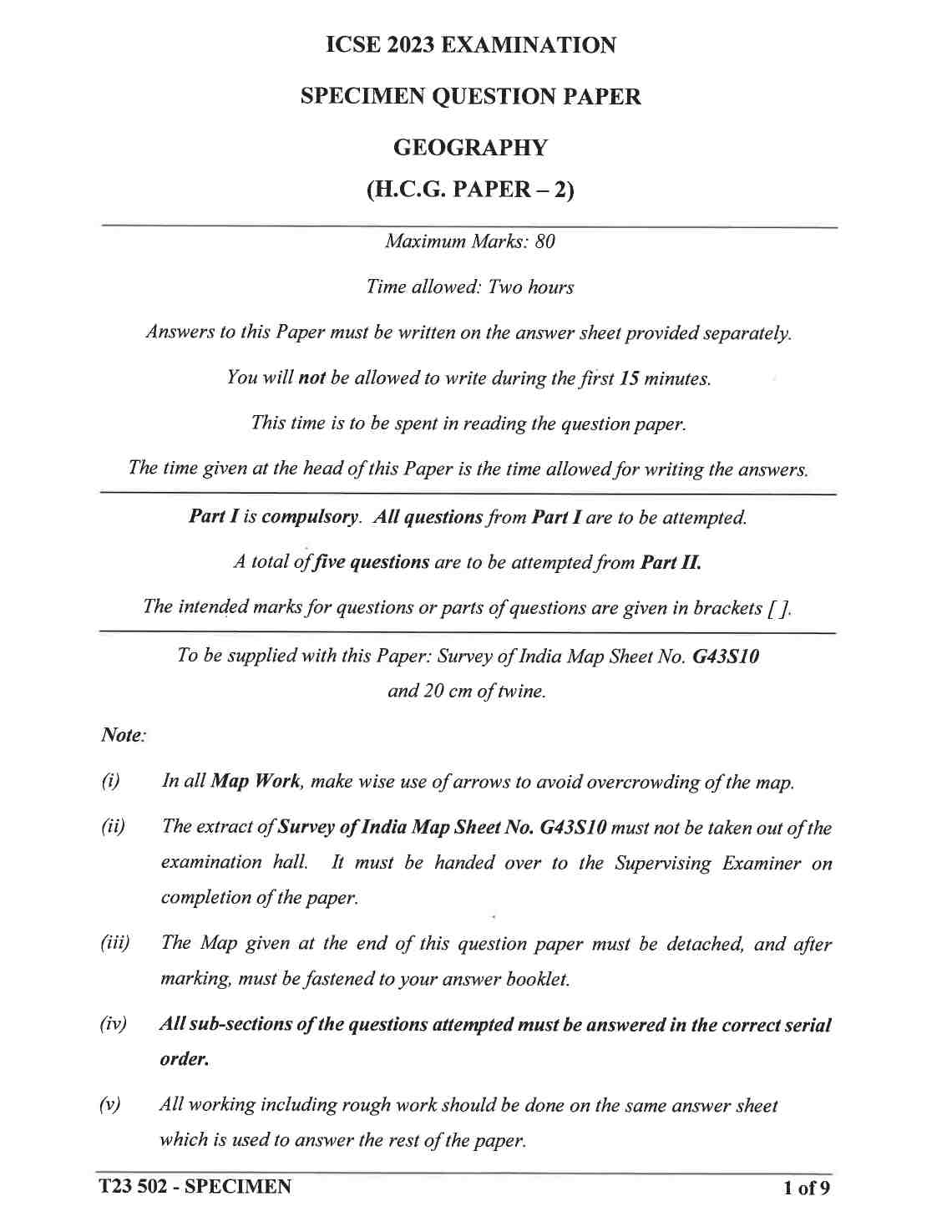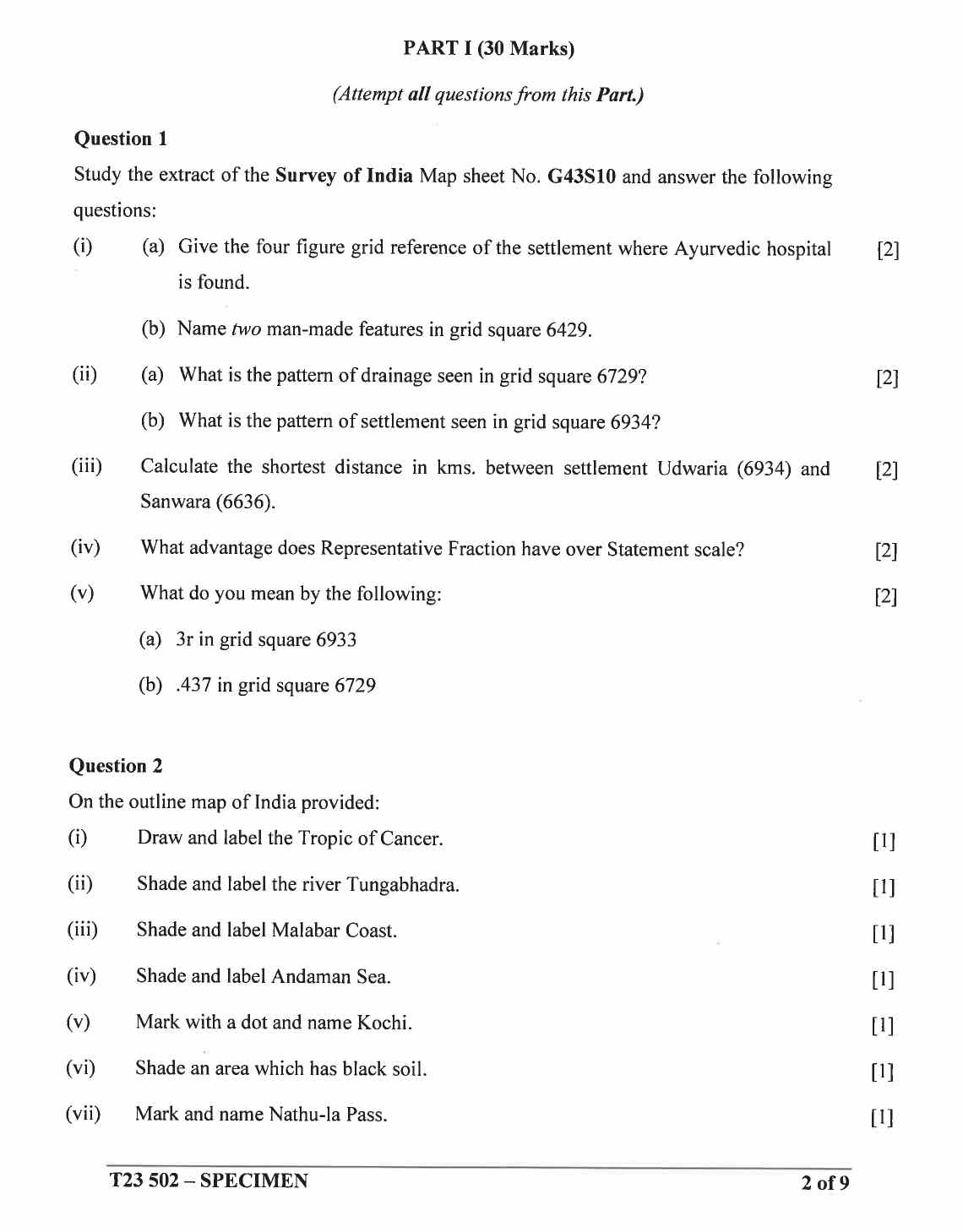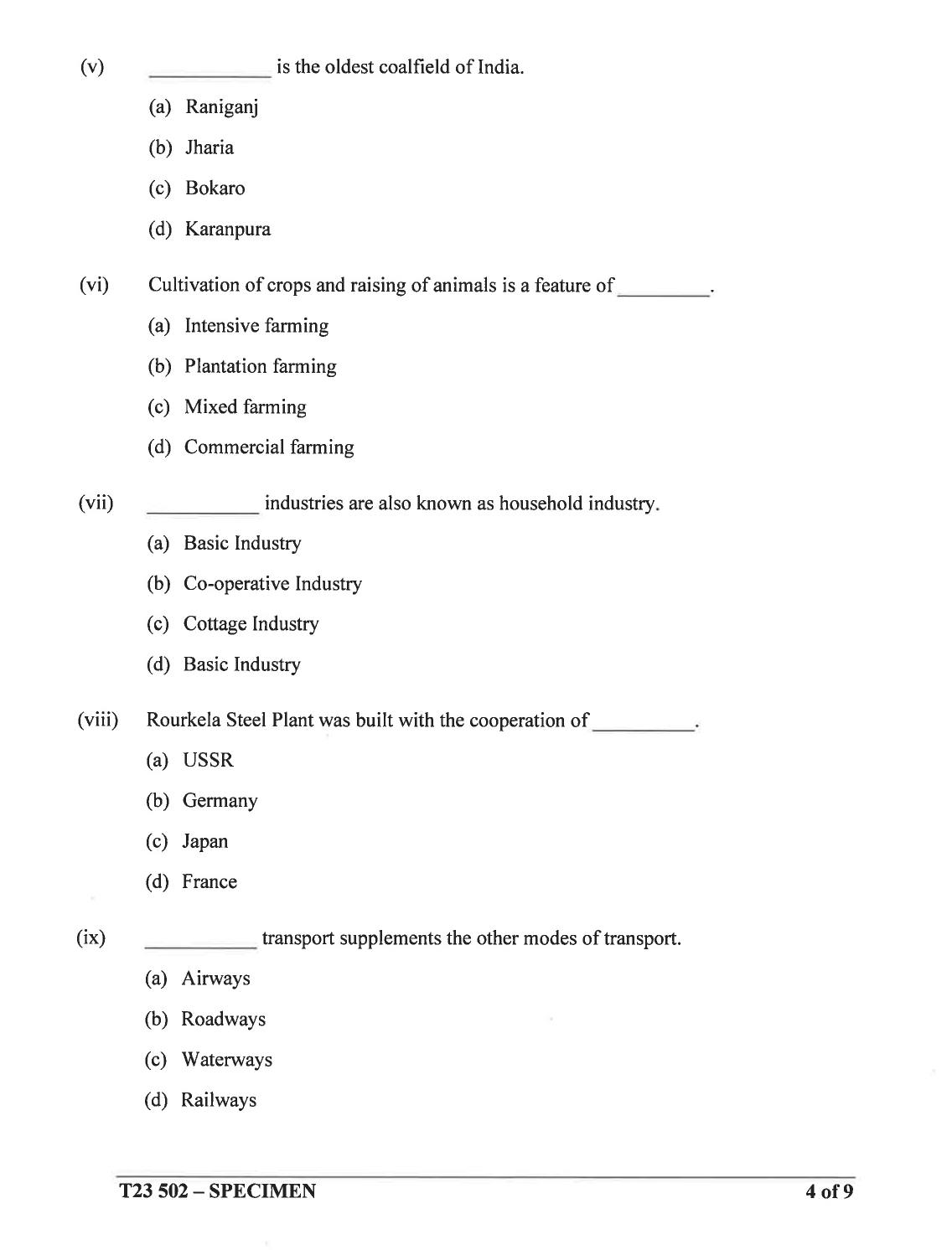 You can read and download the entire ICSE Class 10 Geography Specimen Paper 2023 below.
Check the entire list of 2023 Specimen Papers of ICSE Class 10 below.
Also Read: ICSE Class 10 Syllabus 2023
Also Read: ICSE Syllabus 2023