Mistakes To Avoid During Telephonic Interview
Job aspirants often make mistakes while facing their pre-selection screening over the phone. Here's what to avoid you while facing a telephonic Interview.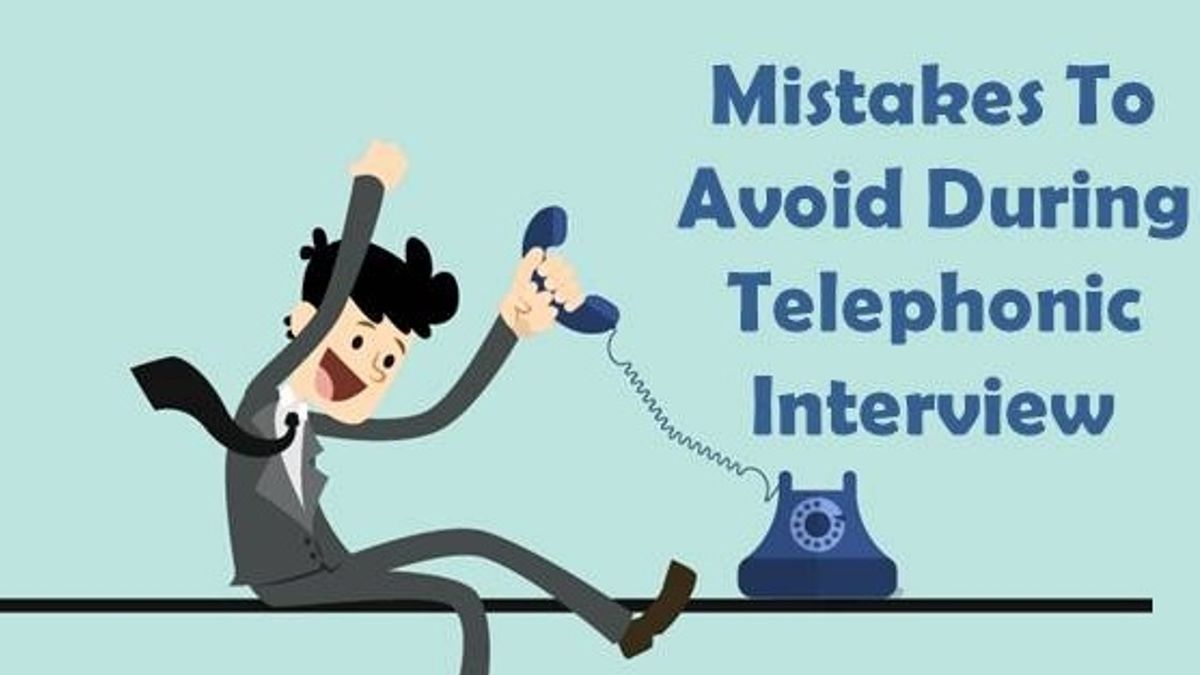 Mistakes To Avoid During Telephonic Interview
A telephonic interview is a very first interaction that takes place before the selection of the candidate for further negotiations. This method of the interview has become increasingly popular. A telephonic interview enables the employers to screen the candidates who reside at a distant place and require enough time to attend employers or interviewers. A telephonic interview is the first impression of a job aspirant. In a telephonic interview, the interviewer assesses one's ability, skills, and background as he/she does in the face-to-face interview. Therefore, making mistakes in a telephonic interview may obstruct your success.
Job aspirants often make many mistakes while facing their pre-selection screening over the phone. Here's what to avoid you if you are having a strategic talk with an interviewer over the phone.
Telephonic interview is a very first strategic talk that takes place between the employer and the candidate.
Don't Attend It Randomly
Professionals often wonder why they don't get further response from the organisation after the telephonic interview. And they continue attending telephonic interviews without fixing a specific time and taking space for preparation. They come to realise about their folly when they have had lost lot of job opportunities. So, avoid telephonic interviews, especially when you are engaged with some other works. Fix the time of the interview so that you can get space for preparation to face very first pre-selection process effectively.
Avoid Attending It from the place where you aren't comfortable
The roar of the cars passing by you, loud talks of pedestrians, and a biker asking you to pave the way can divert your attention and push to end up the interaction sooner than it had started if you attend a telephonic interview from the street outside your house. On the other hand, the sound coming from the background of your voice may push your interviewer to end the interview immediately if they remain unable to understand what you are saying. So, avoid attending telephonic interviews outside your house.
Avoid Using Cell phone or Landline that isn't functioning properly
Before getting locked into the telephonic pre-selections screening process, cross check your mobile or landline if it passing your voice as clear as you are speaking into the mike of the gadget. Try to use headphone if you opt to answer the questions of interviewer using mobile phone. This will enable you move if it is required at the time of interview. It'll be worthless if your interviewer doesn't get the answers clearly due to malfunctioning of the gadget. The situation will certainly land your interviewer in state of confusion where he will become unable to take any positive decision about you.
Avoid it if you aren't Prepared
Apart from Body language, attitude, communication skill, and ability to handle rejections, objections, and contradictions, what more an interviewer looks for is the s of the answers that he/she gets in response to his/her questions.
Job aspirant who is seeking a job needs to do little efforts in advance. He/she should do research in the company organisation where he/she is looking for a job. On another hand, it might impress the one's interviewer. One should ascertain exactly who will conduct the interview. The time duration of the interview also needs to be ascertained as it'll help in ascertaining the length of questions.
Be Clear, Concise, and Confident While Taking To Interviewer
An interviewer starts getting bored with candidate and become reluctant to continue the interview, especially when he/she doesn't get clear, concise, and confident replies. And what irks him or her most is the humming sounds that a candidate makes during the telephonic. As an interview, how long would youcontinue the interview if you are getting humming, unclear, and wordy replies? You will definitely think to give up if you remain unable to understand what candidate is saying. Practice and rehearsal might help those who often get fumble, unclear, and begin tripping over their tongue.