Jagran Josh interviewed the fiction book mogul Chetan Bhagat on 24 June 2012 in Lucknow . The celebrated 'youth centric' author talked about everything from the flaws in the education system to his journey from a high paying job man to a book guy.
When asked about teaching and education today, Bhagat stated that a lot of reforms needs to be done, and to steer the whole plan, internet is going to be needed as a catalyst. Bhagat said that the quality of work needs to be worked upon, and the whole thing needs to be revamped in order to move forward.
Bhagat admitted the fact that "whole-is-tic" education cannot be imparted to one and all and we should change our mindset of seeing education as a method of just meeting ends. In regard to grading, the writer mentioned that merely changing numbers to grades would not reduce the risk of stress, it may give a brief spell of relief, but later the stress would creep back.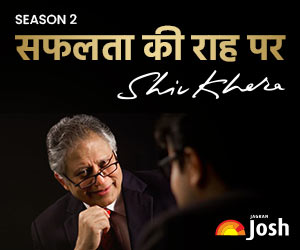 When asked about UPSC or the bank jobs, Bhagat answered back with his funny bone intact, that though government jobs are great, they have rules implied, and he doesn't really like that many rules to be followed in life. While asked about T.V and its suitable content , he stated that books can never go out of fashion and they are imperative for the complete development of a child.
By the end of the interview, Bhagat gave a complete different perspective of 'brain drain' calling it a proposed subject of globalization. He gave a rather positive undertone about the subject bringing in a pleasant change about the topic.
Excerpts From The Interview:
To start off, I would first like to ask you, what are the major differences that you see today in the education system and the time when you were student. Has it detangled itself from the complexities or it looks pretty much the same as it was?
Well, obviously education system is a very big space right from primary to higher education. I think from my time to now there has been some change like, more computers more Internet, and Internet can be a big source of education that is the positive, but the negative is that the competition has increased more and also the course material have not been revised, still it is very much old method of learning, so lot of reform is still required.
What according to you are the basic flaws of the education system today?
First is to modernize the course. NCERT books were made 30-40 years before and they are still the same. Second is the quality of education. If we talk about food, even if it is not of good quality, people eat it and satisfy their hunger. But in education, quality is essential. Poor quality education is equivalent to no education. So it is essential that there should be good quality in educational institutes. Like if we talk about IIT's, IIM's, etc. these elite institutes are moving on since ages, but new brands haven't come since last 20-30 years.
What are your ideas behind grooming of children so that they can achieve their goal comfortably?
Personality development, communication skills, knowledge of English and how to conduct in a modern globalised world is very important for achieving your goals and I think there are lots of resources on the internet we can see.
Amongst the clash of the titans, between the college and the course, what would you as a student choose? Has something thing like this ever happened to you as a student?
Firstly, student should see his aptitude that in which field he thinks he'll shine. In addition to that, he'll obviously see his numbers and see where he will get admission, he should be ready to go and pursue education away from his home, and this is what I feel. Today good education is not found everywhere and may be you won't get it from your numbers, so just be ready to travel and go to other places. So I think, keeping that in mind, student should shortlist the courses on the basis of his interest.
There is a big gap between success and efforts. How to bridge this gap?
Of course we need effort for success, but effort does not mean that success will definitely come. Sometimes it comes sometimes it won't. May be it is luck dependent, may be you are in a competitive situation and others might have put in more efforts than you , or you don't have fundamental aptitude in that field. Efforts needs to be put but efforts increases the chances of success, but there is no guarantee of success with efforts.
What according to you is the definition of quality education and how should we go about it?Enlist any five things.
The course which is being taught, the faculty, infrastructure of the institute, how modern and relevant the course is in the modern age, of course the quality of students, affiliations and the placement prospects.
Do you think we need a strong and centralized campaign aiming at 'whole-is tic' education rather than just partial saturation of education that reaches only a section of students in India?
Yes ideally we should, but we know it's a poor country, we can't give whole-is tic education to all. In fact some people even say that education is not just to get a job, it is to learn, to get knowledge, that is also whole-is tic education. But very few people in India can actually see education like that, most see education like a way to earn a living , so as an ideal its good but I think it's very far away from that.
With Kapil Sibal talking about a stress free and burden less education life via the grading system in standard 10, how do you evaluate this change? Do you think it is for the better future?
You know stress should be removed for students and maybe it's a good thing but stress also comes because of competition. Only changing numbers to grades won't reduce stress. Before students needed good numbers later they'll need good grades. May be , by introducing this in class tenth, they can reduce stress for a year or so but later it will definitely come.
Your books are based on popular fiction and don't exactly cater to a specific readership, but if given a chance to write on the present educational system of India, on what theme would you write a book?
My book five point someone and the movie 3 idiots are based on education system , so I will move in writing books focusing the education sector as far as I could, this will definitely help in improving the education system.
You went on ahead in life and quit a very well paying job to pursue writing, which has its own risks.
Do you thinks students today should game up for such risks in the era of "assembly line production" where the ritual norm is to do an MBA and aim towards a high paying job?
Well obviously nothing wrong in getting high paying job but if you have passion and if you really want to try, I think at some point in your life you should try.
'Profession which gives happiness' has become very popular phrase today. How practical it is in today's context?
Obviously, in practically also, one should give first preference to happiness than success. It's obviously balanced, it's not always that will happen what you desire. But I feel practical considerations should also be there.

Please share with us your thoughts on Government level examinations such as the UPSC or the BANK EXAMS, if given a chance to go back and change you course of life, would you appear for any of these examinations?
Well these are very good, these are good jobs and you know they are quite nice and lot of people apply for them. But I don't think it is for me. In Government jobs we have to follow lot of rules and I don't like to follow so many rules.
How popular is online tutoring with students preparing for different competitive exams? In the time of tablets and E books, what according to you is the relevance of reading and studying and actual book?
E books trend will definitely grow but not in India. In India people don't have a device for e books, so it will definitely take some time.
Students today get immensely inspired by the content shown on T.V. What according to you is the ideal content for students?
Well obviously television today is an entertainment media, but you cannot replace a school or college with television. I think some amount of education can be given in television and they give also. But it should be done in an entertaining format. If it is not entertaining it will not work.
Internet today is an integral part of the youth. How do you think can this medium be further used in the overall development of student?
From internet a person can benefit a lot if he utilizes it properly or can be harmed if he wastes his time. So I think in places like small towns and villages which do not have internet facility, if internet is made available it would be the world's best thing. I wish students should use internet to increase their knowledge.
There is a huge percentage of brain-drain happening year after year, what do you think the reason behind it? Do you think the education system can better itself so that the percentage of brain-drain drops?
Yes, I think you need more opportunities in India to lessen the amount of brain drain. As such I don't see it as brain drain, people who go abroad also send money home, they talk about India, when they do good work people notice India, so that is not brain drain. One shouldn't be so possessive; we are in the world of globalization.
Today role of industry is changing drastically, what changes do you recommend in our education system along with industry?
The course which is set, I think industry people should be involved. The professors should have industry experience.

How popular is online tutoring with students preparing for different competitive exams?
I think it is gaining popularity. People are trying and benefiting from it. For mock tests and all, it's quite good.