UP Board Exam 2023 Preparation Tip: The UPMSP exam time table was released by the board on January 10, 2023. The Matriculation (Class 10th) UP board examination is scheduled to begin on February 16th, 2023. Students have less than a month left to prepare for the examinations. Meanwhile, Uttar Pradesh Madhyamik Shiksha Parishad has published Important Suggestions for the preparation of Class 10 Board Exams 2023. In this article, students can check the complete set of preparation strategy shared by UPMSP, check the step by step guide to download it from the official website of UPMSP and also download it from the direct link provided here.
UP Board Exam 2023: Highlights
Board

Uttar Pradesh Madhyamik Shiksha Parishad (UPMSP)

Official Website

upmsp.edu.in

Stream

All subjects in UP board class 10th

Academic Year

2022-2023

Date sheet release date

January 10, 2023

Admit card release status


Released

UPMSP exam 2023 start date

February 16, 2023

UPMSP exam 2023 end date

March 3, 2023

UP Board Pre Board exam dates

January 16th and January 20th, 2023

UP Board Practical Date 2023 Class 10

Phase 1: January 21, 2023 to January 28, 2023

Phase 2: January 29, 2023 and February 5, 2023.
Related: UP Board Exam Centre List: Class 10, 12 Board Exam 2023, Download District wise List in PDF
How to download UP Board Exam 2023 Important Preparation Tips?
Check the step by step process shown below to download the Important exam preparation Tips shared by UPMSP for UP Board Class 10 exam 2023:
Step 1: Go to the official website of UPMSP at upmsp.edu.in
Step 2: Scroll down to the section of Important notifications and downloads
Step 3: Click on the link given for the notification of Important suggestions for 2023 Board Exam Preparation. A new page will open.
Step 4: Click on the link given to download UP Board High School Examination 2023 exam preparation important suggestions. PDF file will open.
Step 5: Download the PDF and refer to it for exam preparation.
UP Board Exam 2023 Preparation Tips for Class 10
Make use of UP Board Class 10 Syllabus PDFs 2022-23 and UP Board Class 10 Model Papers 2022-23 provided by UPMSP.

Candidates are advised to make their own time table for studying so that they can prepare and revise the syllabus.

In case of any doubt in any subject, topic or concept, contact your school teachers so that you can clarify it on time.

It is important to stick to the time limit for the examination. Therefore, students must attempt the given UP Board Class 10 Model Papers 2022-23 for each subject while sticking to the time limit.

Students should refer to the study materials/ videos provided on Diksha Application and the YouTube channel E-Gyan Ganga.

The question paper will be divided into two sections. Section A will have Multiple Choice Questions and Section B will have Descriptive Questions.

MCQs are to be answered in the O.M.R provided in the exam centre and the Descriptive answers should be written in the answer sheets provided in the centre. Check

New Exam Pattern for Class 10, OMR sheet Fill Up Guidelines

Do not use over-write or cut the answers in OMR sheet. Mark your answers in the OMR only after you are sure of the answers. Answers not marked properly in the OMR will not be evaluated.

Students are advised to read the questions and instructions very carefully before they start writing the answers.

Carefully write the correct question number for each answer.

Attempt the questions section wise. Write the answers to the question according to the sections in the question paper.

Answer the questions that you are confident on first. Do not waste time on difficult questions.

Maintain a neat and clean appearance of the answer booklet.

Ensure that you have answered all the questions that are required to be answered from the question paper after you have finished the paper.
UP Board Preparation Tips for Hindi Class 10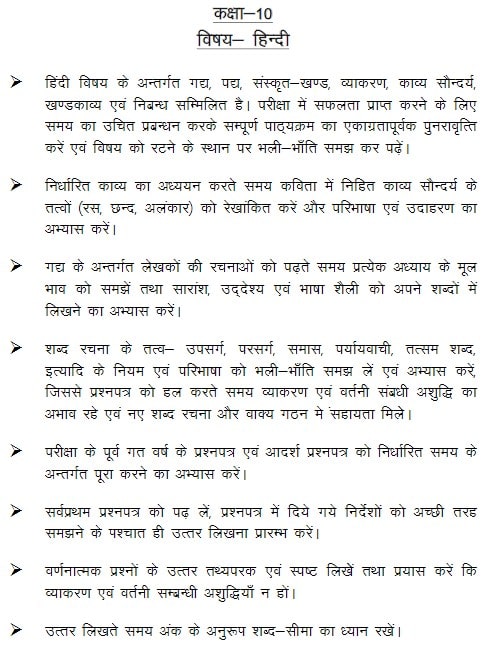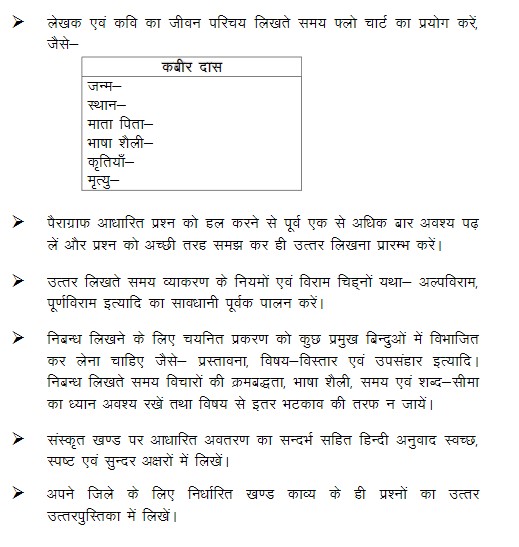 Related:
UP Board Preparation Tips for Social Science Class 10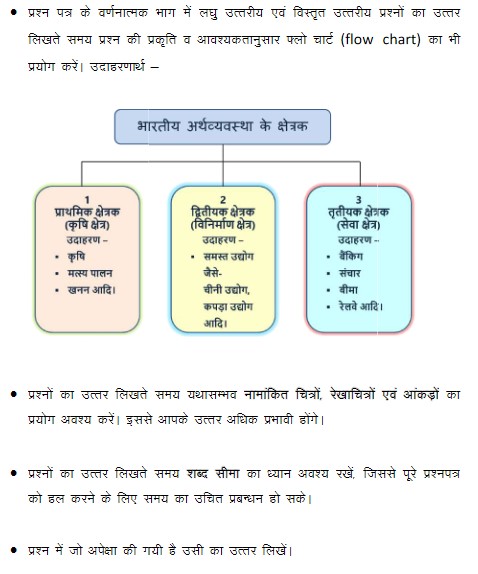 Related:
UP Board Preparation Tips for Science Class 10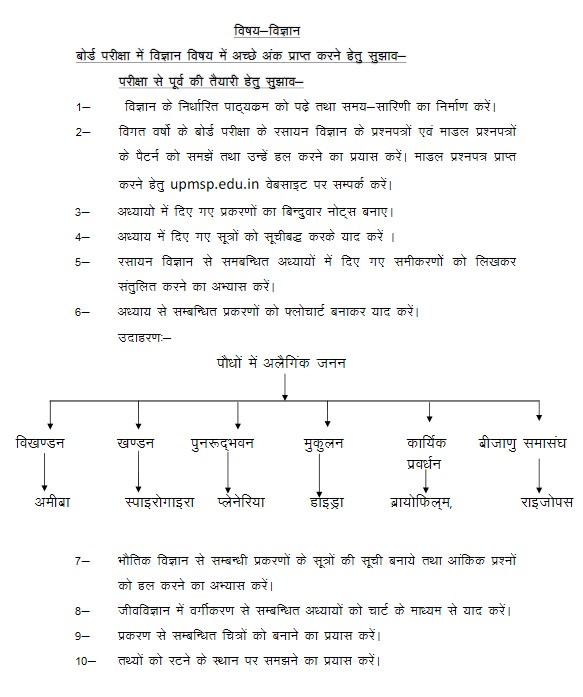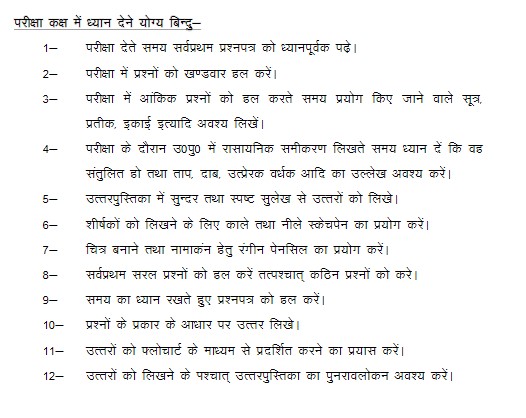 Related:
UP Board Preparation Tips for Math Class 10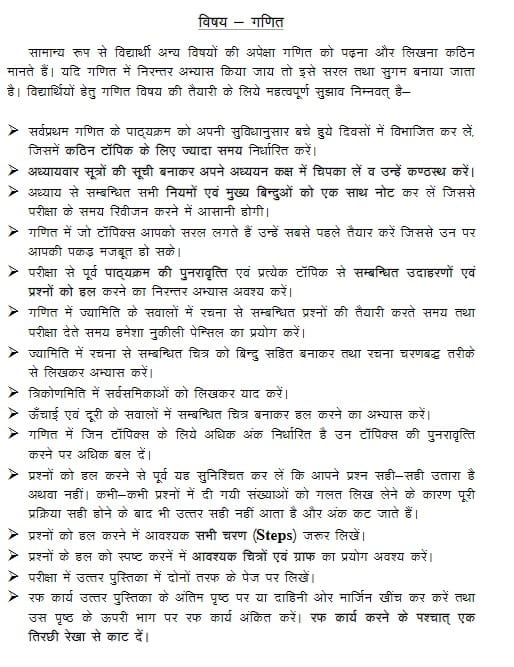 Related:
UP Board Preparation Tips for English Class 10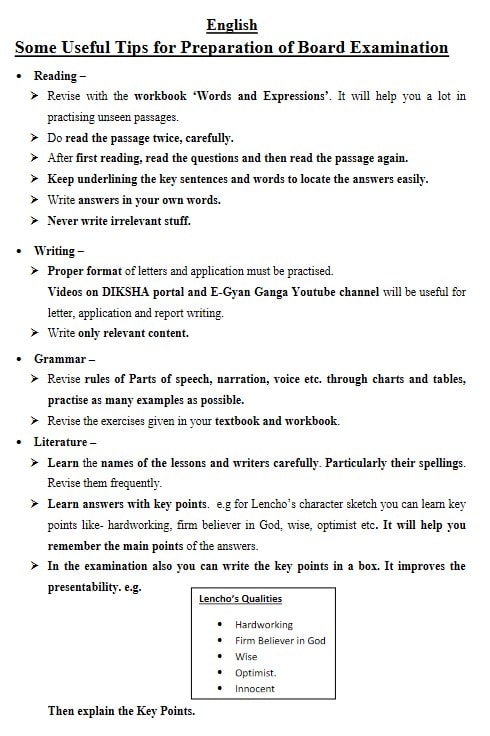 Related: