UP Board Class 11 Computer Syllabus 2023-24: In today's world we almost entirely rely on technology for every single task. From talking to someone in the next room to going to market, we need technology. This shows that the future in this field is bright. If go around a decade back owning a computer used to be a great deal. But now it seems to be not normal if someone doesn't have this technological gadget in their home. Learning computers and their language has become very important to understand the new updates happening in the world of technology. Thus educational boards emphasise on learning about computers.
UP Board or Uttar Pradesh Board has now published the syllabus for Computer subject Class 11. This syllabus is for the academic year 2023-24 and can be downloaded from here. In this article, you will be able to see the Class 11 Computer syllabus in English and Hindi. The course structure and practical part are discussed properly. Keep your eye on this post to have a detailed view and understanding of the Class 11 Computer UP Board syllabus 2023-24.
UP Board Class 11 Computer Syllabus 2023-24 (English)
The written examination of this subject will be of 60 marks in one question paper of three hours duration. Apart from this, there will also be a practical exam of 40 marks. The time duration of three hours will be fixed for the practical exam. In order to pass, the candidate will have to score a minimum of 20, 13 and 33 marks in written, practical and aggregate respectively.
| | |
| --- | --- |
| Units | Marks |
| Computer Fundamentals and Number Systems | 15 |
| Introduction to Python Programming | 10 |
| Programming in Python | 15 |
| Artificial Intelligence | 10 |
| Emerging Technologies | 10 |
Practicals (Max Marks: 40)
1. Four 04 Programs based on Unit 2
2. 04 Four Programs based on Unit Three (03)
3. Mini Project on Artificial Intelligence (AI)
20 Marks
Two experiments based on the above

(8X2=16)

Viva based on the above

(04)
20 Marks
Summany Project (Based on AI)

(08)

Project basis viva voce

(04)

Assignments

(08)
UP Board Class 11 Computer Syllabus 2023-24 (Hindi)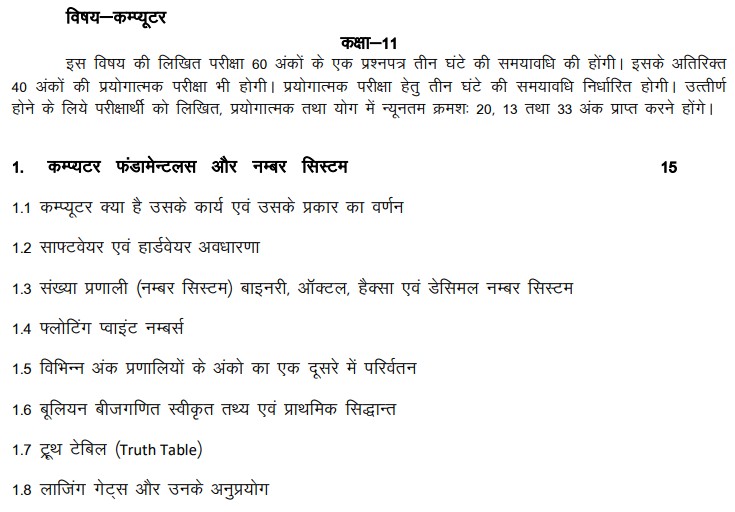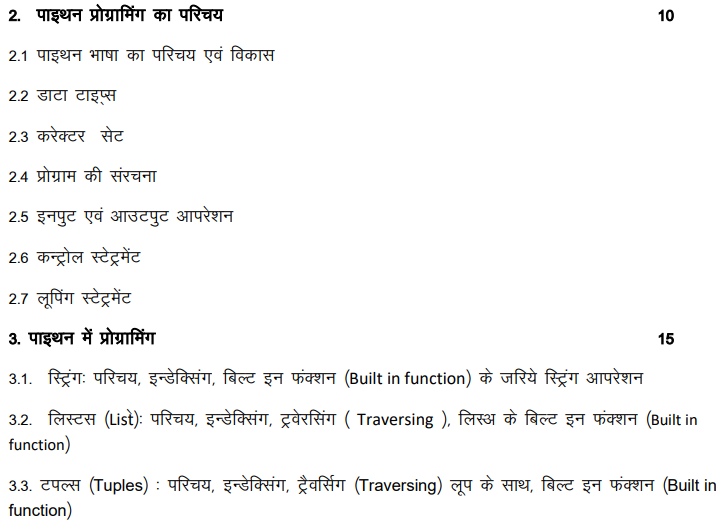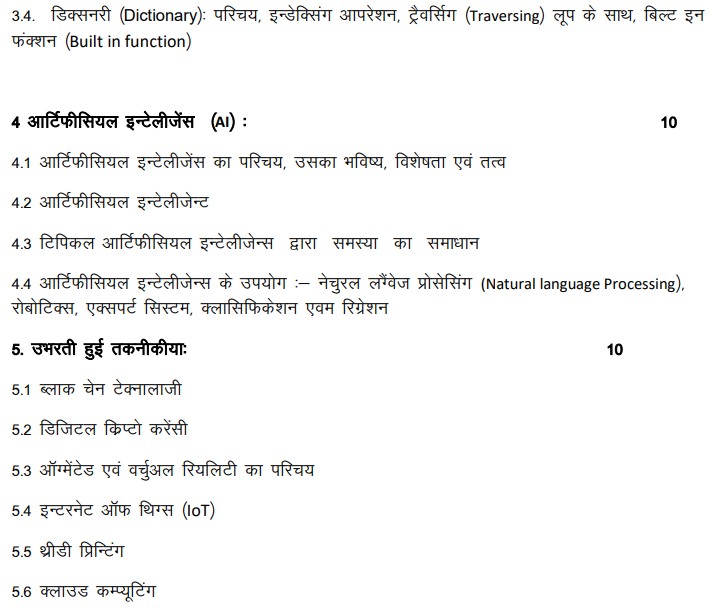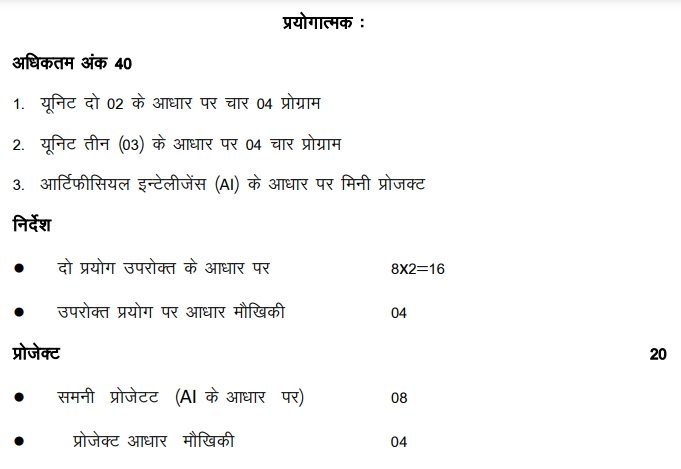 Also Read: