UP Board Class 11 Geography Syllabus 2023-24: The Uttar Pradesh Madhyamik Shiksha Parishad (UPMSP), also known as the Uttar Pradesh Board of High School and Intermediate Education, is commonly referred to as the UP Board. Class 10 and 12 board exams are administered by the UP Board to students who are enrolled in its programs in Uttar Pradesh.
In this article, students will learn about the detailed syllabus of UP Board Class 12 Geography 2023-24. The syllabus is the latest and is released by the UP Board itself on its website upmsp.edu.in. Students can check the Geography Class 12 UP Board syllabus in Hindi and English to understand it better. A free pdf is available to download.
---
UP Board Class 11 Geography Course Structure 2023-24
UP Board Class 12 Geography syllabus is divided into theory and practical portions. The total marks allocated to this subject are 100 out of which theory and practical individually share a fixed percentage. Check the table below to understand the mark distribution.

| | |
| --- | --- |
| Theory Paper | 70 Marks |
| | 30 Marks |
| | 05 Marks |
| | 30 Marks |
| | 05 Marks |
| Practical (खंड ग) | 30 Marks |
| Written Exam (Attempt any 4 out of 6 questions) | 20 Marks |
| | 05 Marks |
| | 05 Marks |
UP Board Class 11 Geography Syllabus 2023-24 (English)
Fundamental of Human Geography

Chapter No.

Chapter Name

UNIT 1 Geography as a Discipline

1

Geography as a Discipline

UNIT 2 The Earth

2

The Origin and Evolution of the Earth

3

Interior of the Earth

4

Distribution of oceans and continents

UNIT 3 Landforms

4

Geomorphic Processes

5

Landform and their Evolution

UNIT 4 Climate

7

Composition and Structure of Atmosphere

8

Solar Radiation, Heat balance and Temperature

9

Atmospheric Circulations and Weather Systems

10

Water in the Atmosphere

11

World Climate and Climate Change (To be tested through internal assessments in the form of project and presentation)

UNIT 5 Water (Oceans)

12

Water (Oceans)

13

Movements of Ocean Water

UNIT 6 Life on the Earth

14

Biodiversity and Conservation (To be tested through internal assessments in the form of project and presentation)

Map Work

India Physical Environment

Chapter No.

Chapter Name

UNIT 1 Introduction

1

India- Location

UNIT 2 Physiography

2

Structure and Physiography

3

Drainage System

UNIT 3 Climate Vegetation and Soil

4

Climate

5

Natural Vegetation

UNIT 4 Natural Hazards and Disasters: Causes Consequences and Management

6

Natural Hazards and Disasters (To be tested through internal assessment in the

form of Projects and presentation)

Map
Geography Practical Part 1
| | |
| --- | --- |
| Chapter No. | Chapter Name |
| 1 | Introduction to Maps |
| 2 | Map Scale |
| 3 | Latitude Longitude and Time |
| 4 | Map Projections |
| 5 | Topographical Maps |
| 6 | Introduction to Remote Sensing |
UP Board Class 11 Geography Syllabus 2023-24 (Hindi)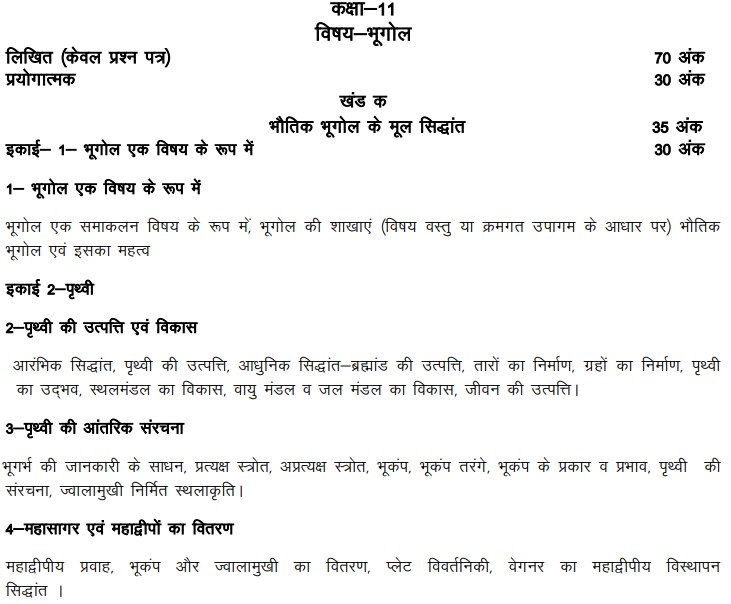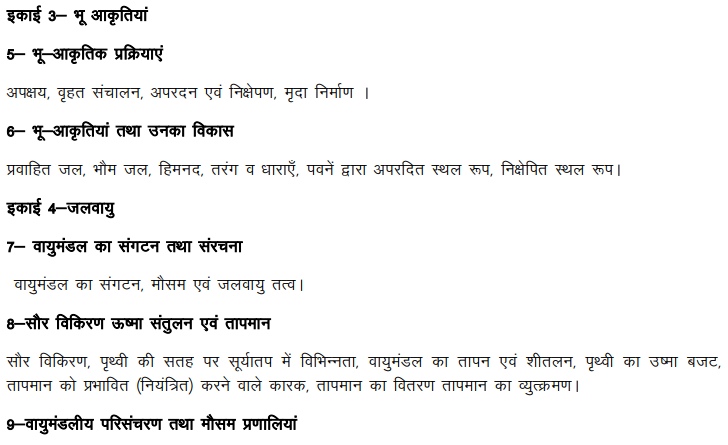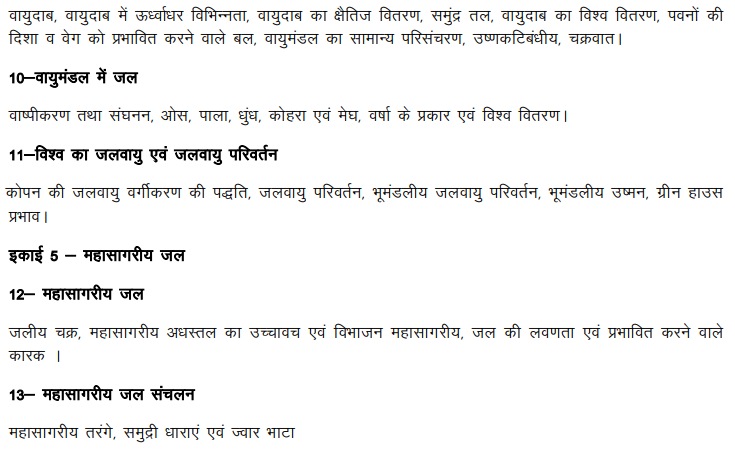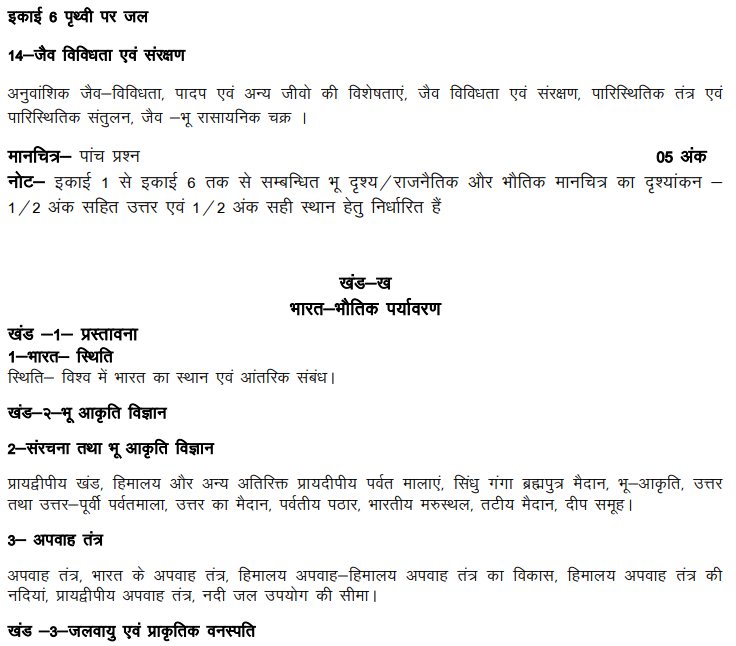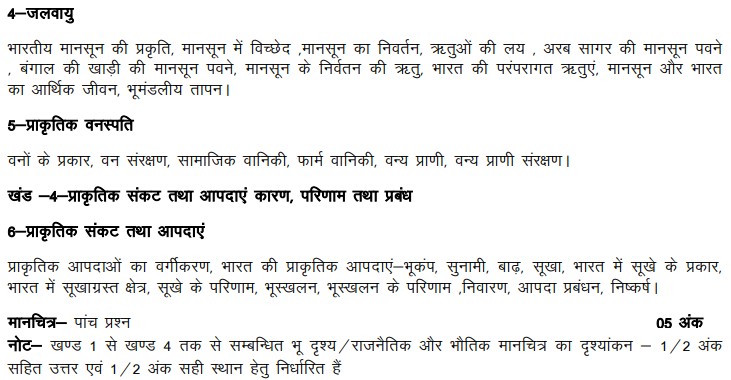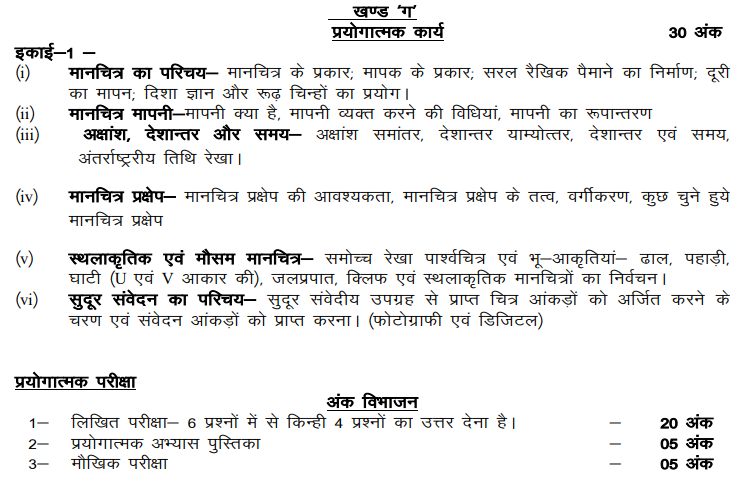 Related: