UP Board Class 12 Home Science Syllabus 2023-24: Home Science plays a vital role in empowering people with the knowledge and skills required to manage their homes efficiently, create a conducive environment for personal and familial growth, and lead a fulfilling life. Almost all the educational boards of India have Home Science as a subject. Students who opt for Home Science get the chance to score better as the syllabus of this subject is not very difficult but interesting to cover.
Also Check;
Uttar Pradesh Educational Board offer Home Science to its class 11 and 12 students to learn skills that will help them throughout their lives. The syllabus designed by UP Board is elaborative for theory and practical both. The major portion of marks is allocated to theory (70 marks) and 30 marks are for practical. The practical part is divided into external and internal marking criteria. Find your UP Board Class 12 Home Science syllabus 2023-24 here with an emphasis on course structure for better understanding.

UP Board Class 12 Home Science Course Structure 2023-24
There will be a written test for 70 marks and a practical test for 30 marks. Minimum passing marks 23 and 10 total marks 33 (only for girls).
Theory

Part 1

Unit

Marks

Unit 1 Work, Livelihood and Career

10

Unit 2 Nutrition, Food Science And Technology

15

Unit 3 Human Development And Family Studies

15

Part 2

Unit 4 Textiles And Apparel

10

Unit 5 Resource Management

10

Unit 6 Communication And Extension

10

Total

70
Instructions For Practical

External Marking

Internal Marking

Cooking Skills- 04 Marks

Assignment (Sewing & Project)- 06 Marks

Sewing- 04 Marks

Culinary Arts (Syllabus Based) - 06 Marks

Assignment- 04 Marks

Viva- 03 Marks

Viva- 03 Marls

Viva Voce is compulsory from all units.

Total - 30 Marks




Maximum Marks: 30

Minimum Marks: 10
UP Board Class 12 Home Science Syllabus 2023-24
Find the detailed unit-wise Home Science syllabus for the Class 12 UP Board here. The syllabus provided by the board is in the Hindi language, the same is present below. Check the chapter-wise mark distribution and topics covered under each unit.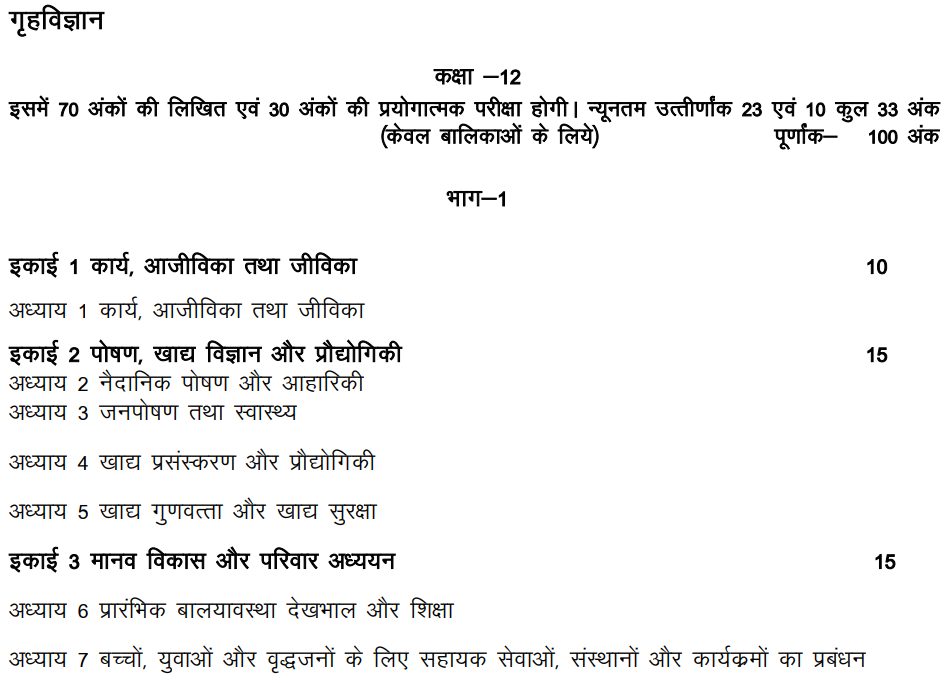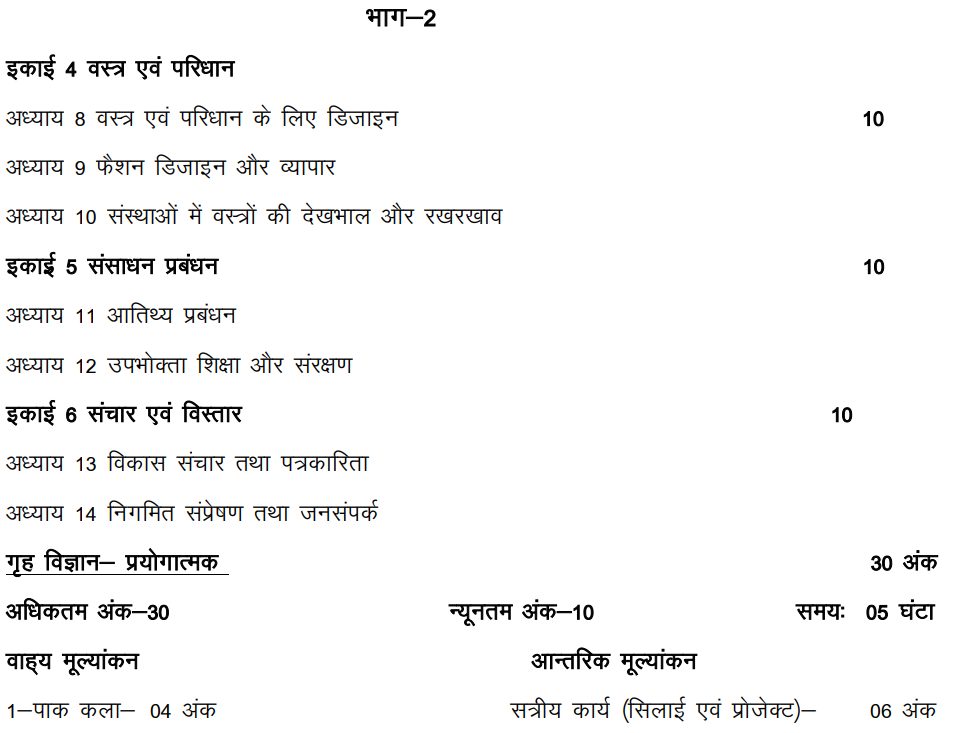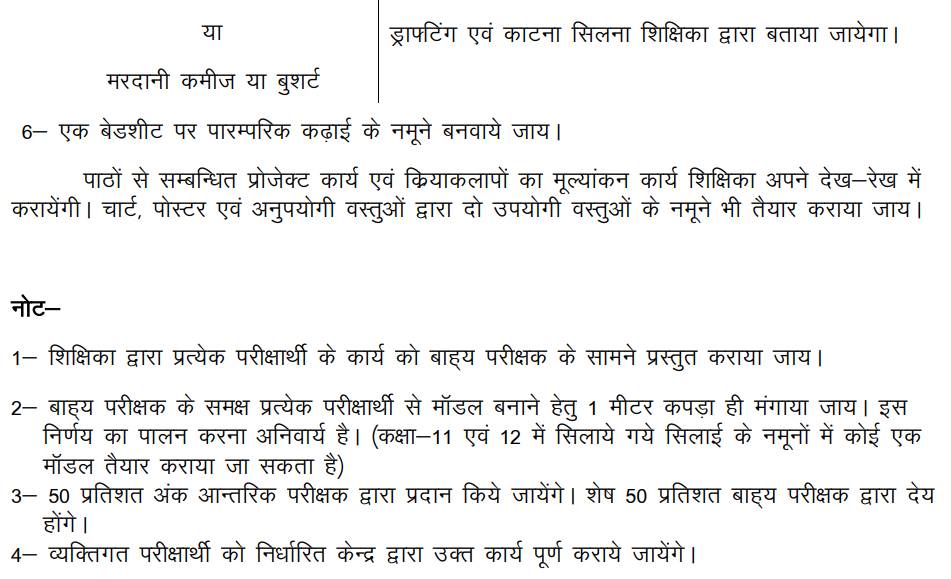 Check below the list of syllabi for other subjects of Class 12 UP Board in the related section of this article. Download their pdf for effective preparation.
Related: