Google Doodle Commemorates Mario Molina's 80th Birth Anniversary, Discover how he earned Nobel Laureate Title
Google honours the co-recipient of the Nobel Prize in Chemistry, Mario Molina with a doodle on his 80th Birth Anniversary. This Mexican-origin scientist was the first one to discover CFCs' baleful effects on Earth's ozone shield. Read more about his scientific contributions.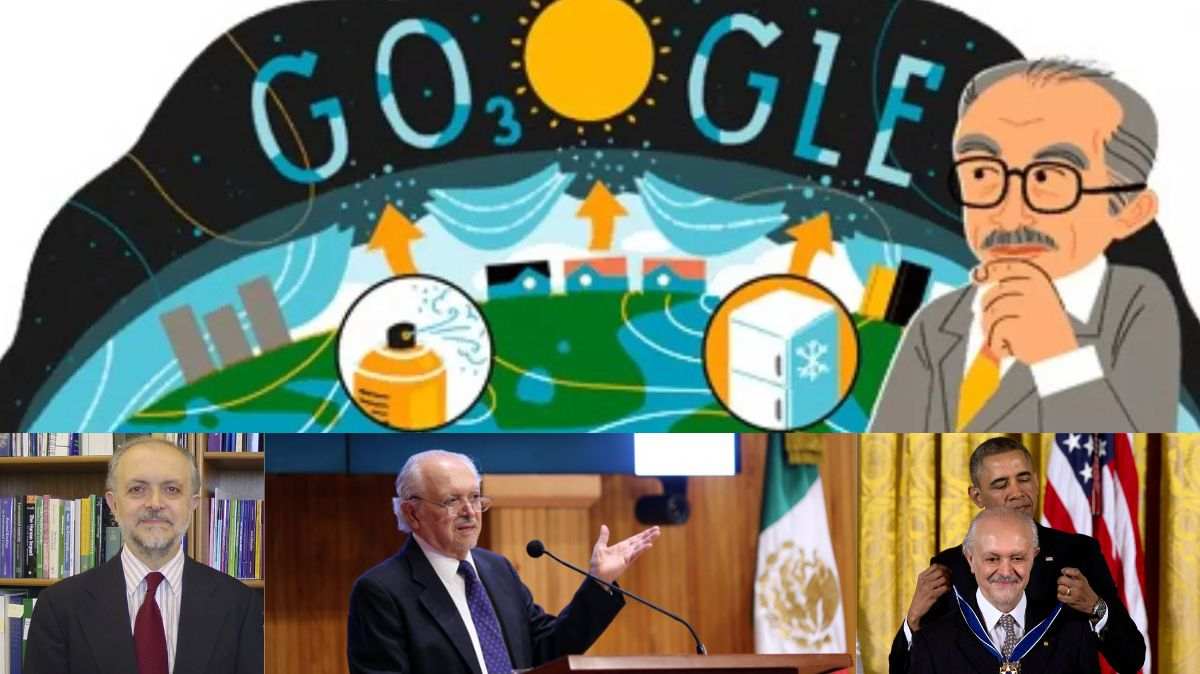 Google Doodle remembers Mario Molina's 80th Birthday, the winner of a plethora of awards for tracing Earth's activities.
On March 19, 2023 (Sunday) Google observes the 80th Birthday of Dr Mario Molina, a pioneer in Environmental Sciences. He won the 1995 Nobel Laureate in Chemistry as he emerged as the first Mexican-born scientist who found out that the major cause of ozone layer depletion is Gaseous CFCs (Chlorofluorocarbons).
His never-ending love for Chemistry can be seen in the meritorious works of his life. As he propounded the CFCs depletion theory along with Rowland, Mario persuaded the government to work together to save the Earth's ozone hole.
Good news: the ozone layer is on track to fully recover ❤️‍🩹

Mario Molina was one of the 1st scientists to discover synthetic chemicals were destroying the ozone. Learn about this Mexican researcher who helped literally save the world → https://t.co/76l5VJhCeB #GoogleDoodle pic.twitter.com/wUlgIPTzmj

— Google Doodles (@GoogleDoodles) March 19, 2023
He has been one of the key researchers who laid bare how these detrimental chemicals are posing a threat to Earth's ozone shield. Without the ozone, life on earth would be very difficult as it helps in protecting humans, plants, and wildlife from harmful ultraviolet rays produced by Sun. Human activities lead to the emission of pernicious substances contributing to the ozone's dwindling.
About Mario Molina
Born on March 19, 1943, in Mexico City, Dr Molina passionately worked towards making one of the biggest discoveries in Environmental Science. It is heard that he even turned his bathroom into a makeshift laboratory as he was a science fanatic since childhood. Today, Google celebrates this noble inventor's Birth Anniversary and writes "Nothing could compare to the joy of watching tiny organisms glide across his toy microscope."
Along with the destruction of ozone by CFCs, he also discovered the existence of the Antarctic Ozone Hole. Talking about his various educational pursuits, Dr Molina obtained a Bachelor's Degree in Chemical Engineering from the National Autonomous University of Mexico and then an Advanced Degree from the University of Freiburg in Germany.
His Theories & Research
In the United States, scientist Mario went on to conduct Postdoctoral Research at the University of California, Berkeley and later at the Massachusetts Institute of Technology also. He did an in-depth study through observations and experiments where he came across the harmful impacts of synthetic chemicals on the planet's atmosphere.
Being the first one to detect Chlorofluorocarbons, a chemical found in air conditioners, aerosol sprays, etc was slowly eroding the ozone and as a result, causing ultraviolet radiation to reach Earth's surface, the public was highly influenced by his findings and further carried out ways to reduce their usage of CFCs.
Career as a Famous Chemist
Molina in his career has acquired many research and teaching posts from 1974 to 2004 at the Univerisity of California, Irvine, and Massachusetts Institute of Technology (MIT), among others. He also worked jointly at the Department of Earth Atmospheric & Planetary Sciences as well as the Chemistry Department.
Between 2000-2005, he served on the administration front for Society for Science & the Public. Besides this, he chaired the Board of Directors for a scientific research company, Xyleco. The discoveries made by Mario and his research team were published in the Nature Journal and this opened the gates of great success as he earned the Nobel Prize title in Chemistry.
Earth's ozone layer is on a recovery mission now and this has been made possible through his revolutionary research in the field of Environmental Science. The world has a popular research institute named after him called the Mario Molina Centre located in his native place, Mexico. The research is a bedrock of the Montreal Protocol, an international treaty that successfully forbade the production of more than 100 ozone-draining chemicals. This global-level alliance is regarded as one of the most substantial environmental treaties ever formulated. It is an exemplary model to tackle climate crisis effectively.
Also Read: RBI's Shaktikanta Das conferred 'Governor of the Year Award 2023', PM Modi rejoices over the moment
Take Weekly Tests on app for exam prep and compete with others. Download Current Affairs and GK app
एग्जाम की तैयारी के लिए ऐप पर वीकली टेस्ट लें और दूसरों के साथ प्रतिस्पर्धा करें। डाउनलोड करें करेंट अफेयर्स ऐप
Android
IOS