Oldest ever Tennis Player Rohan Bopanna to win Men's Doubles, Carlos Alcaraz titled No. 1 in Men's Singles
On March 19, Carlos Alcaraz wins the BNP Paribas Open title after striking Daniil Medvedev by a 6-3, 6-2 ratio. He also attains the World's No. 1 Men's Tennis Player ranking. Along with this, Indian professional player Rohan Bopanna becomes the oldest tennis player ever to receive the ATP Masters 1000 title. Know more about these top-notch players.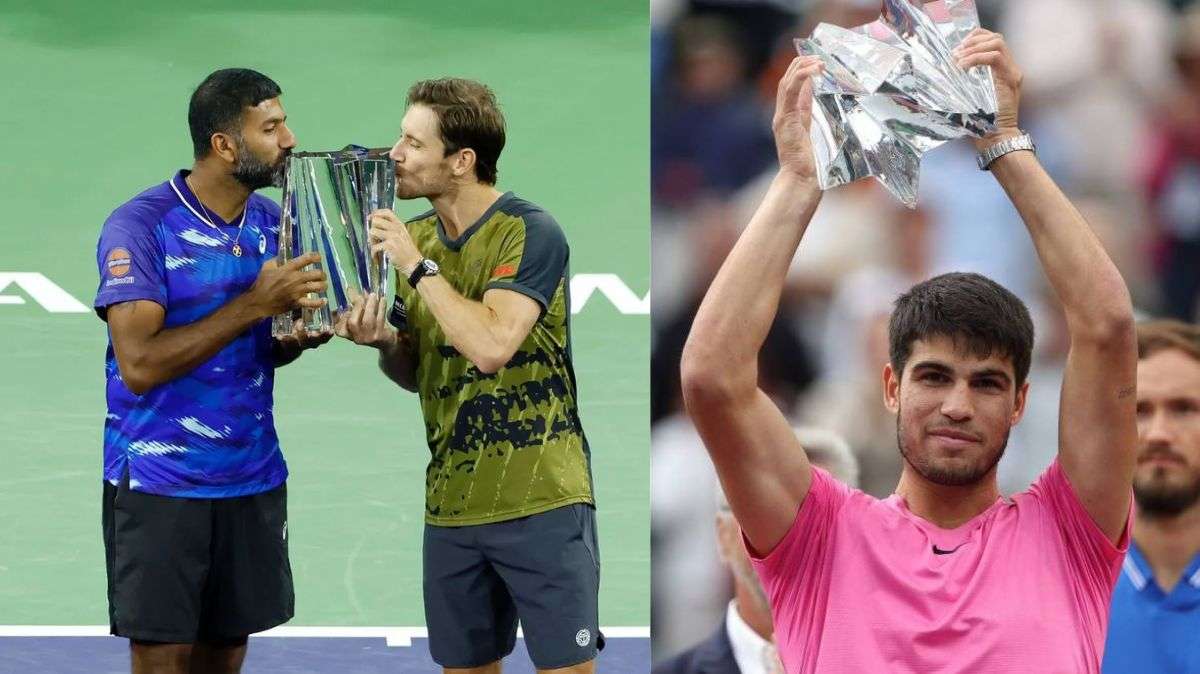 ATP 2023 World Ranking
An expert in Tennis hailing from India, Rohan Bopanna becomes the oldest player to have won the Men's Doubles title at the ATP 2023 Series. While another Tennis player Carlos Alcaraz was honoured with the World's No. 1 Rank in the Men's Singles category. Both these great players have been awarded in the ATP Tournament 2023 series by the Association of Tennis Professionals (ATP).
👍🏆👍@carlosalcaraz | #TennisParadise pic.twitter.com/DDaaOLzf88

— ATP Tour (@atptour) March 20, 2023
Talking about 43-year-old Rohan Bopanna, he gave credit to the special Indian coffee blends that he consumes on Tour for his accomplishments. Being the oldest ATP Masters 1000 champion, he gave an outstanding performance by winning the men's doubles title on March 18, 2023 (Saturday).
That WINNING FEELING 🎉

🇮🇳 @rohanbopanna 🏆 @mattebden 🇦🇺@BNPPARIBASOPEN | #TennisParadise pic.twitter.com/DcRLaBJKLt

— ATP Tour (@atptour) March 19, 2023
He collectively won the trophy with his tennis ally Matthew Ebden of Australia. With their mutual efforts, they defeated the leading pair of Dutchman Wesley Koolhof and Briton Neal Skupski by 6-3, 2-6, 10-8 results in order to claim their Men's Doubles title together and this was the first of its kind in the current season.
Rohan Bopanna's Victorious Moment
On the big event, the Oldest Winner Rohan Bopanna expressed himself by saying that it is a special moment and calls the match a Tennis Paradise. He is an experienced player and has been playing for years.
He feels elated over the results that he wins the Men's Double trophy along with his co-player Mathew Ebden. Rohan says that there have been many tough matches and close matches and they have played this recent match together against one of the best teams on the field.
Coffee - 'The Secret to Success'
Tennis pro Bopanna belongs to a Karnataka family who owns a coffee plantation in the Coorg district in the state, as told the player when he said that his special drink was the secret of his success.
He creates history by knocking the record made by the former partner Daniel Nestor. Indian doubles Mahesh Bhupathi beat the former playing partner Bopanna's old age and ability to peak late in his sports career.
Carlos Alcaraz
Spanish Tennis Player Carlos Alcaraz surpasses Russian competent Daniil Medvedev and the results came out to be 6-3, 6-2 in the match that was held on March 19, 2023 (Sunday). He bagged the Indian Wells title of the ATP Masters 1000.
He finally regains his Numebr one rank in the Men's Singles. The US Open champion Alcaraz was seen striking Medvedev's 19-match winning band by denying him a 4th title in as many tournaments to replace the Australian Open champion Novak Djokovic in the ATP World Rankings list.
👑 THE KING IN CALI 👑

🇪🇸 @carlosalcaraz defeats Medvedev 6-3, 6-2 to capture his first Indian Wells title and reclaim the World No. 1 ranking! @BNPPARIBASOPEN | #TennisParadise pic.twitter.com/H2mhr9JhB0

— ATP Tour (@atptour) March 20, 2023
Alcaraz's Exemplary Final Performance
Young 19 years old Carlos Alcaraz became the first-ever youngest tennis player to have obtained the World's Number One title. He marked his triumph even at Flushing Meadows last year in 2022. There he was named the third Masters 1000 and joined his fellow countryman Rafael Nadal as the only player to win at least three titles as a teenager. While Nadal won six before turning 20.
He was unbeatable on Stadium Court as he dominated the "wall" of Medvedev's terrifying defences. However, Medvedev came across titles in Rotterdam, Doha and Dubai, but as Alcaraz made himself a winner from all over the court, hence gave him no chance. Alcaraz expressed his joy to win this tournament in the toughest of conditions in the match.
Also Read: Global Giant UBS procures Credit Suisse for $3.25 Billion, Aims to Recoup Financial Security
Take Weekly Tests on app for exam prep and compete with others. Download Current Affairs and GK app
एग्जाम की तैयारी के लिए ऐप पर वीकली टेस्ट लें और दूसरों के साथ प्रतिस्पर्धा करें। डाउनलोड करें करेंट अफेयर्स ऐप
Android
IOS