Centre decides to form inter-ministerial committee to monitor implementation of safety measures in schools
The inter-ministerial committee will be formed in wake of brutal killing of a student, Pradyuman, in Gurgaon's Ryan International School and rape of a five-year-old girl by a school peon inside the premises of Tagore Public School in Gandhi Nagar area of the national capital. The committee was set to monitor implementation of safety measures in schools across India.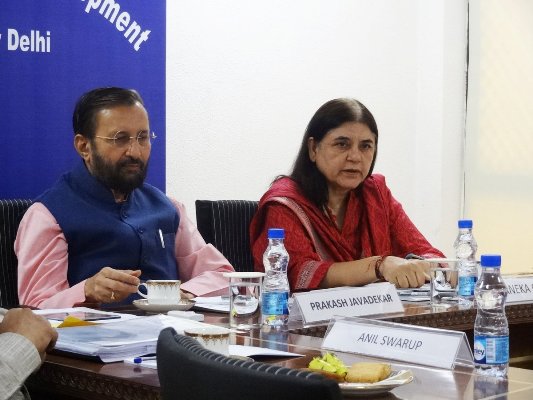 Committee constituted for Safety Measures in Schools
The Union Government on 18 September 2017 decided to form an inter-ministerial committee to monitor implementation of safety measures in its schools across the country. The committee was formed in the wake of the brutal killing of a student in Gurugram and rape of a girl by a school peon in the national capital, Delhi.
The decision was taken during a meeting between Human Resource Development (HRD) Minister Prakash Javadekar and Women & Child Development (WCD) Minister Maneka Gandhi in New Delhi. The WDC minister also informed that a committee of six secretaries will be constituted to monitor the implementation and progress of the guidelines.
Sitharaman sets up Task Force on Artificial Intelligence for Economic Transformation
Maneka said the committee will have secretaries of Human Resource Development, Women and Child Development Ministry, Tribal Affairs, Minority Affairs, Social Justice and Empowerment and Drinking water and sanitation. She said it will conduct a series of meetings to develop a roadmap as well as a timeline for implementation of the measures recommended.
Highlights of the decisions taken during the meeting
• It was suggested that Nirbhaya funds can be utilised for various school safety measures. The funds were set up in the aftermath of the brutal gangrape of a physiotherapy student in Delhi.
• During the meet, the two leaders discussed and reviewed the existing measures for school safety. Discussions include
a) Employing women drivers in the schools.
b) Screening of short film about child abuse in schools like Komal – a short film on the concept of good touch, bad touch
c) Setting up of Protection of Children from Sexual Offences (POCSO) awareness booths, where students can be made aware of the mechanism to file complaints.
NITI Aayog constitutes Expert Task Force on Employment & Exports
The meeting was also attended by representatives of the National Commission on Protection of Child Rights (NCPCR), CBSE, NCERT and Kendriya Vidyalaya Sangathan.