Chandrayaan-2 inches closer to Moon, successfully enters Moon's orbit
Chandrayaan-2 successfully completed Lunar Orbit Insertion (LOI) maneuver today as planned, using the onboard propulsion system.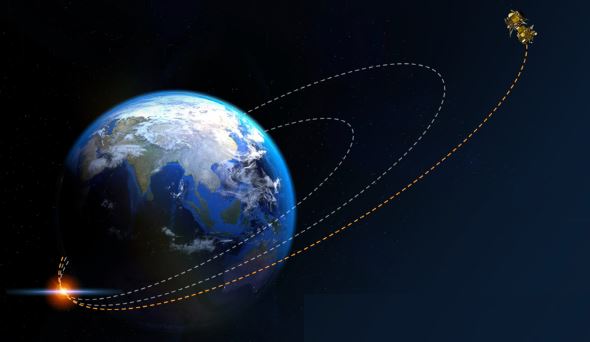 Chandrayaan-2 was successfully inserted into a Lunar orbit. Indian Space Research Organization (ISRO) made a successful maneuver of spacecraft into the lunar orbit. According to the ISRO, a series of orbit maneuvers will be performed on Chandrayaan-2 spacecraft to enable it to enter its final orbit passing over the lunar poles at a distance of about 100 km from the Moon's surface.
This move is also known as Lunar Orbit Insertion (LOI) which is very crucial as the approach velocity of Chandrayaan-2 must be accurate. Experts believe that even a smaller mistake can kill the entire mission and efforts.
Why a crucial step?
Now, Chandrayaan-2 is just a few kilometres away from the Moon. ISRO's satellite was slowed down by just the right amount so that the Moon could capture the spacecraft and bring Chandrayaan 2 in its orbit. Experts believe that if the satellite had higher-than-expected velocity it could bounce off it and get lost in deep space. On the other hand, if it had slow velocity, the Moon's gravity could pull the Chandrayaan 2 and it might crash into the surface. Therefore, this step is called the most tricky operation of the mission. ISRO Chairman K. Sivan tweeted that it is a very difficult maneuver and will mark a major milestone of the mission.
Why Moon's South Pole?
• According to the information released by ISRO, the world over countries, companies and even individuals are turning to the Moon and eyeing on the South Pole of the Moon. Its craters have been untouched by sunlight for billions of years, offering an undisturbed record of the solar system's origin.
• ISRO informed that its permanently shadowed craters are estimated to hold nearly 100 million tons of water.
• Moon's South Pole regolith has traces of hydrogen, ammonia, methane, sodium, mercury and silver that can be an untapped source of essential resources.
• South Pole's elemental and positional advantages make it a suitable pit stop for future space exploration, ISRO explained.
Also Read | Chandrayaan-2 Launch: See How World Reacts
Also Read | Chandrayaan-2 Launch Updates: "Every Indian is immensely proud today" says PM Modi
India's Chandrayaan-2
The most determined mission of ISRO Chandrayaan-2 had lifted off from Sriharikota on July 22. Chandrayaan's took two attempts for its lift-off. It was called off just under an hour from its launch due to a technical glitch. ISRO's Chandrayaan-2 mission stands out because of its low cost, with just about Rs. 1,000 crore spent. This amount is believed a much smaller price tag compared to similar missions by other countries. Experts believe that if India's Chandrayaan-2 successfully lands on the moon, it will be the fourth country to soft-land a rover on the lunar surface after Russia, US and China. Israel's mission was the last attempt who tried to land on the Moon but failed.
Download our Current Affairs & GK app for Competitive exam preparation. Click here for latest Current Affairs: Android|IOS