Current Affairs in Short: 13 October 2019
The Jammu and Kashmir government has recently announced that they will start telemedicine services in Srinagar.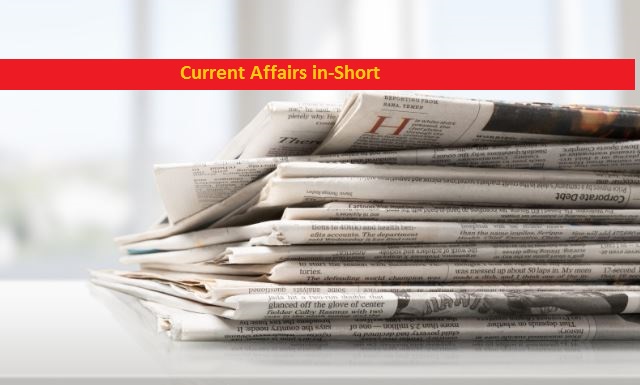 Current Affairs in-short
Jammu and Kashmir government to start tele-medicine service
• The state government has recently announced that they will start tele-medicine services in Srinagar to improve medical facilities. All medical institutes will be connected under the scheme.
• The telemedicine service is one important component which is the introduction of smart healthcare in Srinagar.
• Sher-e- Kashmir Institute of Medical Sciences and Government Medical College Srinagar will be upgraded under the scheme. All other health institutes and health service providers will be connected.
India and Japan to hold bilateral military exercise
• A joint military exercise between India and Japan will be organized in Mizoram from 19th of October to 2nd of November, 2019. It will be a two-week-long exercise.
• The objective of this joint military exercise is to increase the interoperability between the two forces and enhance coordination in dealing with various security challenges including counter-terrorism.
• The Indian Army and Japanese Ground Self Defence Forces (JGSDF) comprising 25 soldiers each, will participate in the exercise aimed at sharing experience gained during various Counter-Terrorism Operations in respective Countries.
Netherlands King and Queen to arrive in New Delhi on 5-day visit
• The Netherlands King Willem-Alexander's trip would be his first state visit to India, following his ascension to the throne in 2013.
• King Willem-Alexander and Queen Maxima will hold meetings with the top Indian leadership to boost bilateral economic and political cooperation.
• They will visit New Delhi, Mumbai, and Kerala during their visit. Experts are expecting to boost economic and political cooperation between the two countries.
Also Read | Current Affairs in Short: 12 October 2019
Donald Trump releases USD 50 Million aid to Syria
• US President Donald released 50 million dollars as stabilisation assistance for Syria to protect persecuted ethnic and religious minorities and advance human rights.
• US officials said that this assistance will give emergency financial aid to Syrian human rights defenders, civil society organisations reconciliation efforts directly supporting ethnic and religious minority victims of the conflict.
• Trump administration believes that ensuring freedom and safety of ethnic and religious minorities remains a top priority for them.
First Global DXB Challenge 2019 by Dubai
• A large gathering for creative young minds in the fields of robotics and artificial intelligence will be witnessed in the first Global DXB Challenge 2019 in Dubai.
• The theme of the event will be 'Ocean Opportunities'. This theme has been chosen to connect youth with environmental issues.
• The participants are coming from 191 countries and the event will bring together about 1500 young minds.
Also Read | NASA Launches ICON Mission to Study Earth's Ionosphere
Also Read | Nobel Peace Prize 2019: Abiy Ahmed, Ethiopian Prime Minister, wins prize