Current Affairs in Short: 14 May 2018
India and Myanmar have signed 7 agreements during the External Affairs Minister Sushma Swaraj's visit to Myanmar including one on land border crossing that will enable people from both countries to cross the land border with passport and visa for accessing health and education services.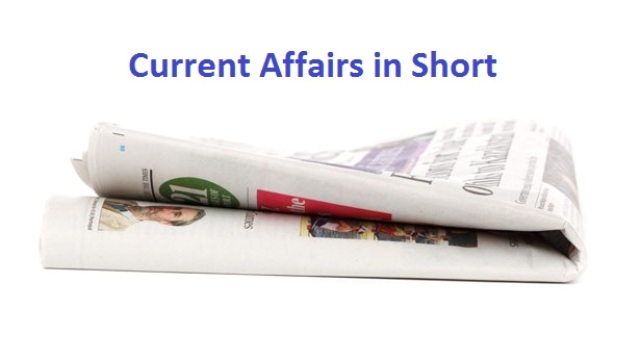 Current Affairs in Short: 14 May 2018
Watching certain videos can't be reason to implicate a person as terrorist: HC

• The Kerala High Court has observed that merely watching certain videos and speeches will not be a reason to implicate a person as a terrorist.
• A division bench comprising justices A M Shaffique and P Somarajan made the observation while considering an appeal filed by one Muhammed Riyas, challenging an NIA court order denying bail to him.
• In its recent verdict, the court also set aside the National Investigation Agency (NIA) court order and granted bail to him.
• In his appeal, Riyas had submitted that he was arrested on terror charges following a complaint filed by his estranged wife, a Hindu woman who had converted to Islam.

India and Myanmar sign 7 agreements

• India and Myanmar have signed 7 agreements during the External Affairs Minister Sushma Swaraj's visit to Myanmar.
• The 7 agreements included one on land border crossing that will enable people from both countries to cross the land border with passport and visa for accessing health and education services.
• Other agreements included MoU on Restoration and Preservation of Earthquake Damaged Pagodas in Bagan, MoU on assistance to the Joint Ceasefire Monitoring Committee, MoU on Setting up Industrial Training Centre (ITC) at Monywa and MoU on ITC at Thaton and Exchange of Letters on extending a maintenance contract for ITC Myingyan.
• An MoU on training of Myanmar foreign service officers was also signed during the meeting.
• Various issues relating to the developments in the Rakhine State, including the need for safe, speedy and sustainable return of Rohingya refugees to the Rakhine State were discussed during Swaraj's talks with Myanmar's State Counsellor and Minister for Foreign Affairs, Aung San Suu Kyi and the President of Myanmar Win Myint.

SC concerned about overcrowding in prisons, asks HCs to look into issue

• The Supreme Court has expressed concern about overcrowding in prisons across the country, in some cases beyond 150 per cent of the capacity and has asked all the high courts to consider the issue as it involves "violation of human rights".
• The apex court requested the chief justices of the high courts to take up the matter as a suo-motu (on its own) writ petition and referred to a note given by an advocate, assisting the court as an amicus curiae, in this regard.
• The apex court also dealt with the issue of vacancy of staff in jails and observed that "little interest" was being shown by the authorities and state governments in recruiting staff in prisons.
• It asked the chief justice of each high court to also take up this issue as a suo-motu writ petition.

NASA to fly a helicopter on Mars

• NASA is planning to send a small helicopter to Mars, in the first test of a heavier-than-air aircraft on another planet.
• The Mars helicopter will be bundled with the US space agency's Mars rover when it launches in 2020.
• The helicopter would be specifically designed to fly in the atmosphere of Mars, which is 100 times thinner than Earth's.

Kerala, NTPC sign MoU for solar power

• The Kerala State Electricity Board has signed a memorandum of understanding with the National Thermal Power Corporation for increasing solar power generation in the state.
• The MoU also includes an agreement to set up a 15 MW solar power unit at the NTPC complex in Kayamkulam.
• The possibility of setting up solar plants at reservoirs, open space and top of buildings will also be explored.

Cholera vaccination campaign began in Yemen

• The first vaccine campaign against cholera has begun in Yemen, a year and a half after an epidemic was triggered by war and a health and sanitation crisis.
• According to WHO, there have been more than 1 million cases of cholera in Yemen and 2,275 recorded deaths since Nov 2016.
• The oral vaccination campaign started in four districts in Aden aims to target around 350,000 people.

India, Peru sign agreement in field of Renewable Energy
• India and Peru have signed an agreement in the field of Renewable Energy at Lima, Peru.
• The pact was signed in the presence of Vice President M Venkaiah Naidu and the Prime Minister Cesar Villanueva Arevalo.
• Vice President's visit comes at a time when India is celebrating the 55th anniversary of the establishment of Diplomatic Relations with Peru.


India's first Lithium-Ion charger unveiled

• President Ram Nath Kovind has unveiled India's first, indigenous lithium-ion battery charger, developed by Ampere Vehicles in New Delhi.
• The lithium-Ion charger project is supported by Technology Development Board of the Ministry of Science and Technology as part of the Make-in-India initiative.
• The unveiling event took place on the occasion of National Technology Day on May 11.

KISS Humanitarian Award 2018 conferred

• Nobel Peace award winner and the founder of Grameen Bank Prof. Muhammad Yunus was conferred with the prestigious KISS Humanitarian Award 2018.
• Prof Yunus is the second Nobel laureate to be honoured with the award.
• KISS Humanitarian Award is an international award given to someone who has made an exceptional contribution to the society in various fields relating to social issues.

International Nurses day celebrated

• International Nurses Day was observed across the world on May 12, 2018. The day is celebrated annually with an aim to create awareness among the public about the role and responsibilities of nurses.
• The day's 2018 theme was 'Nurses: A voice to lead – Health is a Human Right'.
• The international day also marks the birth anniversary of Florence Nightingale, the founder of modern nursing.

Pakistan limits movement of US diplomats

• Pakistani authorities have imposed "reciprocal" restrictions on the movement of U.S. diplomats in the country after Washington took similar measures.
• The move comes after the U.S. required Pakistani diplomats to get permission 5 days in advance to travel more than 25 miles from their embassy.
• Islamabad also decided to withdraw a number of facilities being enjoyed by the US diplomats earlier.

Government departments earmark Rs 16,500 cr for Swachh Bharat Mission
• A sum of Rs 16,500 cr has been earmarked by 71 ministries and departments of the govt for implementation of Swachh Bharat Mission (SBM) in 2018-19.
• The amount is over and above the budget of Ministry of Drinking Water and Sanitation for SBM (Gramin) and Ministry of Housing and Urban Affairs for SBM (Urban).
• SBM aims to clean up the streets, roads and infrastructure of India's cities and rural areas.