Current Affairs in Short: 15 February 2019
Nations from across the globe have condemned the terror attack at Pulwama in Jammu and Kashmir, with US, Russia and France asserting that they stand with India in combating the menace of terrorism.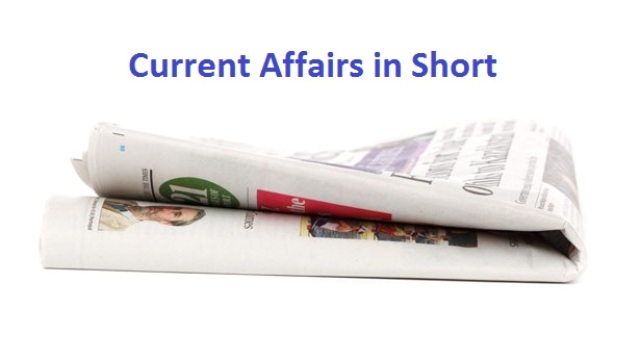 Current Affairs in Short: 15 February 2019
Pulwama Attack: MIB issues advisory to all private satellite TV Channels

• The Information and Broadcasting Ministry has issued an advisory to all private satellite TV Channels in view of the terrorist attack in Pulwama District.
• The Ministry in its advisory said that all channels are advised to be particularly cautious with regard to any content which is likely to incite violence or contains anything against maintenance of law and order or which promotes anti-national attitude or contains anything affecting the integrity of the nation.
• The Ministry asked them to ensure that no such content is telecast which is violative of programme and advertising code as prescribed in the Cable Television Networks Regulation Act.

Nations across the world including US, Russia and France, condemn Pulwama attack

• Countries from across the globe have condemned the terror attack at Pulwama in Jammu and Kashmir, with US, Russia and France asserting that they stand with India in combating the menace of terrorism.
• Top US lawmakers rallied behind India and extended their condolences and support. Senator Jack Reed said in a tweet that Washington stands alongside New Delhi in confronting terror and defeating it. US Ambassador to India Kenneth Juster also extended America's support.
• The Russian Embassy stressed the need to combat such inhuman acts with a decisive and collective response, without any double standards.
• Ambassadors of France, Germany, Australia, Turkey, Canada and Czech Republic also condemned the attack.
• UN Secretary-General Antonio Guterres also strongly condemned the attack, calling for the perpetrators to be brought to justice.

Trump to sign spending bill averting government shutdown

• President Donald Trump has decided to sign a spending bill averting a government shutdown but will also issue an emergency declaration to fund his controversial border wall.
• Declaring an emergency, a rare step, would free Trump to seek to redirect federal funds from elsewhere to help pay for a wall along the US-Mexico border.
• US House of Representative Speaker and Democratic leader Nancy Pelosi expressed disdain for the President's upcoming emergency declaration. She stated that the happening at the border is not an emergency.

William Barr sworn in as US Attorney General

• William Barr was sworn in for second time as the new Attorney General of United States, taking the helm of the Justice Department as special counsel Robert Mueller investigates Russian interference in the 2016 presidential election.
• Earlier, the Senate voted 54-45 to confirm his appointment. Barr, who also served as the Attorney General from 1991 to 1993 during President George HW Bush's administration, succeeds Jeff Sessions.
• As the country's chief law enforcement officer, Barr will oversee the remaining work in Mueller's investigation into potential coordination between the Kremlin and the Trump campaign and decide how much Congress and the public know about its conclusion.

SC asks EC to be flexible in applying 3 years domicile for defence personnel

• The Supreme Court of India has asked the Election Commission to be flexible in applying three-year domicile for defence personnel.
• The apex court noted that though people in services are posted at peace place for three years, there is occasion when they are transferred in two-and-half years.
• A bench headed by Chief Justice Ranjan Gogoi said it will be open for the Election Commission to prescribe further flexible eligibility criteria to ensure that defence personnel are able to vote.
• The bench said, there was no need to pass any further order. It noted that the Election Commission has taken a decision to allow armed forces personnel to vote at their place of posting which excludes Jammu and Kashmir and Northeastern states.

Shane Warne named brand ambassador of Rajasthan Royals

• Australia spin legend Shane Warne has been named as the new brand ambassador of Rajasthan Royals for the upcoming Indian Premier League.
• Warne, who led Rajasthan Royals to its first and only IPL title in 2008, was the mentor of the side last season.
• The Australian went on to captain Rajasthan Royals for four seasons until 2011, after which he retired from all forms of cricket.
• Warne said it was important for the Rajasthan Royals to retain the established values but at the same time develop a new and modern identity. The team has decided to change its jersey colour from blue to pink in the 2019 IPL edition.

NASA declares Mars rover Opportunity officially dead

• NASA's Mars rover Opportunity was officially declared dead on February 13, 2019, after having contributed almost 15 years of grand services.
• The declaration came after the long wait of eight months after the robot stopped responding to engineers back on earth after the dust storm hit the red planet.
• Setting off for Mars on the night of July 7, 2003, the golf-cart-sized robot has covered the distance of 28 miles since it has landed on the surface on January 25, 2004.
• After landing the rover, towards its journey to Endurance Crater, started searching intensively for bedrock and sand dunes.
• In an attempt to get a clue of water in its distant past, the rover studied the Victoria crater between the period of two years (2006 to 2008) and discovered how water had entered and left the region billions of years ago.

IndiGo to curtail 30 daily flights in February

• The country's largest airline IndiGo announced curtailing around 30 flights daily for the rest of February as it looks to stabilize operations and adjust crew rosters.
• IndiGo, which has more than 41 per cent of domestic market share, said the cancellations represent 2 per cent of its flights and that operation would be normalised completely by March 31, 2019.
• The budget carrier cancelled 49 flights on February 13 and the same has been informed to aviation regulator DGCA. The cancellations were reportedly caused by several factors like anticipated weather conditions and NOTAMS at various airports.
• This resulted in extended duty times which then made it necessary to re-roster the crew and optimise the operations. Therefore, the airlines has decided to curtail its schedule for the remaining period of this month by approximately 30 flights a day.