Current Affairs in Short: 20 June 2018
The Reserve Bank of India has tightened norms for Liberalised Remittance Scheme (LRS) by making quoting of the Permanent Account Number or PAN mandatory even for transactions below USD 25000.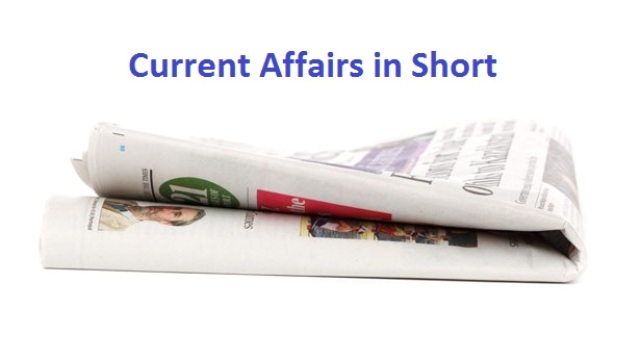 Anukreethy Vas crowned as Femina Miss India World 2018

• Anukreethy Vas was crowned Femina Miss India World 2018 on June 19, 2018.
• The Tamil Nadu girl was named the winner at a function held in Mumbai with last year's Miss World Manushi Chhillar awarding her the crown.
• Anukreethy, who beat 30 contestants to bag the honour, will now represent India at this year's Miss World.
• Haryana's Meenakshi Chaudhary was announced as the first runner-up, Shreya Rao Kamavarapu of Andhra Pradesh was adjudged the second runner-up.
• The judges' panel included Manushi Chhillar, cricketers Irfan Pathan and Lokesh Rahul and actors Malaika Arora, Bobby Deol and Kunal Kapoor.

India, Australia agree to strengthen counter-terrorism cooperation

• India and Australia have agreed to strengthen counter-terrorism cooperation through regular exchange of information and sharing of best practices on countering violent extremism.
• The decision was taken during the 10th Meeting of the Joint Working Group on Counter-Terrorism in New Delhi.
• Both sides assessed and exchanged views on prevailing terrorist threats in their respective regions including the problem of cross-border terrorism in the Af-Pak region.
• The Indian delegation was led by Joint Secretary (Counter Terrorism) Mahaveer Singhvi and the Australian delegation was led by Ambassador for Counter-Terrorism, Paul Foley.

World's first International Centre for Humanitarian Forensics launched in Gujarat

• The world's first International Centre for Humanitarian Forensics was launched at Gandhinagar in Gujarat.
• It is a joint venture of the Regional delegation of the International Committee of the Red Cross in India, Bhutan, Nepal and the Maldives and also Gujarat Forensic Science University.
• The launch of the Centre was followed by an International Symposium on Humanitarian Forensics.
• International experts will participate in the symposium and discuss issues in the area of humanitarian forensics.
• Speakers from India, Ireland, Germany and Sri Lanka will speak at the symposium.

RBI tightens norms for Liberalised Remittance Scheme

• The Reserve Bank of India has tightened norms for Liberalised Remittance Scheme (LRS) by making quoting of the Permanent Account Number or PAN mandatory even for transactions below USD 25000.
• Under the LRS, all resident individuals, including minors, are allowed to freely remit up to 250000 US dollar per financial year for any permissible current or capital account transaction.
• Earlier, a system for daily reporting of individual transactions under the LRS by banks was been put in place.
• This system enables the banks to view the remittances already sent by an individual during the financial year, thus improving monitoring and ensuring compliance with the LRS limits.

PM Modi to lead 4th International Yoga Day celebrations in Dehradun

• Prime Minister Narendra Modi will lead the 4th International Yoga Day Celebrations in Dehradun on June 21, 2018.
• The Prime Minister will join thousands of volunteers, performing Yoga asanas in the lawns of Forest Research Institute, Dehradun, located in the lap of the Himalayas.
• A series of Yoga related events will be organised across the world to mark the occasion.
• PM Modi has also taken to social media to share the intricacies of various Yoga Asanas. He has also shared pictures of people performing Yoga, at various locations across the world.
• The Prime Minister had earlier participated in the International Yoga Day Celebrations at Rajpath in New Delhi in 2015, at the Capitol Complex in Chandigarh in 2016, and the Ramabai Ambedkar Sabha Sthal in Lucknow in 2017.

Shillong gets selected as the 100th Smart City

• Shillong, the capital city of Meghalaya, has been selected as 100th Smart City after evaluating the proposal submitted by it.
• Till now, 99 smart cities had been selected in four rounds of competition and with today's announcement; selection of 100 cities has been completed under the Smart Cities Mission.
• Previously, 20 cities were selected in January 2016, 13 cities in May 2016, 27 cities in September 2016, 30 cities in June 2017 and 9 cities in January 2018.
• With the selection of Shillong, the total proposed investment in the finally selected 100 cities under the Smart Cities Mission would be Rs 205018 crores.

KVIC adopts Jagatpur village in Delhi for Swachhata Abhiyaan

• The Khadi and Village Industries Commission (KVIC) has adopted Jagatpur village in Delhi for its Swachhata Abhiyaan.
• The sanitation drive by KVIC began with a plantation drive and ended with cleanliness drive along the bank of the Yamuna river.
• With such enthusiastic participation of the public and organisation, Jagatpur is destined to be one of the most beautiful villages in Delhi and NCR.
• KVIC is also installing 20 park benches on the bank on Yamuna River.
• Under KVIC's Swachhata Mission, the next cleanliness drive will be in Mumbai's Juhu Beach.

Joint India-Russia military exercise Indra 2018 to be conducted in India

• The tri-service joint military exercise Indra-2018 between India and Russia will take place at Indian military base in second half 2018.
• In this regard, Russian military delegation visited India to discuss logistics of the exercise.
• Members of Indian defence forces were also involved in planning of the exercise which included practical operations of units besides consumer services, catering and medical support for Russian units.
• In this edition of exercise, combined military units of Russian Eastern Military District will participate in military drills.
• INDRA military exercise was launched in 2003 as bilateral exercise between India and Russia to boost cooperation and interoperability between navies of two countries.
• The name of the exercise INDRA has been derived from 'IND' of India and 'R' and 'A' from RussiA.

Government declares national targets for off-shore wind power
• The Union Ministry of New and Renewable Energy (MNRE) declared medium (5 GW by 2022) and long-term (30 GW by 2030) targets for offshore wind power capacity addition.
• The offshore wind power will add new element to already existing basket of renewable energy of the country.
• The target set for offshore wind power is moderate in comparison to on-shore wind target of 60 GW and solar target of 100 GW by 2022.
• Globally the installation capacity of off-shore wind power is about 17 to 18 GW, led by countries such as UK, Germany, Denmark, Netherlands & China.
• Recent years have witnessed fall in off-shore wind tariff in some of these markets.