Current Affairs in Short: 21 August 2018
Former West Bengal Governor Gopalkrishna Gandhi was conferred with Rajiv Gandhi National Sadbhavana Award on the occasion of 74th birth anniversary of former Prime Minister Rajiv Gandhi.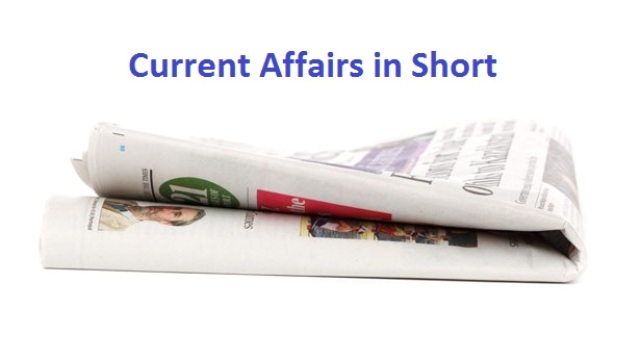 Current Affairs in Short: 21 August 2018
Gopalkrishna Gandhi conferred with Rajiv Gandhi National Sadbhavana Award

• Former West Bengal Governor Gopalkrishna Gandhi was on August 20, 2018 conferred with Rajiv Gandhi National Sadbhavana Award on the occasion of 74th birth anniversary of former Prime Minister Rajiv Gandhi.
• The award was given at a function in New Delhi in presence of former Prime Minister Dr Manmohan Singh, UPA Chairperson Sonia Gandhi and Congress leader Karan Singh.
• Speaking on the occasion, Manmohan Singh said that Gopalkrishna Gandhi has had a long and distinguished career in public life as a civil servant and a distinguished diplomat. He said, Gandhi is also a man of deep scholarship, which is reflected so clearly in his writings.

India, Japan resolve to deepen maritime cooperation

• India and Japan on August 20, 2018 resolved to expand their maritime cooperation and work together to ensure peace and stability in the Indo-Pacific region, which is witnessing growing Chinese assertiveness.
• In their wide-ranging talks, Defence Minister Nirmala Sitharaman and her Japanese counterpart Itsunori Onodera also agreed to deepen the overall defence cooperation between the two countries including in areas of co-development of military platforms and weapons.
• The two ministers also exchange views on India's long-pending proposal to procure the US-2 ShinMaywa amphibious aircraft from Japan for its Navy.
• The two sides also firmed up a project in the area of Unmanned Ground Vehicle (UGV) and robotics, marking the start of first such bilateral initiative.

No ATM to be replenished with cash after 9 pm from next year

• No ATM will be replenished with cash after 9 PM in cities and 6 PM in rural areas from next year. The announcement was made by the Union Home Ministry through a notification. The Ministry said that the deadline for putting money in the ATMs located in Naxal-hit areas will be 4 PM.
• It said that private cash handling agencies must collect money from the banks in the first half of the day and transport notes only in armoured vehicles.
• Two armed guards will accompany crisp notes in transit as per a new directive issued by the Home Ministry.
• The new Standard Operating Procedures (SoPs) will come into effect from February 8, 2019 in view of the spurt in incidents of attacks on cash vans, cash vaults, ATM frauds and other internal frauds leading to increased sense of insecurity.
• There are over 8,000 privately owned cash vans plying across the country, operated by non-bank private agencies and they handle over Rs 15,000 crore daily on behalf of banks.

Teen cyclist creates history by claiming India's first ever medal

• Teen cyclist Esow Alben has created history by claiming India's first ever medal - a silver- at the UCI Junior Track Cycling World Championships in Aigle, Switzerland.
• He put enormous pressure on Czech Republic's Jakub Stastny in the final sprint before settling for the silver medal.
• Esow finished just 0.017 seconds behind gold medalist Stastny in the thrilling photo-finish of a race.
• The 17-year-old from Andaman and Nicobar trains in Delhi at the Sports Authority of India's National Cycling Academy.

Kerala Floods: People returning to their homes as flood water recedes

• In Kerala, with flood water receding in many places, people have started returning to their homes and begun cleaning operations.
• Chief Minister Pinarayi Vijayan said the government has also decided to distribute cleaning kits. The cabinet meeting chaired by Chief Minister on August 21, 2018 decided to seek relief package worth Rs 2600 crore from the Centre.
• The cabinet also recommended the governor to convene special assembly session on August 30 to discuss relief, rehabilitation and reconstruction activities.
• Though the rescue operation in state is almost complete, Nelkiyampathy in Palakkad remains still isolated due to landslides.
• At present food water and medicines are being distributed by voluntary organisations by foot.

Chandrayaan-I data confirms presence of ice on Moon

• Using data from the Chandrayaan-I spacecraft that was launched by India 10 years ago, NASA on August 21, 2018 said that scientists have found frozen water deposits in the darkest and coldest parts of the Moon's polar regions.
• Scientists used data from NASA's Moon Mineralogy Mapper (M3) instrument aboard the Chandrayaan-1 spacecraft, launched in 2008 by the Indian Space Research Organisation (ISRO), to identify three specific signatures that definitively prove there is water ice at the surface of the Moon.
• According to the study published in the journal PNAS, the ice deposits are patchily distributed and could possibly be ancient.
• The study said with enough ice sitting at the surface within the top few mm water would possibly be accessible as a resource for future expeditions to explore and even stay on the Moon.
• Most of the newfound water ice lies in the shadows of craters near the poles, where the warmest temperatures never reach above minus 156 degrees Celsius.
• Due to the very small tilt of the Moon's rotation axis, sunlight never reaches these regions.
Government asks WhatsApp to find tech solution to trace origin of fake messages

• India has asked WhatsApp to set up a local entity in the country and find a technological solution to trace the origin of fake messages.
• The information was shared by the Union Minister of Electronics and IT Ravi Shankar Prasad after his meeting with Whatsapp CEO Chris Daniels in New Delhi on August 21, 2018.
• The Minister said that WhatsApp has become an important component of India's digital story and it must have a proper corporate entity located in India.
• During the meeting, the Ministry also reportedly told the WhatsApp CEO that there must be a compliance with Indian laws.

Turkey initiates dispute complaint with WTO against US

• Turkey has initiated a dispute complaint with the World Trade Organization (WTO) against the United States for imposing additional tariffs on steel and aluminium imports from Turkey.
• The WTO said Turkey on August 20 requested dispute consultations on claims that the doubling of duties on steel and aluminium were inconsistent with international trade rules.
• US has doubled the tariffs in response to Turkey's rejection of a request to release an American pastor detained for the past two years for alleged involvement in an abortive military coup. Turkey has retaliated by imposing tariffs on American products.