Current Affairs in Short: 22 August 2018
Senior Congress leader Gurudas Kamat passed away on August 22 after a brief illness. He was 63. The former Union minister died at Primus hospital in Delhi, where he was admitted early today.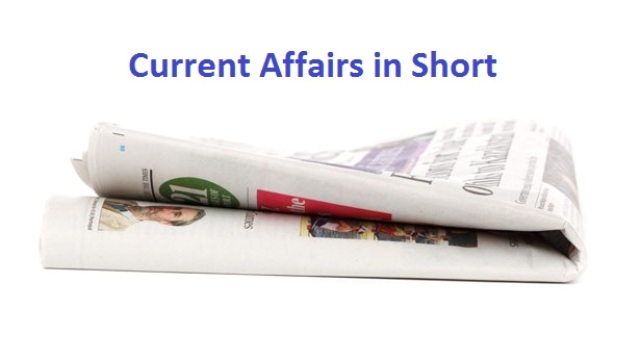 Current Affairs in Short: 22 August 2018
Senior Congress leader Gurudas Kamat passes away at 63

• Senior Congress leader Gurudas Kamat passed away on August 22, 2018 after a brief illness. He was 63. The former Union minister died at Primus hospital in Delhi, where he was admitted early today.
• Kamat was taken to Primus Hospital in Chanakyapuri around 7 am, after he complained of breathlessness, but he died on the way. He is survived by his wife Maharookh and a son, Sunil.
• Congress president Sonia Gandhi visited the hospital and paid her last respects to the departed leader. His sudden death sent shock waves in the Congress, with former president Pranab Mukherjee expressing shock over his untimely demise.

Facebook Deletes 652 Fake Accounts Targeting World Politics

• Facebook has removed 652 fake accounts for "coordinated inauthentic behaviour" that originated in Iran and Russia and targeted people across multiple Internet services in the Middle East, Latin America, Britain and the US.
• According to Facebook, some of the fake Pages, groups and accounts originated in Iran and some in Russia.
• Facebook also removed Pages, groups and accounts that can be linked to sources the US government has previously identified as Russian military intelligence services.
• Facebook acted on these accounts after FireEye, a global cybersecurity firm, gave it information in July about "Liberty Front Press", a network of Facebook pages as well as accounts on other online services.

President to inaugurate 'International Buddhist Conclave 2018'

• The President of India Ram Nath Kovind will inaugurate the 'International Buddhist Conclave (IBC), 2018' in Vigyan Bhawan, New Delhi on August 23, 2018. The Minister of State (Independent charge), KJ Alphons will preside over the inaugural function.
• The Conclave is being organised by the Ministry of Tourism in collaboration with the State Governments of Maharashtra, Bihar and Uttar Pradesh from August 23-26, 2018 at New Delhi and Ajanta (Maharashtra), followed by site visits to Rajgir, Nalanda and Bodhgaya (Bihar) and Sarnath (Uttar Pradesh).
• During the inaugural session, the Tourism Ministry will launch its website landofbuddha.in and a new film showcasing the Buddhist sites in the country.
• Overall, the Conclave will have a religious/spiritual dimension, an academic theme and a diplomatic and business component.

CM Conrad Sangma to contest in Meghalaya bypolls

• Meghalaya will go to by-elections in two Assembly constituencies on August 23, 2018, which will decide the fate of Chief Minister Conrad Sangma.
• Sangma, who is currently a member of Parliament from Tura, is contesting from the South-Tura seat in West Garo Hills district on ruling National People's Party (NPP) ticket to enter the state Assembly.
• He became the Chief Minister on March 6 with the support of regional parties and the Bharatiya Janata Party (BJP).
• Sangma will be contesting against Congress' Charlotte W Momin and independents John Leslee K Sangma and Chris Kabul A Sangma.

Asian Games gold medalist athlete Hakam Singh passes away

• Asian Games gold medalist athlete Hakam Singh passed away on August 14, 2018 at a private hospital in Sangrur, Punjab. He had been ailing for some time and was undergoing treatment for liver and kidney ailments. He was 64.
• Singh won gold in 20 km race walk event during the 1978 Asiad at Bangkok. The Dhyan Chand awardee had also served as Havaldar in the 6 Sikh regiment.
• Union Sports Minister Rajyavardhan Singh Rathore had sanctioned financial assistance of Rs 10 lakh to the athlete, while Punjab Chief Minister Capt. Amarinder Singh had helped him with Rs 5 lakh.

UIDAI directs enrolment agencies in Kerala to provide free e-Aadhaar printouts

• The UIDAI has directed the Aadhaar enrolment agencies in Kerala, including banks and post offices, to facilitate retrieval of the 12-digit number and provide free printouts to Aadhaar-holders who have lost their document in the flood-hit state.
• The UIDAI CEO Ajay Bhushan Pandey said, many people have lost their AADHAR cards in the floods. He said that the e-Aadhaar printouts can be taken by people from the enrolment centres by giving their name and biometric authentication.
• The instructions in this regard will be issued by the Unique Identification Authority of India (UIDAI) to the enrolment centres in the state.
• The enrolment agencies can also help in the retrieval of Aadhaar numbers by visiting the relief camps.

Australia PM loses ministers in leadership battle

• At least ten government ministers in Australia have offered to resign following a failed bid to oust Prime Minister Malcolm Turnbull as party leader.
• Turnbull narrowly won a party room leadership vote yesterday but is now likely to face a second challenge. He accepted the resignation of his challenger, Home Affairs Minister Peter Dutton and one other minister.
• Turnbull is under pressure because of a long run of poor polling and a divisive energy policy. His centre-right coalition will face a general election by May next year, after recently losing a key by-election in Queensland.
• The opposition Labor party has accused the government of being in chaos.
Government unveils draft UDAN scheme for International routes

• The Union Government on August 22, 2018 unveiled a draft scheme for extending the affordable air travel programme- UDAN to international circuits, with state governments identifying the routes for operation.
• The draft International Air Connectivity (IAC) scheme aims to increase the international ticketing to 20 crore by 2027.
• The scheme will be made operational only for states that demonstrate commitment to implement and provide the requisite support for promoting operations under the scheme.
• Under the scheme, a dedicated fund - International Air Connectivity Fund (IACF)- has been proposed to be set up for providing subsidy support. It will be created through the contributions of state governments.