Current Affairs in Short: 24 April 2018
The Union of South American Nations (UNASUR), which was created a decade ago to counter US influence in the region, has temporarily lost half its members after six countries suspended their memberships amidst differences over who should lead the group.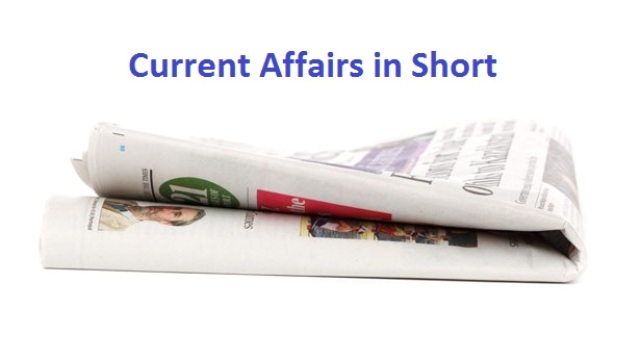 Current Affairs in Short: 24 April 2018
India highest recipient of remittances at $69 billion: World Bank report

• According to World Bank's latest Migration and Development report, remittances to low- and middle-income countries rebounded to a record level in 2017 after two consecutive years of decline.

• The report stated that the stronger than expected recovery in remittances was driven by growth in Europe, the Russian Federation, and the United States.

• The rebound in remittances, when valued in US dollars, was helped by higher oil prices and a strengthening of the euro and ruble.

• Global remittances are expected to grow 4.6 per cent to $642 billion in 2018 but longer-term risks to growth of remittances include stricter immigration policies in many remittance-source countries.

Five more states to roll out intra-state e-way bill

• The central government on April 23, 2018 stated that five more states including Arunachal Pradesh, Madhya Pradesh, Meghalaya, Sikkim and Puducherry will roll out intra-state e-way bills from April 25.

• According to a statement from the Ministry of Finance, with the latest addition, the total number of states implementing e-way bills for intra-state movement of goods will rise to 17.

• Earlier, encouraged by the success of its inter-state implementation, the e-Way bill system for intra-state movement of goods was implemented in Uttar Pradesh, Gujarat, Andhra Pradesh, Telangana and Kerala from April 15.
• In Karnataka, it was implemented along with nationwide inter-state implementation on April 1.

Six nations suspend membership in UNASUR regional bloc

• The Union of South American Nations (UNASUR), which was created a decade ago to counter US influence in the region, has temporarily lost half its members after six countries suspended their memberships amidst differences over who should lead the group.

• Bolivian Foreign Minister Fernando Huanacuni announced that Argentina, Brazil, Chile, Colombia, Paraguay and Peru have decided to temporarily leave UNASUR, given differences over choosing the secretary general of the group.

• Paraguay's foreign ministry said in a statement that the impossibility of electing a general secretary for UNASUR affects the bloc and that the six countries that will remain outside it until they see "concrete results that guarantee its operation."

• UNASUR was promoted by late Venezuelan President Hugo Chavez.

• Bolivia, Ecuador, Guyana, Surinam, Uruguay and Venezuela remain in the bloc.

Armenian Prime Minister resigns after protests

• The Prime Minister of Armenia, Serzh Sargsyan, has stepped down following days of mass demonstrations in the streets of the capital Yerevan over what was seen as an unconstitutional power grab by the former president.

• Sargsyan previously served two, five-year terms as president of the former Soviet Republic.

• First elected in 2008, he served as the country's head of state until he was appointed prime minister earlier this month.

• Sargsyan took office as Prime Minister after being elected by parliament on April 17, eight days after his presidency ended.

• His handpicked successor, Armen Sargsyan, was sworn in as the President of the nation on April 9.

• Under constitutional changes promoted by Serzh Sargsyan in 2015, the office of prime minister in Armenia became more powerful than that of the president leading to concern of authoritarian rule descending on the country.

Students helping NASA decide which plants to grow in space

• Not only scientists with advanced degrees but students are also helping NASA decide what crops to grow in space to expand food options and increase plant diversity.

• For the past couple of years, NASA has been partnering with Fairchild Tropical Botanic Gardens in Miami, Florida, to encourage student interest in science, technology, engineering and math, or STEM.

• NASA partners with The Fairchild Challenge, an annual standards-based environmental outreach programme which reaches more than 125,000 students annually, to help determine which edible plants might be suitable for growth in microgravity aboard the International Space Station (ISS) in the vegetable growth chamber.

• Using equipment that mimics the environmental conditions aboard the ISS, students test factors that may influence plant growth, flavour and nutrition. NASA will use students' data to determine which plants to begin growing in space.


Xiaomi, Jio top India market

• According to a recent report, Xiaomi continued to lead the Indian smartphone market with 31.1 per cent market share while Reliance Jio topped the feature phone market with a massive 35.8 per cent share in the first quarter of 2018.

• Xiaomi was the leader with 25 per cent market share in Q4 of 2017.

• According to Counterpoint's "Market Monitor" service, Samsung with 26.2 per cent share was second, followed by Vivo at 5.8 per cent share in the smartphone segment.

• Driven by the feature phone segment which doubled owing to strong shipments of Reliance JioPhone, India's overall mobile phone shipments grew 48 per cent (YoY) in Q1 2018.

• Honor (Huawei) entered top five smartphone brands for the first time.

• Honor (146 per cent), Xiaomi (134 per cent) and OnePlus (112 per cent) were revealed to be the fastest growing smartphone brands.

50 IIT alumni quit jobs to form political party

• A group of 50 alumni from the prestigious Indian Institutes of Technology (IITs) across the country have quit their jobs to form a political party to fight for the rights of Scheduled Castes, Scheduled Tribes and Other Backward Classes.

• The group, which is waiting for an approval from the Election Commission, has named their outfit "Bahujan Azad Party".

• The party members, however, do not aim for the 2019 Lok Sabha elections.

• The group, which includes members mostly from the SC, ST and OBC communities, feels that the backward classes have not received their due in terms of education and employment.

• All set with a poster which has pictures of B R Ambedkar, Subhas Chandra Bose and A P J Abdul Kalam, among others, the party has already begun a social media campaign.

India-Poland bilateral trade crosses $3 bn in 2017

• The bilateral trade between India and Poland has crossed $ 3 billion in 2017 and the European country is exploring various sectors to improve the trade balance.

• Of the total trade, India's export to Poland was $2.3 billion while polish export to India stood at $800 million.

• However, both the countries had drawn up a blueprint for stepping up investments and identified a series of actions to raise trade from the 2014 level of $2.3 billion to $5 billion by 2018.

• India is one of the five priority countries in Responsible Development Strategy of Poland.

• Possible areas for India-Polish joint venture include energy including clean technologies, mining, food and food processing, defence and R&D.