Current Affairs in Short: 24 August 2018
Chief Election Commissioner OP Rawat has ruled out the possibility of holding simultaneous elections to the state assemblies and Lok Sabha polls anytime soon. He said that a legal framework is needed to be in place for holding simultaneous polls.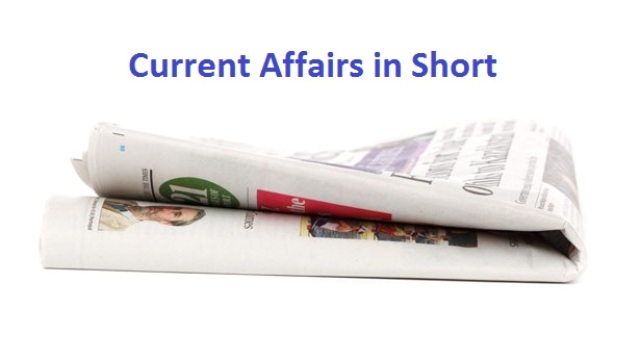 Current Affairs in Short: 24 August 2018
International Colour Festival inaugurated in Jharkhand

• Jharkhand Chief Minister Raghubar Das on August 23, 2018 inaugurated the five-day International Colour Festival in which artists would depict the state's image in their canvases.
• The festival, which is being organised by the state Art, Culture and Tourism departments, would be held till August 27.
• Stating that an artist depicts the social anguish through his paintings, the chief minister urged them to depict the beauty of Jharkhand in their canvas and exhibit them in international festivals.
• During this festival, artists will travel to tourist spots and paint there, and those paintings will be exhibited on the last day.

China imposes retaliatory taxes on US products worth 16 billion dollars

• The United States had imposed 25 percent tariffs on 16 billion dollar worth of Chinese goods coming into the US. China immediately imposed retaliatory taxes on the same value of American products.
• The move brings the total amount of goods flowing between the countries, subject to tariffs, up to 106 billion dollars, which is roughly 17 per cent of all of the bilateral trade.
• The US tariffs apply to 279 Chinese goods, including semiconductors, chemicals and railway equipment, while China's list of 333 US products include coal, copper scrap, fuel, buses and medical equipment.
• The first tariffs were imposed in March and China responded in April.

Ready to use VVPAT machines during upcoming polls: EC

• Chief Election Commissioner OP Rawat has said that Election Commission is ready for hundred per cent use of Voter Verifiable Paper Audit Trail machines (VVPAT).
• Rawat said that the Election Commission has ordered 17.5 lakh VVPAT machines and received 10 lakh out of them by now.
• He said, the rest will be received by November and the Commission is ready for 100 per cent use of VVPATs. He also added that the commission is trying to minimise failure rate of VVPAT for future polls.
• The Chief election commissioner also ruled out the possibility of holding simultaneous elections to the state assemblies and Lok Sabha polls anytime soon.
• He said that a legal framework is needed to be in place for holding simultaneous polls.

4th BIMSTEC summit to be held in Kathmandu

• The fourth Summit of Heads of State/Government of Bay of Bengal Initiative for Multi-Sectoral Technical and Economic Cooperation (BIMSTEC) will be held in Kathmandu, Nepal on August 30-31, 2018.
• All member states of BIMSTEC have confirmed their participation in the Summit. From India, Prime Minister Narendra Modi is expected to participate in the summit.
• During the two-day Summit, leaders of member states will review the progress achieved so far in the areas of cooperation and provide guidance to the future work of the BIMSTEC.
• BIMSTEC is a regional economic bloc comprising seven member states lying in the littoral and adjacent areas of the Bay of Bengal constituting a contiguous regional unity.
• The group was formed in 1997 and it brings together Bangladesh, Bhutan, India, Nepal, Sri Lanka Myanmar and Thailand. Nepal is the current chair of BIMSTEC.

SC refuses to cancel West Bengal panchayat polls

• The Supreme Court on August 24, 2018 turned down the pleas seeking cancellation of elections to over 20,000 uncontested local body seats in West Bengal.
• A bench comprising Chief Justice Dipak Misra and Justices A M Khanwilkar and D Y Chandrachud, however allowed those obstructed from filing nomination papers to challenge polls by filing election petitions.
• The Apex court was hearing pleas by parties like the CPI (M) and the BJP alleging that candidates from ruling All India Trinmool Congress were only allowed to file nomination papers.
• The Court held that the limitation period of 30 days for filing the election petitions would commence from the date of notification of panchayat poll results.
• Elections were held in phases for 48,650 posts in Gram Panchayats, 825 posts in Zilla Parishads and 9,217 posts in Panchayat Samitis in West Bengal. It has been alleged that around 34 per cent seats were uncontested. All these uncontested seats were won unopposed by candidates of the ruling Trinamool Congress.

Maharashtra government succeeds in efficiently implementing MUDRA scheme

• Maharashtra government has succeeded in efficiently implementing MUDRA scheme, an ambitious scheme of the Centre. Over 80 Lakh persons have got sanctioned loans under the scheme in the last three years.
• Maharashtra stands at the fourth position in terms of availing and utilising the 'Mudra' loan scheme in the country. In last three years government has disbursed 36 thousand 156 crore loans to micro-enterprises.
• The Mudra scheme is also helping a lot in generating new jobs in Maharashtra. Under this scheme almost 60 percent loan amount went to women who started their small business.
• Besides, tribal and backward, scheduled cast and Muslim women also availed the loan facility in fairly large numbers.

Ganga drying up in summers due to groundwater depletion: Study

• Ganga, the 2600-km-long trans-boundary river of Asia, has witnessed "unprecedented low levels of water in several lower reaches" in the last few summer seasons.
• This is as per a study undertaken by a professor of IIT-Kharagpur. Abhijit Mukherjee, associate professor of Geology in IIT-Kharapur, along with researchers Soumendra Nath Bhanja from Canada and Yoshihide Wada from IIASA Austria, found out that the drying of the river in the recent years during the summer seasons was possibly related to the groundwater depletion in the Gangetic aquifers.
• The study used a combination of satellite images of groundwater levels of Ganga, numerical simulations and chemical analyses to draw the conclusion.
• The study asserted that the decline of groundwater inflow (base flow) is also impacting the health of the river. It also observed that in the upcoming summers, for the next 30 years, groundwater contribution to river Ganga will continue decreasing.

Veteran Marathi actor Vijay Chavan passes away

• Veteran Marathi actor Vijay Chavan, known for his comic roles, passed away at a hospital in Mumbai on August 24, 2018 after a prolonged illness. He was 63.
• The actor, who featured in more than 350 films, was suffering from weak lungs for quite some time and admitted to Fortis Hospital since the last 2-3 days.
• Chavan, who also featured in numerous plays, is best remembered for his comic roles in Marathi films such as 'Jatra', 'Zapatlela', 'Pachadlele', 'Mumbaicha Dabewala' and 'Shrimanta Damodar Panta', among others.
• 'Moru Chi Mavshi' is one of his famous plays in which he was appreciated for portraying a woman. Prominent personalties from the film industry and politics condoled the death of the veteran actor.

Punjab Cabinet approves bill for price stabilisation fund

• The Punjab cabinet on August 23, 2018 approved a bill for creation of a price stabilisation fund that will ensure state farmers get minimum support price (MSP). The decision was taken during a cabinet meeting chaired by Chief Minister Amarinder Singh.
• The cabinet decided to table the bill for enactment in the Vidhan Sabha session.The bill aims to protect the interests of farmers in the event of a sudden fall in prices of certain agricultural commodities.
• According to it, amendments will be made to sections 25 (A), 26 and 28 of the Punjab Agricultural Produce Markets Act, 1961.The amendments will ensure that a fraction of the commission charged by the arhtiyas (commission agents) are directed towards the agricultural produce price stabilisation fee.