Current Affairs Quiz: 16 December 2019
The day's updated quizzes cover topics such as Miss World 2019, President's Colour and Vijay Diwas 2019 among others.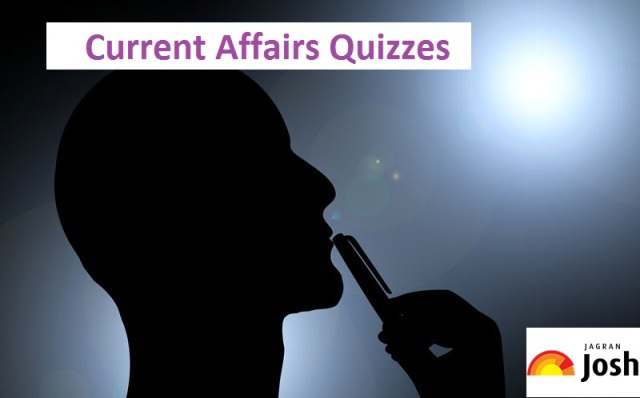 Current Affairs Quiz
16 December 2019:The Current Affairs Quizzes section of Jagranjosh aims to help every competitive exam aspirant to revise the day at ease. The day's updated quizzes cover topics such as Miss World 2019, President's Colour and Vijay Diwas 2019 among others.
1. Who among the following was recently crowned Miss World 2019?
a)Tony Ann Singh
b)Suman Rao
c)Jogbani Tunzi
d)Opelie Mezzino
2.India's Suman Rao concluded her Miss World 2019 campaign at which position?
a)Winner
b)First runner-up
c)Top 10
d)Second runner-up
3.Which state's police was honoured with the President's colour recently?
a)Telangana
b)Delhi
c)Gujarat
d)Uttar Pradesh
4.The train service between which two Pakistani railway stations was resumed after 22 years?
a)Wagah and Attari
b)Lahore and Wagah
c)Lahore and Peshawar
d)Raiwind and Gujranwala
5.When is Vijay Diwas observed?
a)16th December
b)15th December
c)13th December
d)11th December
6.Which country will host the 36th International Geological Congress, scheduled to be held in March 2020?
a)Nepal
b)Pakistan
c)America
d)India
7.When is National Energy Conservation Day observed?
a)10th December
b)11th December
c)14th December
d)16th December
8.The protest against citizenship amendment act led by students from which university turned violent in New Delhi on December 15, 2019?
a)Jamia
b)AMU
c)JNU
d)MANUU
Answers
1. (a) Tony Ann Singh
Miss Jamaica Toni-Ann Singh won the Miss World 2019 Title. Miss France Ophely Mezino and Miss India Suman Rao were the first and second runners up of the beauty contest.
2. (d) Second runner-up
India's Suman Rao won the second-runner up title in Miss World 2019. She was crowned Miss India 2019 on June 15, 2019. Rao took the initiative to help tribal women through financial freedom in the 'Beauty with a Purpose Segment'.
3. (c) Gujarat
The Gujarat Police was recently honoured with President's Colour for its services and courage. This honour is the biggest honor given by the President to the Armed Forces, Para Military Forces and State Police Forces.
4. (b) Lahore and Wagah
The train service between Lahore and Wagah resumed operations after 22 years on December 15, 2019. The shuttle train services between the two stations will complete three round trips daily for Rs 30 per ride.
5.(a) 16th December
Vijay Diwas is celebrated every year on December 16 to commemorate the day India established its victory over Pakistan during the 1971 war. India's victory liberated east Pakistan and paved the way for the formation of independent Bangladesh.
6. (d) India
The 36th International Geological Congress will be hosted by India. It will be held in New Delhi with theme - Geosciences: Basic Sciences for Inclusive Development. The International Geological Congress (IGC) is the prestigious global platform for the advancement of earth science.
7. (c) 14 December
The National Energy Conservation Day is commemorated annually on December 14. The day's objective is to showcase India's achievements in energy efficiency and conservation. In India, the Energy Conservation Act 2001 was enacted by the Bureau of Energy Efficiency (B.E.E.)
8. (a) Jamia
The protest march by students of Jamia Millia Islamia turned violent on December 15, 2019 after a part of the mob clashed with the police and set public vehicles on fire. The students were protesting against the implementation of the citizenship amendment act 2019.