Cyclone Vayu Updates: 52 NDRF teams deployed; 2.8 lakh people evacuated
Cyclone Vayu Updates: About 2.8 lakh people have been evacuated from 500 coastal villages and shifted to safer locations. IMD declared Cyclone Vayu "very severe" that headed for landfall over Saurashtra coast today.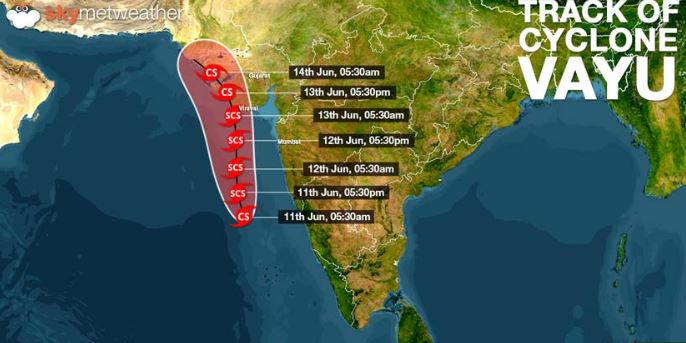 Cyclone Vayu
Cyclone Vayu Updates: Vayu will hit Gujarat coast today with wind speed of 180 kmph. It is expected to make landfall by 3 pm at Dwarka, Porbandar and west of Veraval.
As per India Meteorological Department (IMD), cyclone Vayu formed over east-central Arabian Sea at 11:30 pm on June 10, 2019, centered about 460 km north-northwest of Aminidivi (Lakshadweep), 540 km south-southwest of Mumbai (Maharashtra) and 690 km south of Veraval (Gujarat).
Coastal areas of south Gujarat have kept on alert as Cyclone Vayu continues to intensify and may cross the Gujarat coast between Porbandar and Mahuva around Veraval and Diu early morning on June 13, 2019.
IMD's warning on cyclone Vayu
It is very likely to intensify further into a severe cyclonic storm during the next 24 hours and move northwards and hit the Gujarat coast between Porbandar and Mahuva around the Veraval and Diu regions as a severe cyclonic storm with wind speed of 110-120 kmph gusting to 135 kmph during early morning on Thursday.
Coastal areas in Karnataka, Kerala, Konkan, Goa and Lakshadweep are also expected to receive fairly widespread rainfall over the next three days. High waves in the range of 3.5 to 5.3 metres are forecast along this coastline from Tuesday evening.
Key Highlights
• It will gain intensity over the next few hours; the wind speed would not go beyond 110-120 km per hour, as per the current forecast.
• Cyclones in the Arabian Sea are not as intense as those formed over the Bay of Bengal, which also tend to form over a longer duration.
• A 'red' warning for heavy and widespread rainfall has been issued for the Saurashtra and Kutch regions for June 13.
• Coastal areas of Porbandar, Junagarh, Gir Somnath and Amreli districts are likely to be inundated with a storm surge of height of about 0.5 m above the astronomical tides at the time of landfall.
List of previous Arabian Sea Cyclones
Cyclone Phet (2010)
Cyclone Phet made landfall in eastern Oman with winds of 120 km/h northeast of Masirah. The storm later turned to the east and struck Pakistan. In Oman, the storm dropped heavy rainfall and Phet damaged roads and power lines, and washed away hundreds of cars.
Cyclonic Storm Nilofar (2014)
Extremely Severe Cyclonic Storm Nilofar was, at the time, the third-strongest cyclone in the Arabian Sea. In late October 2014, it reached peak maximum sustained winds estimated between 205 km/h (125 mph) and 215 km/h (130 mph). The India Meteorological Department (IMD) named it Nilofar; the name refers to the water lily, and was suggested by Pakistan.
Cyclone Chapala (2015)
Cyclone Chapala became the first recorded storm to make landfall in Yemen as a very severe cyclonic storm – the equivalent of a hurricane – when it struck Ar Riyan with winds of 120 km/h (75 mph).
Also Read: End of Childhood Index: India ranks 113 of 176 countries