Mahathir Mohamad sworn in as Malaysia's seventh Prime Minister
Mahathir has earlier served as Malaysia's Prime Minister for 22 years from 1981 to 2003, overseeing the transformation of the country to one of Asia's leading economies.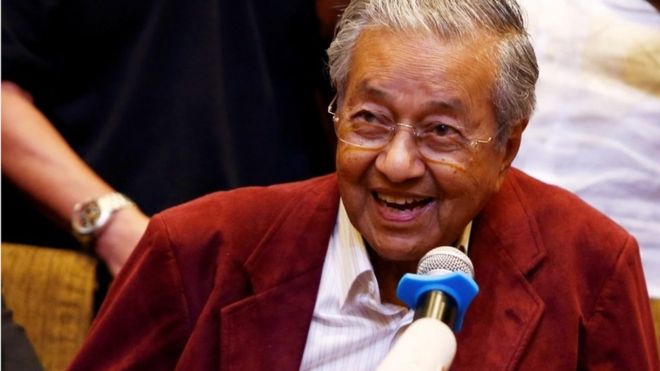 Former Malaysian PM Mahathir Mohamad returns to power
Mahathir Mohamad was on May 10, 2018 sworn in as the seventh Prime Minister of Malaysia, making a stunning comeback to politics 15 years after his retirement.

Mohamad claimed election victory in the country's General Elections 2018, becoming the world's oldest Prime Minister at the age of 92.

Mahathir's coalition, Pakatan Harapan, won 121 out of 222 seats. Mahathir's coalition defeated the governing Barisan Nasional (BN) coalition led by Prime Minister Najib Razak, which has been in power for more than 60 years. BN coalition managed to win only 79 seats.
What were Mahathir's policy pledges?
Doing away with 6 percent goods and services tax within 100 days of taking office. The tax was introduced in 2015 and is widely blamed by citizens for their rising living costs.
Reintroducing gasoline subsidies, which could turn out be a bonus for consumption.
Increasing petroleum royalties to oil-producing states and raising minimum wages.
Phase of Mahathir's previous Premiership
• Mahathir Mohamad served as Malaysia's Prime Minister for 22 years from 1981 to 2003, overseeing the transformation of the country to one of Asia's leading economies.
• Mahathir steered the country through the Asian crisis of 1998, turning it into a so-called 'economic tiger'.
• As Prime Minister, he backed the country's Muslim Malay majority and became famously known as the 'father of modern Malaysia', for backing the policies that helped the economy blossom.
• It was Mahathir's vision itself that inspired the development of Kuala Lumpur's Petronas Twin Towers.
• As Prime Minister, he also presented himself as the spokesperson of the Muslim world following the September 11 attacks in the United States.
Mahathir's decisions as Prime Minister that had upset several countries
In his first year as prime minister in 1981, Mahathir declined to attend the Commonwealth summit that was hosted by Australia in Melbourne, on the grounds that Australia is not a part of Asia.
He refused to take part in the inaugural Asia-Pacific Economic Cooperation (APEC) summit in 1993 and pushed for the exclusion of Australia, an act for which he was labeled as 'recalcitrant' by then Prime Minister Paul Keating.
Mahathir's stand against Australia continued through the Howard era, when he declared that the then Australian Prime Minister John Howard did not belong at the first East Asia Summit because Australia's views would only reflect America's stand.
During his final year as Prime Minister in 2003, he made a speech at an Islamic Summit in which he talked about Jewish domination of the world. The speech prompted protests from Australia, the United States, Western Europe and Israel.
About Mahathir Mohamad

• A doctor by profession, Mahathir joined United Malays National Organisation (UMNO) at the age of 21. The UMNO was a founding member of the Barisan Nasional coalition.
• He ran a medical practice for seven years in Kedah before his appointment as a Member of Parliament in 1964. However, in 1969, Mahathir lost his seat.
• Following the defeat, Mahathir penned a controversial book titled 'The Malay Dilemma', in which he asserted that the Malay population in the country had been marginalised.
• After the release of the book, Mahathir was welcomed back into the party.
• In 1974, he was re-elected to Parliament and appointed as the Minister of Education.
• In 1978, he took on the role of UMNO's deputy leader; and in 1981, he became the Prime Minister, a post which he held till 2003.
• In 2016, Mahathir broke away from the United Malays National Organisation (UMNO) to join the opposition alliance Pakatan Harapan.