Who is Kitty O'Neil? Google Doodle Celebrates 77th Birth Anniversary of World's Fastest Woman
The glorious stuntwoman of America, Kitty O'Neil conquered many obstacles in life. Her 77th birth anniversary is remembered by the creative concept of Google Doodle. Despite having physical maladies, she stood firm and followed her dreams. This woman has her own story of achievements which can be read here.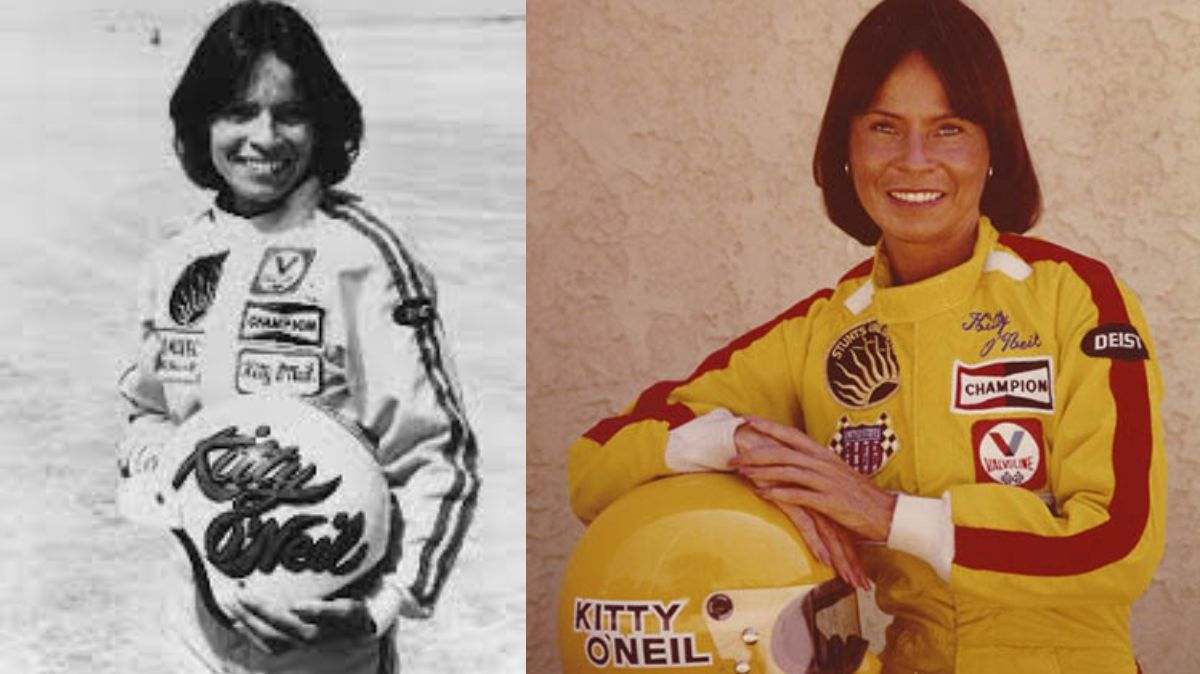 Google Doodle observes today as the 77th Birthday of Daredevil Kitty O'Neil
Google Doodle globally celebrates today i.e. March 23, 2023, as the Birth Anniversary of the daring Female Stuntwoman Kitty O'Neil. This woman has once been rewarded the title of the "Fastest Woman in the World". She is an exemplary example of valour and diligence.
Today (Friday) marks the ceremony in order to commemorate her as one of the great women achievers on Earth. Her life has not been easy however she successfully faced the hardships with her courageous attitude and gained name and fame through her incessant efforts.
How Google Doodle shows Reverence to Superwoman?
Remembering the 77th Birthday of Kitty O'Neil, Google saluted her by presenting a pictorial representation of this dauntless vehicle driver in uniform. She was deaf since her early childhood days due to some illness. But that did not come in her way of achieving success.
Google pays tribute to various victorious identities of the world. And today the day is contributed to Kitty O'Neil who has made record-breaking stunts throughout her life.
#DYK the fastest woman in the world was also deaf since birth? She jumped at every chance to perform stunts…literally!

Learn more about legendary American daredevil Kitty O'Neil in today's #GoogleDoodle, illustrated by guest artist Meeya Tjiang → https://t.co/UngnBggFec pic.twitter.com/4WS3W3eXsm

— Google Doodles (@GoogleDoodles) March 24, 2023
Who designed Kitty O'Neil's Doodle?
US-based deaf guest artist Meeya Tijang wonderfully depicted the illustrious life of Kitty O'Neil by setting her as bold and optimistic giving a background of a rocket-powered car in the picture.
This Doodle is engrossing and inspiring for the whole women's community and serves as an inspirational model for the world.
Life Full of Visions & Missions
Born as the daughter of a US Army Officer, Kitty O'Neil was impaired since she was a few months old. Her birth in 1946 in Texas now completes 77 years in 2023. She lost her hearing abilities in her infancy and suffered from several childhood diseases.
Later on, even as an adult, she caught more illnesses. She has her name embarked in the Guinness World Book of Records as the "Fastest Land Speed Record (Female)". Her physical disabilities were never a barricade in her journey towards realizing her dream goals.
She learned and acquired different communication skill sets. She has lived a positive life inside her mind and always saw her deafness as an asset, as told by Google. She did not for a second thought of it as a weakness and this mindset opened the doors of success for her.
Kitty O'Neil's Passions
Kitty O'Neil has an ardent desire to dive and she faced a wrist injury and illness in her endeavour of diving. That affected her career but she remained determined as she wanted to become a professional athlete.
She practised some adventurous high-speed sports for instance water skiing and motorcycle racing. In addition to this, she performed the acts of valour such as falling from frightening heights while being set on fire.
She is known for her remarkable stunts and this made her career as a stunt double in Hollywood. Having performed various feats on big screens in the 1970s while also racing motorbikes, she was featured in The Bionic Woman (1976), and Wonder Woman (1977-1979).
Widely acclaimed as the first woman to join Stunts Unlimited, an organisation having Hollywood's top stunt performers, Google shares her journey today in the Doodle art. This great soul departed in 2018.
Guinness World Records
Talking about her records, she made a record by almost 200 mph at 512.76 miles an hour. Though she was unable to beat the Men's record, in her attempts and performances, she surpassed all. A 1979 film was also made on her life which is called "Silent Victory: The Kitty O'Neil Story".
Also Read: IPL 2023: BCCI comes up with New Impact Player Rules, Teams Allowed to Elect 11 Players after Tossing
Take Weekly Tests on app for exam prep and compete with others. Download Current Affairs and GK app
एग्जाम की तैयारी के लिए ऐप पर वीकली टेस्ट लें और दूसरों के साथ प्रतिस्पर्धा करें। डाउनलोड करें करेंट अफेयर्स ऐप
Android
IOS