High Profile Guest list of PM Modi's swearing-in ceremony includes SRK, Kangana Ranaut, Ambani, IMF chief and many more
About 8,000 guests are included in guest list for PM Modi's swearing-in ceremony to be held on May 30, 2019. High profile dignitaries from across the country and the globe are expected to attend PM Modi's second term oath ceremony.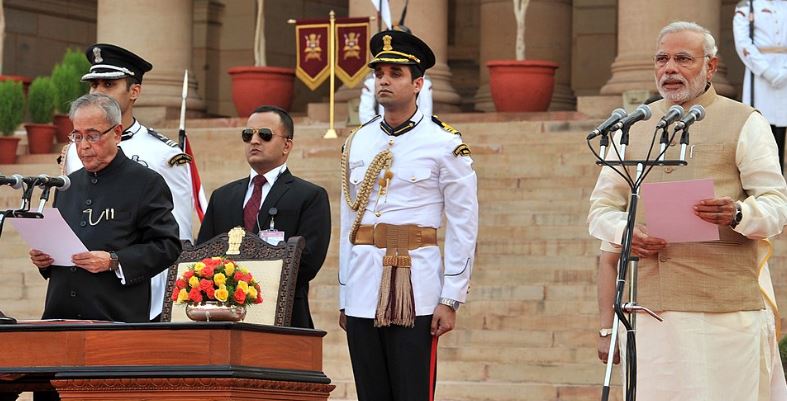 Swearing-in ceremony of Narendra Modi in 2014
High Profile Guest list expected to attend PM Modi's swearing-in ceremony: PM Modi's swearing-in ceremony for second consecutive term will be held today at 7:00 PM. In 2014, about 5,000 guests were invited while this year approximately 8,000 people will attend swearing-in ceremony.
A statement issued by Ministry of External Affairs (MEA) said, "Government of India has invited the leaders of the BIMSTEC Member States for the Swearing-in ceremony on May 30. This is in line with Government's focus on its 'Neighbourhood First' policy."
Movie stars
India's megastar Rajinikanth and Kamal Haasan are likely to join Modi's swearing-in ceremony. Guest list from bollywood is yet to come, however some bollywood stars are expected to mark their attendance. These actors turned politicians Rajinikanth and Kamal Haasan are contesting in upcoming Tamil Nadu assembly polls. Bollywood stars like Kangana Ranaut, Shah Rukh Khan, Sanjay Bhansali, Karan Johar and Rajnikanth, have also been invited.
Business Tycoons
Industry tycoons like Mukesh Ambani, Gautam Adani and Ratan Tata have also been invited for the PM Modi's swearing-in ceremony. Besides Ambani and Tata, business leaders Ajay Piramal, John Chambers and Bill Gates have also been extended invitation for Modi's swearing-in. IMF Managing Director and Chairman Christine Lagarde is also likely to attend programme.
Sports Personalities
Among sports personalities, former sprinter P T Usha, cricketers Rahul Dravid, Anil Kumble, Javagal Srinath, Harbhajan Singh, badminton ace Saina Nehwal, badminton coach Pullela Gopichand and gymnast Dipa Karmakar are invited.
Chief Ministers
Chief Ministers of some state are coming to the oath-taking ceremony. Telangana Chief Minister K Chandrasekhar Rao and Andhra Pradesh CM (designate) YS Jagan Mohan Reddy are also invited.

BIMSTEC states
Leaders of BIMSTEC (Bangladesh, Myanmar, Sri Lanka, Thailand, Nepal, Bhutan) have been invited for the swearing-in ceremony. Bhutan PM Lotay Tshering, Thailand PM Prayut Chan-o-cha, Sri Lankan PM Ranil Wickremesinghe, Nepalese PM KP Sharma Oli and Myanmar Prime Minister Aung San Suu Kyi are participating in this event.
Pakistan's Prime Minister Imran Khan has not been invited for this oath taking session. On the other hand, Bangladesh PM Sheikh Hasina will not come because of her scheduled trip to East Asia, starting from May 28. But, a cabinet minister of Bangladesh AKM Mozammel Huq may attend the ceremony on behalf of Sheikh Hasina.
Also Read: Explained: India's invite to BIMSTEC for PM Modi's oath-taking ceremony & its Significance
Other foreign leaders
Among other international leaders, the President of the Kyrgyz Republic, Sooronbay Jeenbekov, (current president of the Shanghai Cooperation Organization), and the Prime Minister of Mauritius, Pravind Jugnauth, who was the Chief Guest at this year's Pravasi Bhartiya Divas, are few other invited international leaders.

2014 guest list
Narendra Modi's first term started with his swearing-in ceremony held on May 26, 2014. It was the first ever swearing-in of an Indian Prime Minister to have been attended by the heads of all SAARC countries. Former Presidents APJ Abdul Kalam, Pratibha Patil, outgoing Prime Minister Manmohan Singh, then vice President Hamid Ansari, Congress president Sonia Gandhi were among those who participated in oath taking ceremony. Celebrities who were invited to the event included Salman Khan, Dharmendra, Anupam Kher, Madhur Bhandarkar, Suresh Gopi, Vivek Oberoi, Lata Mangeshkar, Rajnikanth and Amitabh Bachchan.
Also Read: Narendra Modi took oath as 15th Prime Minister of India
Also Read: ICC World Cup 2019: Team India to unveil new orange jersey for away matches