Global Giant UBS procures Credit Suisse for $3.25 Billion, Aims to Recoup Financial Security
The Union Bank of Switzerland will be buying its rival Credit Suisse for over $2 billion which is about one-fourth of the net worth of Credit Suisse Group of the previous trading session. Know more about the market turmoil in the contemporary era.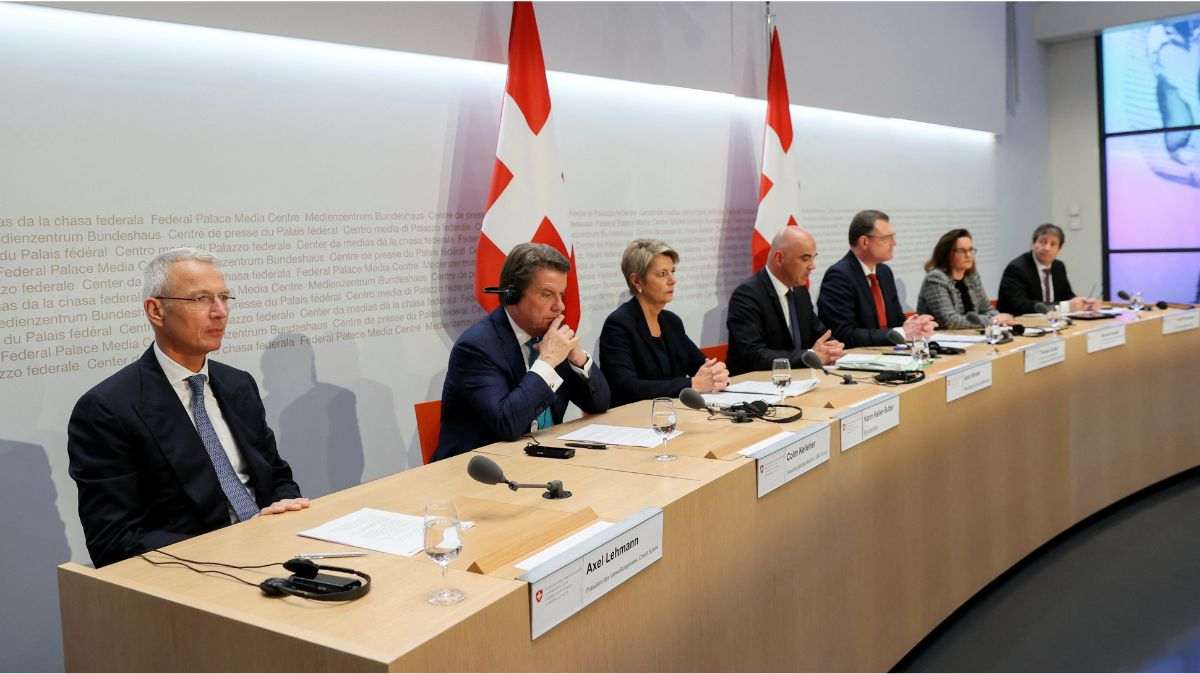 To save against Economy Downturn, UBS plans to buy Credit Suisse's Banking System.
On March 19, 2023 (Sunday) Switzerland's multinational investment bank UBS announced the acquisition of adversary Credit Suisse. The deal was finalised for an amount of $3.25 billion (CHF 3 billion). This was arranged by regulators to curb further economic disturbance prevailing in the global banking system.
This happened when Swiss authorities demanded UBS supersede its rival. Before this, one of the leading financial services providers, Credit Suisse recently decided to borrow up to 50 billion Swiss Francs ($54 billion) from the Swiss National Bank. However, the company heavily failed to assist investors as well as the bank's customers.
Credit Suisse Bank is afflicted with multiple blunders and scandals in the past few years that resulted in multi-billion dollar losses and top management changes. After the consecutive failures of two notable banks, shares of Credit Suisse along with other banks almost sank this week. As far as the Global Financial System is concerned, financially unstable institutions are a matter of worry.
UBS buying rival Swiss bank Credit Suisse was the best possible solution to a difficult situation, said Marlene Amstad, chair of Switzerland's Financial Market Supervisory Authority https://t.co/YWpPuGJSwz pic.twitter.com/A4YA5iqzU5

— Reuters (@Reuters) March 20, 2023
Financial Reports
According to several analysts, it is probable that after the takeover of Credit Suisse Group AG, its persistently faced problems will end. The financial reports reveal that the Credit banking firm has been low on material weakness and its investors were put under surveillance.
In an official press conference, UBS Chairman, Colm Kelleher told that it intends to tail off Credit Suisse's investment bank and this bank has a thousand employees from across the globe. Moreover, by 2027 it is expected that annual cost savings of about 7 billion dollars will be possible.
Risk of Deflation
Headquartered in Zurich, Credit Suisse stands among the 30 financial institutions which are widely acclaimed as global significant banks. Many authorities agonise over the repercussions of declining financial systems if it was the case.
Switzerland's second-biggest bank, UBS Bank guards the wealth and assets of the world's affluent people. To halt the banking plight, it planned to buy Credit Suisse. It can be considered an emergency resume deal in the midst of global economical upheaval. The deal was in benefit for the stability of international finance, Swiss President Alain Berset asserted on March 19, 2023 (Sunday).
He further says that this alarming situation of Credit Suisse's bankruptcy would lead to immeasurable consequences for the whole nation and would have adversely affected the international financial system. The executive branch of Switzerland which consists of a seven-member governing body including Alain Berset recently issued an emergency ordinance. It stated that the collaboration can be carried out without shareholder approval.
Deal - 'A Clear Turning Point'
The Chairman of Credit Suisse, Axel Lehmann called this recent bargain "a clear turning point." He stated that it was a very challenging and sad day for Credit Suisse, the country of Switzerland and global financial markets yet a big sale was made in history. The focus is now on the banking future and specifically on the 50,000 Credit Suisse employees out of which 17,000 are in Switzerland.
After the news of the Swiss deal came out, the central banks all over the world also declared coordinated financial moves to secure banks in the upcoming week. It will involve daily access to a lending provision for banks who need to borrow US dollars. It is a widely practised strategy that was earlier used during the 2008 financial crisis.
An analyst, Max Georgiou proclaimed at the deal event that "Today is one of the most significant days in European banking since 2008, with far-reaching repercussions for the industry,". He even said that such significant events have the capacity to amend not only the European banking systems but also the wealth management industries in general.
Also Read: Google Doodle Commemorates Mario Molina's 80th Birth Anniversary, Discover how he earned Nobel Laureate Title
Take Weekly Tests on app for exam prep and compete with others. Download Current Affairs and GK app
एग्जाम की तैयारी के लिए ऐप पर वीकली टेस्ट लें और दूसरों के साथ प्रतिस्पर्धा करें। डाउनलोड करें करेंट अफेयर्स ऐप
Android
IOS