India declared open-defecation free
India declared ODF: PM Modi declared that in 60 months, we have been able to provide 11 crore toilets to over 60 crore people.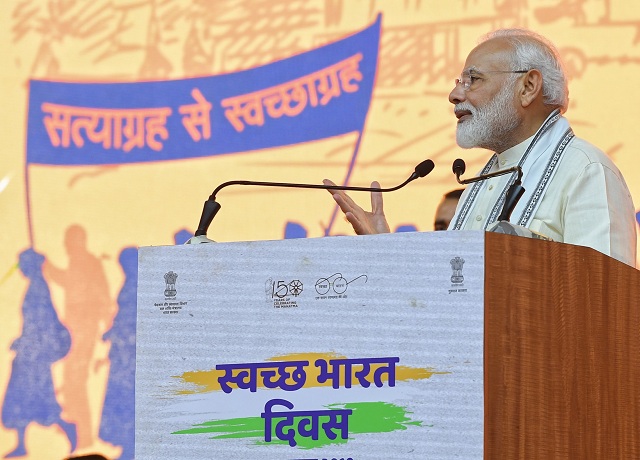 PM Modi declares India ODF
India declared ODF: Prime Minister Narendra Modi declared India open defecation free on October 2, 2019, on Mahatma Gandhi's 150th birth anniversary. The Prime Minister said that rural India had itself declared itself open defecation free.
The Prime Minister made the much-awaited announcement during a special programme, organised at Sabarmati in Ahmedabad. PM Modi declared that India amazed the world by building almost 11 crore toilets for about 60 crore people in just a period of 60 months under the massive, Swachh Bharat Mission.
⇒ Amazon Great Indian Festival Sale 2019 is Live: Check Live Offers Now!
⇒ Amazon Great Indian Festival Sale 2019 is Live: Up to 60% Off on Bluetooth Headphones & Speakers
The Prime Minister said that Swachh Bharat Mission made it possible for each household to have a toilet unlike before. He said that toilet, which was non-existent earlier in most households, has now become an important part of each house and its importance has been increasingly been realised, especially in rural areas.
PM Modi speech on Swachh Bharat Mission success: Key Highlights
- The world is stunned by our success. The whole world is praising, respecting and awarding us for the success of the Swachh Bharat Mission.
- In 60 months, we have been able to provide 11 crore toilets to over 60 crore people. Hearing this the world was amazed.
- For me, seeing girl children going to school without having any worry is bigger than any number or praise.
- I am satisfied and happy to hear that through the success of the mission, crores of women have been freed from the pain of waiting till dark.
- I am happy about the fact that now people will be free of hygiene-related diseases, which led to the death of many women.
- I am also happy that now the poor will not have to spend much on treatment for diseases and infections that come as a result of a lack of sanitation.
- I am satisfied that the mission was able to provide employment to people living in rural and tribal areas. The mission also provided employment opportunities to the women in the areas.
- Swachh Bharat Abhiyan has not only played the role of a life-saving mission but it has also helped raise the quality of life in several areas.
- According to an estimate provided by UNICEF, in the past 5 years, the Swachh Bharat mission has had a positive impact on the Indian economy
- The mission opened up almost 75 lakh job opportunities in the nation, out of which, most were for rural men and women.
- The mission also had a huge impact on child education, India's productivity and entrepreneurship. The mission enabled unbelievable change in the safety and empowerment of women and girl children in India.
- Mahatma Gandhi also envisioned such a model that would enable the empowerment of all women. He also fought for the same till the end of his life.
Open Defecation: What does it mean?
Open defecation means defecating outside in the open environment and not in a designated toilet. In India, it has been a common practice, especially in rural areas, for people to choose fields, forests, ditches or bushes or any other open space for defecation due to shortage or lack of proper toilets.
Open Defecation: Impact
While open defecation is unhealthy for the environment, it also leads to a lot of health problems, which can lead to death in severe cases. ODF not only leads to undernutrition among children but also child mortality.
India earlier had the highest number of people who practiced open defecation, almost around 190 million and it was followed by countries such as Indonesia, Pakistan, Nigeria, Ethiopia and Sudan.
What does ODF mean?
Open Defecation Free means when everyone stops using open spaces for defecation and instead shift to toilets. The ODF status was achieved by India through the massive sanitation programme, Swachh Bharat Mission, under which, crores of toilets were built specially in the poor households.
ODF: Impact
ODF is a significant indicator to measure a country's progress in meeting its SDG goals and improving its sanitation standards. Eliminating open defecation is also significant to boost the economy and alleviate poverty.
Download our Current Affairs & GK app for Competitive exam preparation. Click here for latest Current Affairs: Android|IOS