India vs New Zealand Weather forecast, World Cup 2019: 80 percent chance of rain at Trent Bridge
The weather forecast for India vs New Zealand at Trent Bridge predicts 80 percent chance of rain.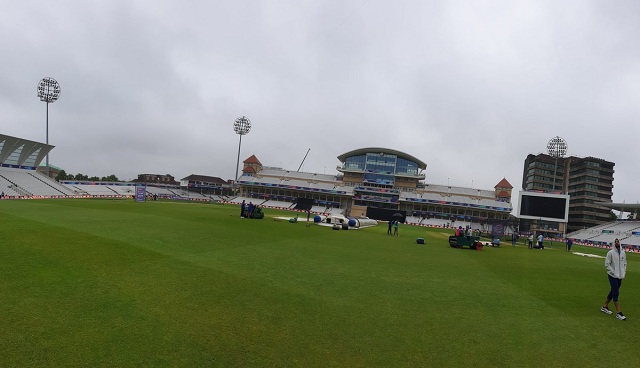 India vs New Zealand Weather forecast, World Cup 2019: 80 percent chance of rain at Trent Bridge
It is a gloomy start for India and New Zealand as their clash in the ICC World Cup 2019 is delayed due to rain at Trent Bridge in Nottingham. According to the latest report, the rain has got heavier and the covers are back on. This is bad news for the Indian fans who were looking forward to the match. If rain does stop the play, it will be profitable for New Zealand, as the team will still be ahead in the points table with 7 points.
England's Met Office had previously issued a 'yellow warning' for heavy rain in Nottingham area from June 10 till mid-day of June 13, the day on which India will take on New Zealand in their third ICC World Cup match. Both the teams are currently the only unbeaten teams in the ongoing cricket world cup.

Rain Prediction for Thursday, June 13 at Trent Bridge

According to the weather forecast for Nottingham area, heavy rain is expected from Monday till the evening of Wednesday, after which light rain is expected till mid-day of Thursday. The lighter rain is expected to halt by lunchtime.

Though the practice session on June 11 for both India and New Zealand were washed out due to rain, Team India managed to hold their morning practice session on June 12 when the rain lightened up a bit.

The Thursday weather prediction for the Nottingham area includes variable cloudiness along with rainy spells. The maximum temperature is expected to be around 13 degrees during the day.

The sun hasn't come up in Nottingham since Monday so it is worrisome for both the teams, as the pitch has been under covers all this time and it remains to be seen how the outfield will dry up before the match.

Rain plays spoilsport in World Cup 2019!

The ICC World Cup 2019 has seen the most number of washed up matches till now. The following three world cup matches had to be abandoned following heavy rain at the venue:

ICC World Cup Match 11- Pakistan vs Sri Lanka at County Ground, Bristol

ICC World Cup Match 15- South Africa vs West Indies at Rose Bowl, Southampton

ICC World Cup Match 16- Sri Lanka vs West Indies at County Ground, Bristol

All the above teams were awarded one point each after the match was declared a tie. If India vs New Zealand match also gets washed out, then both India and New Zealand will get one point each. Currently, New Zealand leads the points table with 6 points from three matches and India have four points from matches.