Jio Fiber Plans launched: Know all rentals, offers and other details
Jio Fiber Plans rolled out in 1600 towns across the country. These plans will range between Rs. 700 per month to Rs. 8500 per month.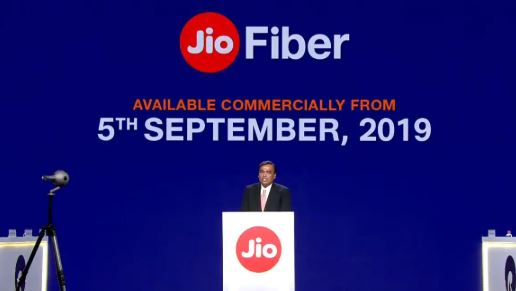 RIL AGM 2019
Reliance Jio Fiber broadband services have been launched. Jio Fiber plans will be started at Rs. 699 and will go up to Rs. 8,499 with several facilities. The lowest rental will provide 100 Mbps speed while the highest plan will give 1 Gbps speed.
Now, Jio Fiber broadband services will be available for all customers in 1600 cities across the country. Jio Fiber offers free voice calling anywhere in the country, unlimited data and video conferencing with all plans.
The RIL Chairman Mukesh Ambani announced the official launch of Jio Fiber broadband services in India at the 42nd AGM of RIL. According to the announcement by RIL Chairman Mukesh Ambani, the cheapest data plan of Jio Giga Fiber is priced at Rs. 700 per month with speeds capped at 100Mbps.
Jio Fiber Plans
• Reliance Jio has launched Jio Fiber plans under six categories - Bronze, Silver, Gold, Diamond, Platinum and Titanium.
• Jio Fiber Bronze plan will provide 100 Mbps of speed at Rs. 699 per month rental. The plan included free voice call facility anywhere in India.
• Jio Fiber Silver Plan will be available at the cost of Rs. 849 per month with 100 Mbps of speed.
• A free LED TV will be provided with Jio Fiber Gold two-year subscription plan. Monthly rental of this plan is Rs. 1299.
• The Reliance Jio announced complimentary high definition set-top box and an advance modem Jio Home Gateway in all the plans priced between Rs. 699 to Rs. 8,499 per month.
• Cable TV service will be provided under a separate payment subscription plan through the cable fibre or DTH.
Jio GigaFiber: Launch date, Plans, Prices, Jio Set-top Box and offers announced in RIL's annual AGM
Jio Set-Top Box
Jio Fiber is providing a 4K Set-Top box to its consumers that will provide a brand new experience at the lowest prices in India. The Jio Set-top Box will not only provide traditional cable facility but also offer features like video conferencing, access to apps, online gaming, and more. However, any specification or price have not been shared by the company. Jio Set-Top Box will be available with three multiple system operators (MSOs) on board, namely Hathway, Den, and GTPL, that will help bring the newly launched Jio Set-Top Box to various Indian homes.
Jio Fiber in 1600 towns
The company aims to extend the facility of Reliance Jio Fiber to 1,600 cities or towns of the country. The service of Reliance Jio Fiber is currently available on trial in Delhi, Mumbai, Kolkata, Jaipur, Hyderabad, Surat, Vadodara, Chennai, Noida, Ghaziabad, Bhubaneswar, Varanasi, Prayagraj, Bangalore, Agra, Meerut, Visakhapatnam, Lucknow, Jamshedpur, Haridwar, Available in Gaya, Patna and Port Blair.
Download our Current Affairs & GK app for Competitive exam preparation. Click here for latest Current Affairs: Android|IOS