Mahinda Rajapaksa sworn in as new PM of Sri Lanka: All you need to know
Former President Mahinda Rajapaksa was sworn in as Sri Lanka's new Prime Minister on November 21.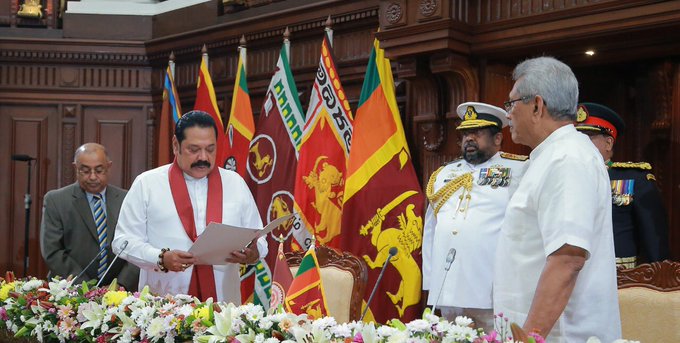 Mahinda Rajapaksa takes oath as new PM of Sri Lanka
Former President Mahinda Rajapaksa was sworn in as the new Prime Minister of Sri Lanka on November 21, 2019. He was administered the oath of the office by incumbent President Gotabaya Rajapksa and his younger brother.
Mahinda Rajapaksa took oath as the new Prime Minister of Sri Lanka after Ranil Wickremesinghe resigned from his post after his presidential election defeat. A 15-member cabinet is also expected to be sworn in on November 22.
Speaking after his swearing-in ceremony, Mahinda Rajapaksa said that he was honoured to have taken the oath as Sri Lanka's new Prime Minister. He said that he was looking to take Sri Lanka forward with a new vision.
Following is Mahinda Rajapaksa's reply to a congratulatory tweet by Indian PM Narendra Modi:
Why did Ranil Wickremsinghe resign?
Prime Minister Ranil Wickremesinghe formally resigned from his post on November 20 after his party suffered a huge defeat in the recently concluded Sri Lankan Presidential Elections 2019.
Ranil Wickremesinghe's party, the United National Party (UNP) had nominated Sajith Premadasa for the Presidential post but Mahinda Rajapaksa's younger brother Gotabaya Rajapksa emerged as the clear winner.
Though Ranil Wickremesinghe's government still has a majority in the Parliament, he decided to respect the mandate and pave way for the formation of a minority government helmed by the Rajapaksas.
Mahinda Rajapaksa to lead minority government
The new Sri Lankan President Gotabhaya Rajapaksa officially named his elder brother and former President Mahinda Rajapaksa as the new prime minister on November 20. This would be the first time that Sri Lanka would be helmed by two brothers.
Mahinda Rajapaksa will helm the caretaker government till the parliamentary elections take place. Ranil Wickremesinghe had come to power in August 2015 for a period of five years. As per Sri Lankan constitution, the parliament cannot be dissolved before March 2020, six months before the term is scheduled to end unless two-third of its members pass a resolution for the same.
The United National Party has already notified the speaker of the parliament to name Ranil Wickremesinghe as the leader of the opposition.
Background
Mahinda Rajapaksa formerly served as the President of Sri Lanka for two terms from 2005 to 2015, becoming South Asia's longest-serving leader. He was barred from contesting elections again due to the two-term Presidential limit. This is the first time in Sri Lankan politics that the sitting President and Prime Minister did not run for the Presidential elections.
Gotabaya Rajapaksa had announced his candidacy for President in April 2019. His party, the Sri Lanka Podujana Party officially announced him as its Presidential candidate in August 2019, while Mahinda Rajapaksa was announced as the Prime Ministerial candidate.
Both Mahinda Rajapaksa and Gotabaya Rajapaksa are largely credited for bringing an end to the decades-long civil war in Sri Lanka by brutally crushing the Liberation Tigers of Tamil Eelam. Their two other brothers, Basil and Chamal Rajapaksa, are also active in politics. The eldest brother Chamal was the speaker of parliament during Mahinda Rajapaksa's Presidency.
Ranil Wickremesinghe had come to power in 2015 with a promise to prosecute all the members of the outgoing Mahinda Rajapaksa' government who were accused of corruption and other crimes including murder. However, he failed to live up to his promises.
In fact, his turbulent power struggle with former President Maithripala Sirisena, whom his party had supported in 2015, plunged Sri Lanka into a major constitutional crisis in 2018. Following this, the UNP, which had not fielded its candidate in both 2010 and 2015 Presidential elections decided to contest the 2019 elections on their own and nominated the party's deputy leader Sajith Premadasa for the post.
2018 Sri Lankan constitutional crisis
The 2018 Sri Lankan constitutional crisis is a result of the power struggle between President Maithripala Sirisena and Prime Minister Ranil Wickremesinghe. The crisis began when President Sirisena appointed former President Mahinda Rajapaksa as the new Prime Minister on October 26, 2018 before dismissing incumbent Prime Minister Ranil Wickremesinghe.
This resulted in Sri Lanka having two Prime Ministers at one time. Ranil Wickremesinghe's UNP party called the nominations as illegal as Wickremesinghe refused to resign from his post.
Ranil Wickremesinghe, who held a majority in the Parliament, called the move unconstitutional and requested the Speaker of the Parliament Karu Jayasuriya to convene the parliament immediately. Maithripala Sirisena, however, ignored all calls to convene the parliament and abruptly suspended it till November 16.
The UNP declared the move as unconstitutional and approached the Supreme Court of Sri Lanka. The Supreme Court stayed the dissolution of the Parliament and in December 2018, it ruled that it was unconstitutional and illegal.
Mahinda Rajapaksa backed out from claiming the post and Ranil Wickremesinghe was reinstated as the Prime Minister of the nation.
Also read: Sri Lankan Political Crisis: Everything you need to know!