Nun Mariam Thresia receives title of 'Saint' 93 years after her death
Nun Mariam Thresia dedicated her life to God at the age of 8 and started fasting and praying. Since childhood, her friends started calling her saint.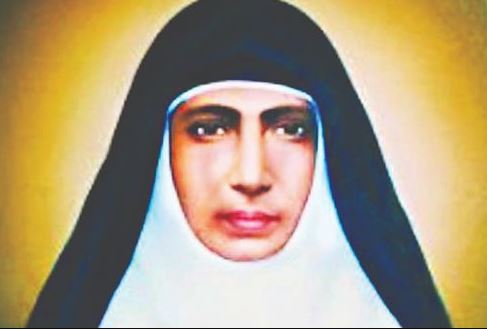 Sister Mariam Thresia
Nun Mariam Thresia: Pope Francis declared Kerala's Nun Mariam Thresia a saint 93 years after her death. Pope Francis elevated her to sainthood in a grand ceremony at Vatican City. Along with sister Thresia, Cardinal John Henry Neumann of Britain, Swiss Levuman Marguerite Bess, Sister Dulce Lopes of Brazil and Sister Giuseppina Vannini of Italy were also declared saints.
Sister Mariam dedicated herself to God at the age of 8 and started fasting and praying. Since childhood, her friends started calling her saint. Sister Mariam served the poor of Kerala and people suffering from leprosy and smallpox.
About Mariam Thresia
• She was born in Thrissur, Kerala on 26 April 1876. She came to be called as Mariam Thresia in 1904 because of her devotion to God.
• She helped the poor, took care of the sick and supported the destitute people throughout her life.
• Mariam Thresia has established a religious body called Holy Family in 1914. Now, about 2000 nuns are running this organization.
• It was declared in an event at Vatican City that, she built and operated several schools, hostels, orphanages and convents.
• Sister Mariam is also remembered for her works done for the education and empowerment of girls and poor women.
• She was passed away on June 8, 1926, at the age of 50 years.
Also Read | Kavitha Gopal becomes first girl student to win President of India Prize
PM Modi about Mariam Thresia
PM Modi mentioned about Sister Mariam in Mann Ki Baat programme on September 29. He said that the country is proud of Sister Mariam. The work she has done for the good of humanity in her short lifetime of 50 years is an example for the whole world.
Pope recognized Mary's 'miracle'
According to the Holy Family, a child born before nine months was struggling between life and death. Doctors had asked to give him medicine through a special ventilator which was not present in the hospital at that time. The child was hardly able to breathe. The parents of that child were the followers of Sister Mariam. The child's grandmother placed a religious sign on him and asked all the people to pray. There was a big change in the child's health within 20 to 30 minutes of doing this. The incident took place on April 9, 2009. Sister Mariam was declared 'Blessed' in Rome on the same day. On March 22, 2018, the Vatican accepted this 'miracle' of Sister Mariam and now she has been given the title of 'Saint' by the Pope Francis.
Also Read | Nobel Peace Prize 2019: Abiy Ahmed, Ethiopian Prime Minister, wins prize
Also Read | VP Venkaiah Naidu conferred with highest Civilian Honour of Comoros
Take Weekly Tests on app for exam prep and compete with others. Download Current Affairs and GK app
एग्जाम की तैयारी के लिए ऐप पर वीकली टेस्ट लें और दूसरों के साथ प्रतिस्पर्धा करें। डाउनलोड करें करेंट अफेयर्स ऐप
Android
IOS