Government sets up panel to reduce stress in telecom sector
The Government has set up a Committee of Secretaries (CoS)to look into the financial stress in the telecom sector.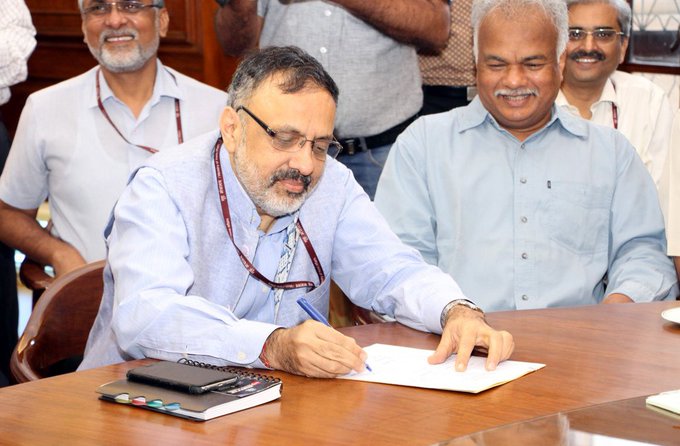 Rajiv Gauba Image: twitter/MIB
Rajiv Gauba Panel for telecom sector: To understand the stress and devise the strategy to eliminate financial burden in the telecom sector, the government has set up a Committee of Secretaries (CoS) under Cabinet Secretary Rajiv Gauba.
The Committee of Secretaries (CoS) will have representatives from law, finance and telecom ministries that will study subjects like reduction in Spectrum Usage Charges (SUC) and Universal Service Obligation Fund (USOF) charges, a 2-year moratorium on spectrum auction to ease cash-flow in the sector.
The decision to set up a CoS comes after the apex court rejected the definition of AGR (Adjusted Gross Revenue) given by telecom companies and sustained the government's definition of revenue.
Also Read: Vice President Venkaiah Naidu introduces 15-point charter for Parliamentary reforms
Earlier on October 24, 2019, the Supreme Court ended the decade long legal tussle between DoT (Department of Telecommunications)and telecom operators by rejecting the definition of AGR mooted by telecom companies that excluded revenue from non-core telecom operations such as rent, dividend and interest income. The court also asked the telecos to pay dues along with interest within 90-days. Bharti Airtel and Vodafone Idea are the two companies that have been hit hard by this decision. They will have to pay pending license fee and SUC dues of over Rs 41,000 crore and 39000 crores respectively.
In total, the telecom companies will have to pay Rs. 92000 crore to the government for spectrum and license fee dues that have accumulated over these years. Therefore, the telecos are looking to extend the deadline and reduce the amount.
Telecom Sector timeline:
1994: Telecom Sector liberalised under National Telecom Policy, 1994.
1999: national Telecom Policy formulated ( From fixed license fee to revenue-sharing fee)
1999: Government becomes a partner in Gross-revenue. 15% AGR fixed under revenue-sharing, later reduced to 13%.
2013: AGR further reduced to 8%.
Also Read: Union Cabinet approves National Digital Communications Policy 2018
Also Read: Jio tops telecom market with 31.7 percent revenue share, Airtel second