Prithvi Shaw suspended by BCCI for 8 months for doping violation
Prithvi Shaw is India's one of the most promising players, he has been banned for eight months by BCCI.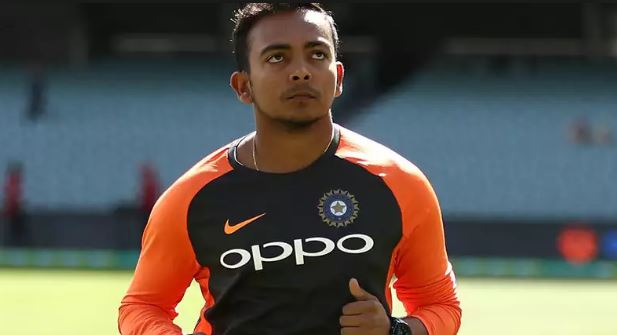 Prithvi Shaw
Prithvi Shaw has been suspended by Board of Control for Cricket in India (BCCI) till November 15 for violating anti-doping code. He consumed a prohibited substance included in over-the-counter cough syrup.
Prithvi Shaw was tested positive for terbutaline during the Syed Mushtaq Ali T20 tournament. Two other domestic players Divya Gajraj of Rajasthan and Akshay Dullarwar of Vidarbha were also found positive during anti-doping test. BCCI has been suspended Gajraj for six months while Dullarwar has been banned for eight months. Shaw's period of suspension is eight months, starting from March 16 to November 15, 2019.
Prithvi Shaw's Tweet
Prithvi Shaw is India's one of the most promising players, he has been banned for eight months by BCCI. Prithvi had submitted a urine sample as part of the BCCI's anti-doping program on February 22 and tested positive for Terbutaline while playing in a tournament in Indore. After BCCI's announcement Prithvi took to Twitter, he said in a tweet, "I accept my fate with all sincerity…this news has really shaken me…I will come out of this faster and stronger."
Prithvi Shaw's Cricket Career
• Prithvi is the 4th youngest player in the history of cricket to hit a debut century. He is the second youngest India player to score a test match century after Sachin Tendulkar.
• He made a century on his Test debut at Rajkot Stadium against West Indies in October 2018. Shaw was declared Man of the Match.
• Shaw plays for Delhi Capitals in IPL; he made a century on his debut in Duleep Trophy in 2017.
• He got the limelight in 2013 when he scored 546 runs (world record) for Rizvi Springfield in inter-school cricket.
BCCI's Note
BCCI released a statement that said, on 16th July 2019, Shaw was charged with the commission of an Anti-Doping Rule Violation (ADRV) under the BCCI Anti-Doping Rules (ADR) Article 2.1 and provisionally suspended pending determination of the charge. Shaw responded to the charge by admitting the ADRV but asserting that it was inadvertent, being caused by his ingestion of the over the counter cough syrup he had taken for his cough.
About Terbutaline
This substance is used as a fast-acting bronchodilator and as a tocolytic to delay premature labour. The inhaled form of terbutaline starts working within 15 minutes and can last up to 6 hours. Side effects include tachycardia, anxiety, nervousness, tremors, headache and hypotension.
Also Read | ICC adds two new umpires in elite panel for 2019-20