Rajasthan Election Results 2018: Congress wins 99 seats; emerges single largest party in Rajasthan
Following the declaration of results, Rajasthan CM Vasundhara Raje of the BJP tendered her resignation to the Governor Kalyan Singh, though she won from her constituency Jhalrapatan and defeated her Congress rival Manvendra Singh.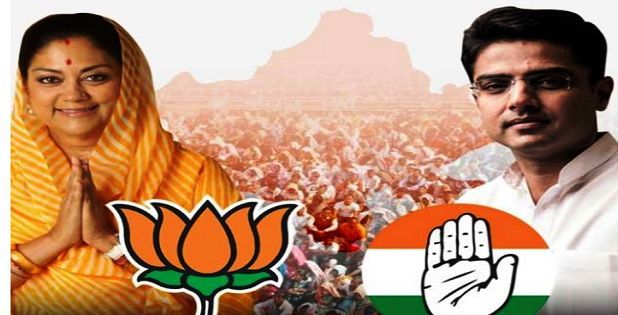 Rajasthan Elections Results 2018
The Indian National Congress (INC) emerged as the single largest party in Rajasthan, winning 99 seats in the 2018 Rajasthan Assembly Elections.

The Bharatiya Janata Party (BJP) trailed behind with 73 seats and others fetched 27 seats. The Bahujan Samaj Party (BSP) showcased an impressive run by winning six seats, and Hanuman Beniwal-led Rashtriya Loktantrik Party won three seats.

The Gujarat-based Bharatiya Tribal Party (BTP) and Communist Party of India (Marxist) won two seats each, Independents won 13 seats and Rashtriya Lok Dal (RLD) won one seat.
Vasundhara Raje resigned
Following the declaration of results, Rajasthan CM Vasundhara Raje of the BJP tendered her resignation to the Governor Kalyan Singh, though she won from her constituency Jhalrapatan and defeated her Congress rival Manvendra Singh.
Due to the death of one candidate, elections were called off in one seat, making it an election for 199 seats in the state, putting the majority at 100 seats.
Key Highlights

• Former chief minister Ashok Gehlot won from Sardarpura constituency, defeating BJP's Shambhu Singh Khetasar by over 40,000 votes.

• Congress President Sachin Pilot won from Tonk, beating his BJP rival Yoonus Khan by 54,179 votes. Khan was the only Muslim candidate fielded by the BJP in the Rajasthan Assembly polls.

• Another prominent Congress leader who won is CP Joshi, who defeated BJP's Mahesh Pratap Singh in Nathdwara.

• Gulab Chand Kataria, Rajasthan Home Minister, won the assembly elections for eighth term, defeating Congress's Girija Vyas by 9,307 votes in Udaipur assembly seat.

• Rajasthan assembly speaker Kailash Meghwal registered his sixth win in state assembly polls. He defeated Mahaveer Prasad of the Congress by 74,542 votes in Shahpura.

• BJP's Social Justice Minister Arun Chaturvedi lost to Pratap Singh Khachariya in Civil Lines.

• Water Resources Minister Rampratap lost to Vinod Kumar in Hanumangarh and Industry Minister Rajpal Singh lost to Lalchand Kataria in Jhotwara.

• Pramod Bhaya of the Congress defeated Agriculture Minister Prabhu Lal Saini by a huge margin in Anta.

• Anjana Udailal of Congress emerged victorious over Urban Development and Housing Minister Srichand Kriplani in Nimbahera.

• Cooperative Minister Ajay Singh lost by a big margin to Vijaypal Mirdha of the Congress in Degana.

• Mines Minister Surendra Pal Singh lost to Gurmeet Singh Kooner in Karanpur.

• BJP candidate Otaram Devasi lost to Independent candidate Sanyam Lodha in Sirohi.

• Higher Education Minister Kiran Maheshwari defeated Narayan Singh Bhati of the Congress by a big margin in Rajsamand.
Race for Chief Minister's post
Now the bigger worry for the Congress party is that the two of its candidates, Ashok Gehlot and Sachin Pilot are battling against each other for the Chief Minister's post.
Both Gehlot and Pilot won in their respective constituencies comfortably. While Gehlot won the Sardarpura seat for the fifth time, Pilot won by a huge margin from Tonk.
In 2013, when the Congress faced its worst defeat in the state, winning just 21 seats against the BJP's 163, Party President Rahul Gandhi handed the reins of the state to Sachin Pilot, a two-time parliamentarian and son of former leader Rajesh Pilot who died in 2000 in a road accident.

Pilot had made a vow in 2014, when the party lost in the Lok Sabha elections, to not wear a turban till the Congress returns to power.

Pilot served as Minister in the UPA government in different capacities. He was elected as an MP from his father's constituency Dausa in 2004 and became the youngest member of the parliament. He was elected again from Ajmer in 2009.

Pilot was also the Minister of State for Communication and IT in 2009 and Minister of State (Independent charge) for Corporate Affairs in 2012.

Pilot was selected as one of the Young Global Leaders by the World Economic Forum in 2008.

He received his Private Pilot's Licence (PPL) from the US in 1995 and is also a keen sportsman and represented Delhi in a number of National Shooting Championships.

He did his graduation from Delhi's St Stephen's College and MBA from Wharton Business School, University of Pennsylvania.
In his early years, Gehlot headed the Rajasthan unit of the National Students Union of India (NSUI) and was a staunch loyalist of the Gandhi family.

After his first proper job as NSUI's Rajasthan president from 1974 to 1979, he went on to become the Jodhpur district Congress Committee President from 1979 to 1982.

Gehlot was first-elected to Parliament in 1980 and went on to win Lok Sabha elections four more times.

Since 1999, he has represented the Sardarpura assembly constituency, winning five consecutive terms in the House.

Gehlot has served various ministries such as Union Ministry of Tourism; Civil Aviation; Sports; and Textiles in different stints between 1982 and 1993.

He was also the AICC General Secretary in charge of Delhi and the Sewa Dal cell from 2004-2009.
Single phase elections of 2018

Rajasthan had gone for polling in a single phase election on December 7, 2018 for 199 out of total 200 seats. The election in Alwar's Ramgarh seat was postponed due to the death of BSP candidate Laxman Singh and the polling will take place later.
The single phase election happened in Rajasthan after weeks of intense campaigning by state-level leaders including Chief Minister Vasundhara Raje, Congress' Sachin Pilot and Ashok Gehlot, and national level leaders including PM Narendra Modi, BJP National President Amit Shah and Congress President Rahul Gandhi.
Note: A political party needs to win at least 100 seats to secure a simple majority in the State Legislative Assembly.
2013 Rajasthan Legislative Assembly elections
The term of current Rajasthan Assembly ends on January 20, 2019. The Bharatiya Janata Party (BJP) government has been in power in the state since 2013 with Vasundhara Raje holding the post of Chief Minister of Rajasthan since 2013; previously she served in the same post from 2003 to 2008.
In 2013, Vasundhara Raje won the 14th Rajasthan Legislative Assembly elections from Jhalrapatan constituency, winning 163 out of the 200 seats. Congress had finished a distant second with just 21 seats. National People's Party (NPP) had won four seats and Bahujan Samaj Party (BSP) had won three.
Rajasthan Legislative Assembly

• The Rajasthan Legislative Assembly consists of 200 members. The members of the Legislative assembly are directly elected by the people for a term of 5 years.

• The First Rajasthan Legislative Assembly was formed in March 1952. It had strength of 160 members.

• The Second (1957–62) and Third (1962–67) Legislative Assemblies had a strength of 176 members.

• The Fourth (1967–72) and Fifth (1972–77) Legislative Assembly comprised 184 members each.

• The strength became 200 from the Sixth (1977–80) Legislative Assembly onwards.

• The 14th and the current Legislative Assembly was formed on January 21, 2013 with 200 members.