Ashwini Vaishnaw introduced India's first-ever Quantum Tele Communication Network Link
At the first International Quantum Conclave, the Communication Ministry launched the quantum communication link. This network delivers 'qubits' which improved the security of data. Read more about this strongly protected system here.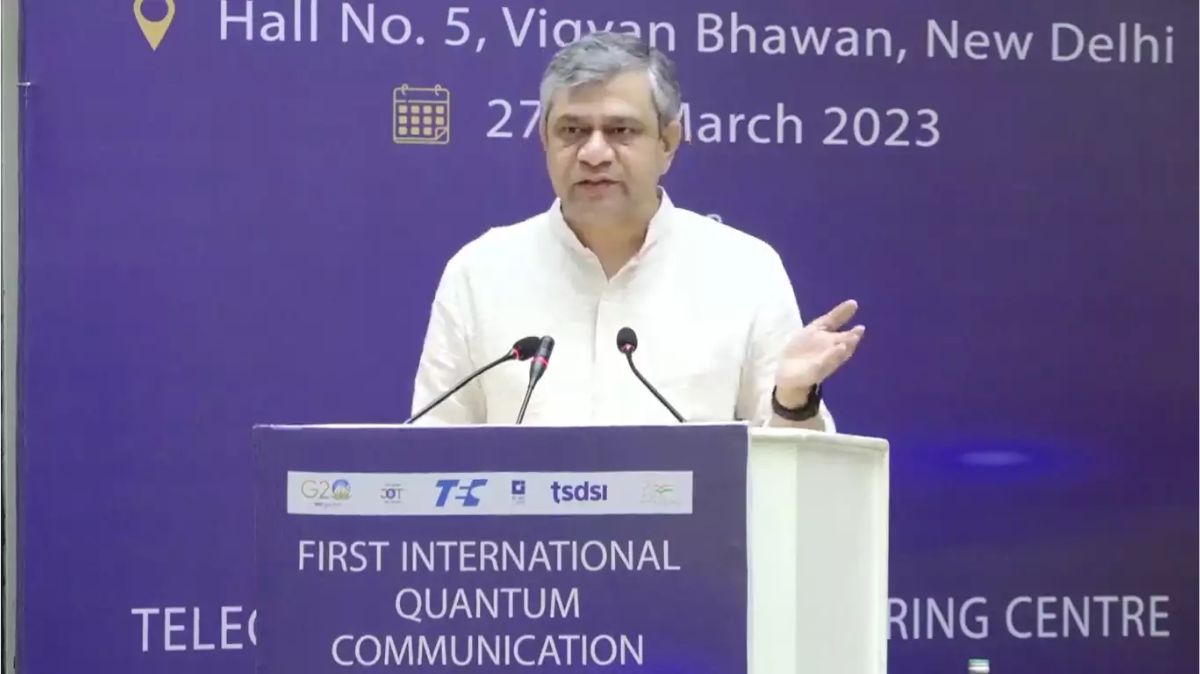 Telecom Communication Link is now functional between Sanchar Bhawan and National Informatics Centre.
The Minister of Railways, Communications, Electronics and IT, Ashwini Vaishnaw announced India's first quantum-secured telecom network. This communication link is now functional in the national capital of India i.e. Delhi.
"Today Quantum is the new frontier of telecom technology for security purposes."

- At the First International Quantum Communication Conclave. pic.twitter.com/rDRK7yIQgW

— Ashwini Vaishnaw (@AshwiniVaishnaw) March 27, 2023
On March 27, 2023, the Minister held the inauguration of an expo of quantum computing firms. They were invited in order to display pilot projects for the areas of Communications Networks and Indian Railways.
Mr Vaishnaw addressed the International Conclave and stated that the quantum communication link is now workable between Sanchar Bhawan and the National Informatics Centre office situated in CGO Complex, Delhi.
Reward for Technophiles
At the global conference, the Telecom Ministry invited legal hackers to break this highly secured system of quantum communications. Also, upon doing so the government will grant a cash prize worth Rs 10 lakhs.
It was further added that a hackathon will be initiated which is a challenging round for any tech geek who cracks this strongly built link. The structure has been developed by the C-DoT technology centre. As per the reports, Rs 10 lakhs per break is the amount decided to award the ethical hacker.
New AI Chatbot Tool
IT Minister Ashwini Vaishnaw made a big announcement recently as ChatGPT is popularizing around the world. He indicated that soon India will be having its latest developed conversational Artificial Technology (AI) tools.
At the Indian Global Forum Event, he said that the government will be coming with a big surprise in the next coming weeks. This new tool will be designed by San Francisco AI Company.
Some of its disclosed features include accurate answers to asked questions, creating speeches, scripts, song lyrics, marketing materials and also research paper abstracts.
Global Chatbot Market Predictions
After this Indian version of ChatGPT was declared by the Ministry of Information & Technology, the startup community discussions were also rolled out. By 2030, the world chatbot market size is expected to raise up to $3.99 billion.
Moreover, the fast-growing tech giants such as Google, OpenAI and even Snapchat have already started AI-powered entities and more such leading technology development platforms are planning to build and present their self-made versions of the ever-advancing communicational robots.
Also Read: India Men's Player Contracts published, BCCI awards Ravindra Jadeja with Grade A+ Payment, Check Complete List here
Take Weekly Tests on app for exam prep and compete with others. Download Current Affairs and GK app
एग्जाम की तैयारी के लिए ऐप पर वीकली टेस्ट लें और दूसरों के साथ प्रतिस्पर्धा करें। डाउनलोड करें करेंट अफेयर्स ऐप
Android
IOS