TN State Bifurcation Row: What is 'Kongu Nadu' and how is it related to PM Modi's cabinet expansion?
'Kong Nadu' in Tamil Nadu is neither a place with a PIN Code nor a name formally given to any region. It is just a commonly used name for a part of Western Tamil Nadu.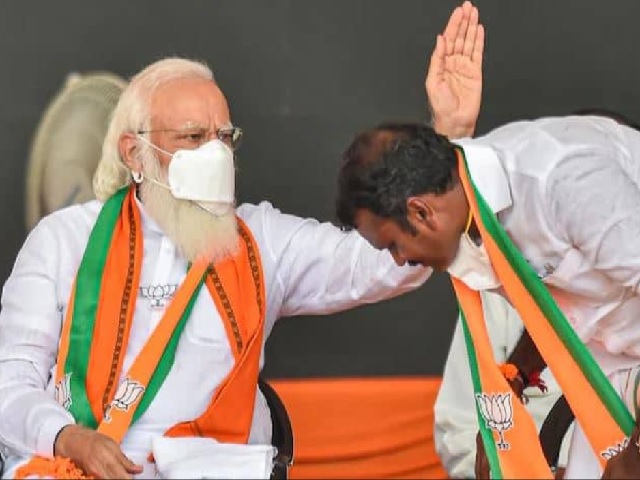 PM Modi and L Murugan
As a list of the new Cabinet Ministers was issued by Modi Government, a debate has been triggered in the political circles in Tamil Nadu, as well as on social media, by referring to 'Kongu Nadu'. It is an informal name for a region in the western part of Tamil Nadu.
The new list of Cabinet Ministers in a major reshuffle, mentions new minister L Murugan as hailing from 'Kongu Nadu'.
The decision has led to allegations against the BJP government for trying to bifurcate the state, with the ruling party DMK Congress alliance stating that the agenda will not succeed.
To understand more about the bifurcation row in Tamil Nadu and the agenda of Kongu Nadu, read the significant points below.
Kongu Nadu: What do we know?
'Kong Nadu' in Tamil Nadu is neither a place with a PIN Code nor a name formally given to any region. It is just a commonly used name for a part of Western Tamil Nadu.
Kongu Nadu, in Tamil literature, is referred to as one of the 5 regions of ancient Tamil Nadu. There were mentions of 'Kongu Nadu' in Sangam literature as a separate territory.
However, in the present state of Tamil Nadu, the term 'Kongu Nadu' is informally used to refer to a region that includes the districts of Coimbatore, Nilgiris, Erode, Tirupur, Namakkal, Karur, and Salem, as well as Pappireddipatti in Dharmapuri district, and Vedasandur and Oddanchatram in Dindigul district.
The name 'Kong Nadu' derives from Kongu Vellala Gounder, an OBC community with a significant presence in these districts of the state.
The region also includes prominent industries and businesses hubs at Salem, Namakkal, Coimbatore, and Tirupur. It has also been considered a region with a stronghold of AIADMK and is also where the BJPs' limited influence in the state is concentrated.
Why 'Kong Nadu' is in the news?
Modi Government, in a major cabinet reshuffle, released a list of the new Cabinet Ministers profiling every new minister with the names of a place and state she or he comes from, for instance, John Barla from 'Jalpaiguri, West Bengal', and Dr. Munjapara Mahendrabhai from 'Surendranagar, Gujarat'.
The list mentions L Murugan as being from 'Kongu Nadu, Tamil Nadu'.
As a debate on social media broke over an alleged attempt by BJP to bifurcate the state, some social media handles of the ruling government were seen supporting the idea of 'Kongu Nadu'- in a state where BJP has little presence except for the recent seats that they won in an alliance with AIADMK.
Allegations on BJP for planned bifurcation: How much truth is there?
Unlike Uttarakhand or Telangana, there has never been demand or discussion about a separate 'Kongu Nadu' in the modern political history of Tamil Nadu. Therefore, the debate on bifurcation lacks any form of social or political context.
However, many see it as a counter from BJP to DMK's assertive hand in using the term Ondriya Arasu (Union Government) rather than Madhiya Arasu (Central Government).
A former AIADMK minister stated that there is no immediate plan. BJP has been planting a seed and triggered that debate. Therefore, the demand for 'Kongu Nadu' will not be a new issue. Another minister claimed that the idea of Kongu Nadu can also backfire on BJP if it pushes it for a vote.
However, in electoral politics, it is seen as the only region where the RSS and the BJP have something of presence. 2 of the 4 seats that BJP has won in the recent Assembly polls in the state, thanks to the AIADMK alliance, were in western Tamil Nadu.
Is BJP denying allegations by opposition?
The Bharatiya Janata Party has denied allegations of any move to divide the state. Yet, the party had also referred to the bifurcation of Uttar Pradesh and Andhra Pradesh.
Karu Nagaranjan, the BJP state general secretary, on being asked whether the Center plans on bifurcating the state, said that this is the first stage. It happened like that in other states as well and Telangana is an example.
He added that if talking about Ondriya Arasu (Union Government) is their wish, it is also the wish of people to call it 'Kongu Nadu'.
Nagaranjan later said that it is a mere social media debate and he is not even sure of the origin of this discussion.
Talking about Kongu Nadu is like Tamil parties that used to have alliances with NDA and UPA at the Center now calling it Ondriya Arasu. There is nothing from the Modi government officially and the people's wish will be important in such an issue.
How the opposition is taking this?
Leaders of the ruling alliance (DMK Congress) have clarified that Tamil Nadu will not be divided and the issue has been condemned as an agenda by BJP.
DMK MP Kanimozhi assured that nobody needs to worry about this and that Tamil Nadu is safe under the current government.
KS Alagiri, State Congress Chief also said that it is impossible to divide Tamil Nadu and if it happens it will set a bad precedent and will lead to the formation of many such states.
He strongly condemned the idea and said that the agenda of the Union Government will not succeed.