Top 10 Weekly Current Affairs: 20 March to 26 March 2023
Weekly Current Affairs 2023: Check the top 10 latest current affairs of this week only at Jagran Josh.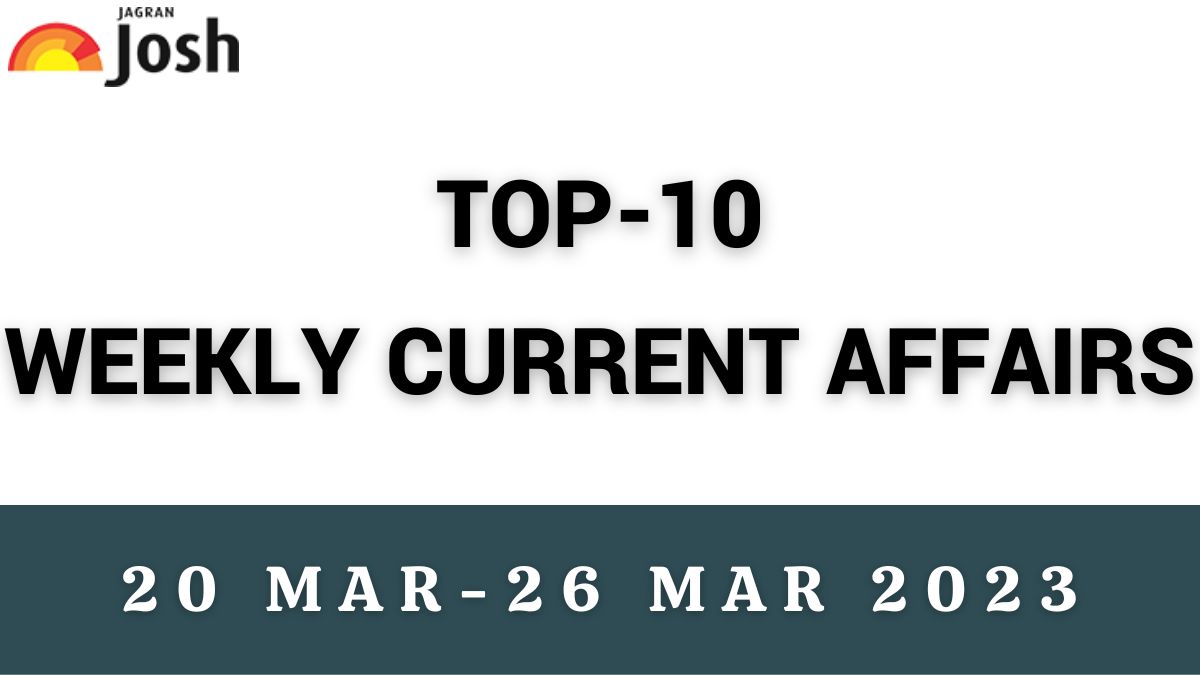 Top 10 Current Affairs
Mukesh Ambani was titled the only Richest Indian on Earth
In a recent survey by M3M Hurun Global Rich List, India's leading businessman Mukesh Ambani got a spot in the World's Top 10 Billionaires. While the French owner of LVMH, Bernard Arnault topped the list. The chairperson of Ambani Group, Mukesh carries a net worth of US$ 82 Billion with the 9th position acquired in the Top 10 Richest Men around the globe. India is home to 187 wealthy people and 16 recently added.
LVM3 departed from Satish Dhawan Space Centre
On March 26, the Indian Space Research Organisation (ISRO) launched a 3-stage rocket named 'LVM3' which lifted 36 satellites into orbit. This OneWeb-made rocket was initiated by the Satish Dhawan Space Centre located in Sriharikota, Andhra Pradesh. This spacecraft is a 43.5-meter tall vehicle with 36 Gen-I satellites weighing 5805 kg. In space, it is intended to revolve around 450 km of circular orbit with an 87.4-degree tendency.
Jindal Steel acquires BIS License to make Incombustible Steel
Jindal Steel and Power has received Bureau of Indian Standards (BIS) certification. The goal is to produce fire-resistant steel as a part of its construction projects. These building structures will be built across India. Moreover, it will be highly efficient in intensely heated areas. The BIS 15103 grade is required to carry out industrial projects and these kinds of steel are made to protect and secure the environment.
Google developed 'Bard' - a ChatGPT Rival
A new robotic communicator 'Bard' has been presented by Google in competition with the recent models of ChatGPT. This AI model 'Bard' is accessible to the users of the US and UK till now. However, the company has announced that it will come up in more languages and countries in the near future. Its features include contextual responses, integration into a wide range of platforms, etc.
BCCI reveals new impact player rules for IPL 2024
The Board of Control for Cricket in India announced a new rulebook to be implemented for players and IPL matches in 2023. As per the notice, the captains of both teams will be given a chance of selecting cricket teams 11 players but after a toss. The Indian Premier League is about to start on March 31, 2023.
Kitty O'Neil: Fastest Racer from America
Google dedicated a Doodle on March 24, 2023, which marks the 77th Birth Anniversary of Kitty O'Neil. She was regarded as the fastest woman in the world. Even after several setbacks in life, she filled her life with positive and strong willpower. She was deaf since childhood due to disease but still led her life with glorious achievements. She performed dangerous stunts in various Hollywood movies.
2023-24 Infrastructure-Focused Delhi Budget by Arvind Kejriwal
The Delhi Government presents the Budget for the 2023-24 financial session. This was presented by conferred by Kailash Gahlot, the state Finance Minister. A total worth of Rs 78,800 crore has been set with the distribution to various sectors like education, health care, etc. This time, AAP Party plans for a clean, beautiful and modern Delhi.
2023 Sangita Kalanidhi Award goes to Revered 'Bombay Jayashri'
The Music Academy selects Bombay Jayashri Ramnath to bestow Sangita Kalanidhi Award 2023 in the music category. She is a well-known vocalist and singer and musician who produces and enlightens her viewers with Carnatic Music. She is a polyglot and belongs to a family of musicians. She has performed with various eminent artists across the world. At the event, many others were granted awards.
UBS Deals with Credit Suisse for acquisition at $3.25 Billion
The Union Bank of Switzerland buys the bankrupt Credit Suisse for $3.25 Billion. This was decided to lessen the economic burdens rising across the globe. Credit Suisse has faced major scandals and financial losses in recent times. The chairperson of Switzerland's Financial Market Supervisory Authority claims this deal to be the best possible solution considering the present banking scenarios.
Rajasthan becomes First to clear Right to Health Bill
Rajasthan Assembly passed the RTH (Right to Health) Bill which is intended at providing free medical facilities including OPD and IPD services. These grants are open to all the residents of the state, as the Ministry mentions. It was introduced in September 2022. After this various doctors and the opposition BJP party protested against it and demanded the bill be taken back.
Also Read: Top 10 Weekly Current Affairs: 13 March to 19 March 19 2023
Take Weekly Tests on app for exam prep and compete with others. Download Current Affairs and GK app
एग्जाम की तैयारी के लिए ऐप पर वीकली टेस्ट लें और दूसरों के साथ प्रतिस्पर्धा करें। डाउनलोड करें करेंट अफेयर्स ऐप
Android
IOS