Top 10 Weekly Current Affairs: 26 March to 31 March 2018
The Union government has no proposal to scrap Article 370 of the Constitution which gives special status to Jammu and Kashmir, Minister of State for Home Affairs Hansraj Gangaram Ahir said on March 27.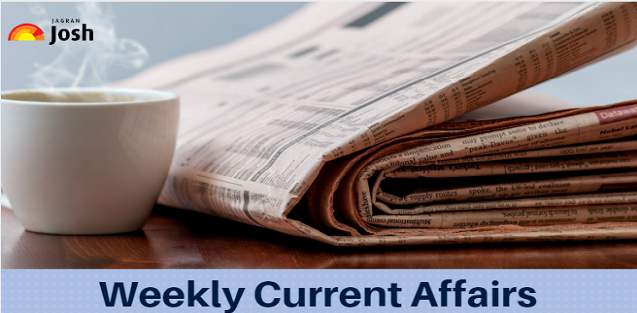 Top 10 Weekly Current Affairs: 26 March to 31 March 2018
Nobel Peace Prize winner Malala Yousafzai returns to Pakistan for first time since Taliban attack

• Nobel Peace Prize winner Malala Yousafzai returned to Pakistan on March 29, 2018, for the first time since she was shot by Taliban militants.

• Yousafzai, now aged 20 and a vocal human rights activist, was shot in the head by a gunman for campaigning for female education in 2012.

• She is expected to hold meetings with Prime Minister Shahid Khaqan Abbasi.

• Though the details of the trip have been kept secret in view of the sensitivity, it is expected to last for four days.

No proposal to scrap Article 370: Centre

• The Union government has no proposal to scrap Article 370 of the Constitution which gives special status to Jammu and Kashmir, Minister of State for Home Affairs Hansraj Gangaram Ahir said on March 27, 2018.

• The Minister stated while responding to a written question in the Lok Sabha that there is currently no such proposal under consideration of the government.

• The article, added to the Constitution by a Presidential Order in 1954, accords special rights and privileges to the people of Jammu and Kashmir and empowers its legislature to frame any law without attracting a legal challenge.

• The provision prohibits all Indians - except people from Jammu and Kashmir - from purchasing immovable property in the state, getting government jobs and availing state-sponsored scholarship schemes.

Union Government launches 'E-Tribes India'

• The Tribal Cooperative Marketing Development Federation of India, (TRIFED), under Ministry of Tribal Affairs has launched 'E-Tribes India' banners on e-commerce platforms such as Amazon, Snapdeal, Paytm & GeM.

• It also launched TRIFED's websites-www.tribesindia.com, www.trifed.in and Retail Inventory Software and M-commerce app as part of digital india initiative.

• TRIFED has developed its own e-commerce website for the sale of all its products and app to tab the mobile commerce.

• The purpose of going digital will help in expansion of tribal commerce and availability of tribal products over large area. It will result in reaping greater benefits for the tribal artisans.

Steve Smith steps down as Rajasthan Royals captain

• Australian skipper Steve Smith on March 26, 2018 relinquished the captaincy of Rajasthan Royals in the upcoming 11th edition of Indian Premier League starting from April 7.

• India's Test vice-captain Ajinkya Rahane has been named new skipper of Rajasthan Royals.

• Steve's decision to step down came in the wake of severe backlash he has faced after admitting to ball tampering during the third Test against South Africa.

• Steve has been given a one-Test ban by the ICC. Cricket Australia is understood to be considering still harsher sanctions.


Anushka Sharma and PV Sindhu featured in Forbes 30 Under 30 Asia 2018 List

• Bollywood actress-producer Anushka Sharma and Badminton Ace P V Sindhu got featured in the Forbes 30 Under 30 Asia 2018 list for the first time in their career.

• Apart from Anushka, several other Indians were also recognised for their significant contribution through their varied work.

• The list includes innovators who are reshaping their industries and changing Asia for the better.

Railway Ministry announces 20,000 additional jobs

• The Railway Ministry announced on March 29, 2018 that it would be recruiting 20,000 more people, in addition to filling up 90,000 vacancies announced earlier.

• The available vacancies have now been increased to 1,10,000 from previously 90,000, announced Railway Minister Piyush Goyal in a tweet.

• Around two crore individuals have reportedly applied for different posts in the railways in response to the job announcements made earlier this year.

• There were a total of 9,000 job vacancies in the Railway Police Force (RPF) and Railway Protection Special Force (RPSF) and more than 10,000 other additional jobs.

• The notification and application for Group C (26,502 Assistant Loco Pilot (ALP) and Technician posts) and Group D (62,907 posts) are already out. The last date for the applications is March 31, 2018.

Williamson replaces Warner as Sunrisers captain

• New Zealand skipper Kane Williamson on March 29, 2018 replaced disgraced former Australian Vice-Captain David Warner as the captain of IPL franchise Sunrisers Hyderabad.

• The decision was announced a day after the Australian was barred from the IPL for his role in the ball-tampering controversy in South Africa.

• Warner, declared the chief plotter of the infamous incident, apologised for his role in the scandal. He was the captain of SunRisers last season.

• The senior batsman has been banned for a year and ruled out of any leadership role in future due to the incident.

North & South Korea agree to hold historic leaders summit on April 27th
• North and South Korea have agreed to hold a historic summit of their leaders on April 27, 2018. The agreement came at a ministerial-level inter-Korean meeting held on March 29 in Panmunjom, North Korean.

• According to a joint news statement issued after the meeting, the officials from both the nations agreed that South Korean President Moon Jae-in and North Korean leader Kim Jong Un will meet at a South Korean facility in Panmunjom.

• The officials also agreed to hold working-level talks next Wednesday in Panmunjom to discuss matters such as protocol and security for the summit.

• The announcement comes a day after news emerged of discussions between North Korean leader and Chinese President Xi Jinping. At the meeting in Beijing, the North Korean leader repeated his offer to denuclearise the Korean Peninsula.
Russia announces expulsion of 150 diplomats and closure of American consulate

• Russia has announced that it would be expelling 150 western diplomats and closing the US consulate in St Petersburg in retaliation to similar actions taken earlier in the week by British allies, following poisoning of a former Russian spy in the UK.

• The action comes in the wake of the expulsion of more than 150 Russian diplomats by European and Nato allies of Britain, which blamed Russia for the nerve agent attack on Sergei Skripal and his daughter.

• According to the US, Russia's move was not anticipated and it marks a further deterioration in the US-Russia relationship.

• The US stated that the expulsion of undeclared Russian intelligence officers by the countries in the west was an appropriate response to the Russian attack on the soil of the United Kingdom.

India's first Insect Museum Opened In Tamil Nadu

• An insect museum with the state-of-the-art amenities was launched by Tamil Nadu Chief Minister K Palaniswamy at the Tamil Nadu Agricultural University.

• The museum, established at a 6,691 sqft area with a total cost of Rs 5 crore, is fully dedicated to insects and is first of its kind in the country.

• It would display insects preserved as specimens depicting their different developmental stages, images, videos and their unique behaviour, habits and habitats.