Top 10 Weekly Current Affairs: 27 August to 1 September 2018
India's first flight powered by Biofuel landed at the Indira Gandhi International Airport in New Delhi on August 27. The test flight had taken off from Dehradun. The experiment is first-of-its-kind in India.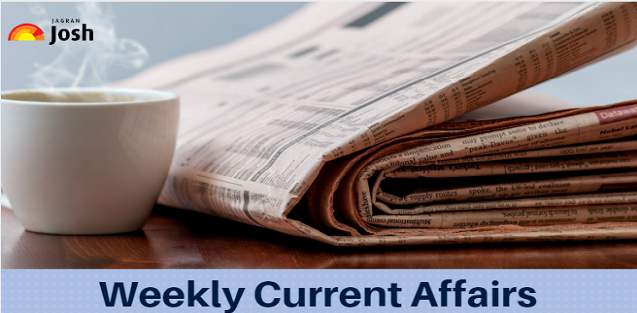 Top 10 Weekly Current Affairs: 27 August to 1 September 2018
4th BIMSTEC Summit 2018: Kathmandu declaration adopted

The 4th BIMSTEC Summit concluded in Kathmandu on August 31, 2018 with the signing and adoption of the Kathmandu Declaration by all the seven members. The Summit began on August 30, 2018 in Kathmandu, Nepal. The 18-point Kathmandu Declaration is expected to enhance the effectiveness of BIMSTEC Secretariat by engaging it in various technical and economic activities in the region.

Current chair of BIMSTEC, Nepal PM KP Sharma Oli gave a closing speech after handing over the Chairmanship of the next BIMSTEC Summit to Sri Lankan President Maithripala Sirisena. Hence, Sri Lanka will be conducting the fifth summit of the BIMSTEC.
HRD Ministry launches third edition of 'Smart India Hackathon'
The third edition of world's biggest open innovation model 'Smart India Hackathon 2019' was launched by the Union Minister for Human Resource Development, Prakash Javadekar in New Delhi on August 29, 2018.
The 2019 edition is a nationwide initiative, which aims to provide students with a platform to solve some of the pressing problems faced by people in their daily lives and thus, inculcate a culture of product innovation and a mindset of problem-solving.
ISRO unveils Gaganyaan Mission to put Indians in space before 2022

The Indian Space Research Organization (ISRO) on August 28, 2018 unveiled the details of the Gaganyaan mission for manned space flight before 2022.

The Gaganyaan mission was announced by Prime Minister Narendra Modi during his 72nd Independence Day speech. PM Modi announced that this manned space mission will take Indian astronauts to space on board 'Gaganyaan' by 2022. Prior to the actual launch of this manned mission by 2022, the ISRO will launch two unmanned Gaganyaan missions.
Asian Games 2018: Swapna Barman wins historic gold in Heptathlon
Despite the slow start, the Day 11 of the 18th Asian Games was historic for India with two landmark gold medals coming through athletes Swapna Barman and Arpinder Singh. While Arpinder Singh ended India's 48-year wait for a gold medal in the men's triple jump event at the Asian Games as he topped the finals with his best effort of 16.77 metres, Swapna Barman gave India its first-ever Asiad gold in women's heptathlon event.
Barman, who has six toes in both her feet, competed in the event with her jaw taped up, as she was battling an excruciating toothache. Still, she produced her career-best performance by posting a score of 6026 points. Before her, only Soma Biswas, J J Shobha and Pramila Aiyappa have returned with a medal in the event from the Asian Games.
99.3 percent of demonetised currency returned: RBI in its Annual Report 2017-18

Over 99 percent of the demonetised currency was returned, as per the Annual Report 2017-18 of the Reserve Bank of India (RBI). The report was released on August 29, 2018.
In November 2016, the Union Government withdrew Rs 500 and Rs 1000 currency notes from the circulation with effect from November 9, 2016. The demonetisation was hailed as a step that would curb black money, corruption and check counterfeit currency.
RBI has completed the processing of demonetised Rs 500 and 1000 banknotes; 99.3 percent of the notes worth Rs 15.3 lakh crore have been returned to banks.
Government constitutes new science and technology council to advise PM

The Union Government has constituted a 21-member science and technology council to advise Prime Minister Narendra Modi on matters related to science, technology and innovations.

The council, named as Prime Minister's Science Technology and Innovation Advisory Committee (PM-STIAC), will be headed by K Vijay Raghavan, the principal scientific adviser to the Union Government. The panel will advise the Prime Minister on all matters related to science, technology and innovation and monitor the implementation of PM's vision on the same.
Defence Ministry clears procurement of 111 naval helicopters at cost of Rs 21000 crore

The Union Defence Ministry on August 25, 2018 gave its approval for the acquisition of 111 utility helicopters for Navy at an estimated cost of over Rs 21,000 crore. The Ministry also approved separate procurement proposals worth nearly Rs 25,000 crore.
The procurement of the naval utility helicopters will be the first project under the ambitious strategic partnership (SP) model that provides for roping in private firm to build select military platforms in India in partnership with foreign defence manufacturers.
The utility helicopters will be used in attack missions as well as for search and rescue and surveillance operations.
India's first flight powered by biofuel lands at IGI Airport
India's first flight powered by Biofuel landed at the Indira Gandhi International Airport in New Delhi on August 27, 2018. The test flight had taken off from Dehradun.
The experiment is first-of-its-kind in India. Its successful implementation provides a significant boost to encourage alternative fuels in transport and aviation sector, as envisaged in the National Biofuel's Policy.
India has been attempting to promote biofuels to reduce dependence on fossil fuel. The environment-friendly initiative is expected to reduce the country's import bills.
J P Nadda launches logo of Ayushman Bharat Scheme

Union Minister for Health and Family Welfare, J P Nadda on August 27, 2018 announced that 29 States and Union Territories (UTs) signed the Memorandum of Understanding (MoU) for the implementation of on Ayushman Bharat – Pradhan Mantri Jan Arogya Yojna (AB-PMJAY).
These states have already started working on implementation of the scheme. The pilot project has started in 16 States and UTs. Other states/UTs will also start pilots before the pan-India launch of the scheme on September 25, 2018.
The government has given total flexibility to the States to choose their own modes of implementation among Insurance, Trust or Mixed Mode.
Pakistan bans discretionary use of state funds, first-class air travel by government officials
Pakistan's new government has banned the discretionary use of state funds and first-class air travel by officials and leaders, including the president and the prime minister, as part of its austerity drive.
The decisions were made at a Cabinet meeting, chaired by Prime Minister Imran Khan on August 24, 2018.
The discretionary allocation of funds by the prime minister and the president and other officials was also stopped by the Cabinet.
Asian Games 2018: Latest updates
Important Current Affairs of August 2018