Top 10 Weekly Current Affairs: 29 July to 3 August 2019
The Triple Talaq Bill or the Muslim Women (Protection of Rights on Marriage) Bill, 2019 received President Ram Nath Kovind's assent on July 31.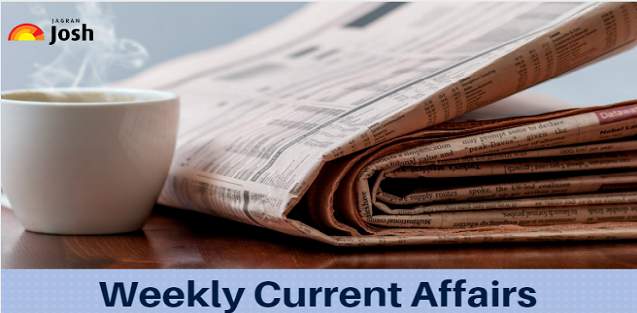 Top 10 weekly current affairs
Ayodhya dispute: Mediation process fails, SC to begin daily hearing on Ram Mandir issue from August 6

Ayodhya dispute: The Supreme Court will begin day-to-day hearing of the Ram Janmabhoomi-Babri Masjid land dispute case from August 6. The SC bench led by CJI Ranjan Gogoi declared the mediation process as failed, as it did not result in any settlement. The bench plans to conclude the hearing before November first week, as CJI Ranjan Gogoi is slated to retire by then.
India slips to 7th spot in Global GDP Rankings of 2018, France, UK push ahead: World Bank

India has slipped down to the 7th place in the global GDP rankings of 2018, reveals data compiled by the World Bank. India recorded a GDP of $2.73 trillion in 2018, which is less than that of the UK and France, which had a GDP of $2.82 trillion and $2.78 trillion respectively in the same year. India had emerged as the fifth largest economy in 2017.
Triple Talaq bill gets President's assent

The Triple Talaq Bill or the Muslim Women (Protection of Rights on Marriage) Bill, 2019 received President Ram Nath Kovind's assent on July 31, 2019. The bill has now become a law. The Triple Talaq bill was passed by the Rajya Sabha on July 30 through ballot voting with 99 votes in favour and 84 against despite protests by the opposition.

VG Siddhartha death mystery: All you need to know about CCD owner VG Siddhartha

The CCD owner VG Siddharth was officially confirmed dead on Wednesday morning after his body was found in the Nethravati River in Mangaluru. The CCD founder had been reported missing since Monday evening and the Karnataka Government had initiated an extensive search operation to locate him. VG Siddharth's body was recovered by a group of local fishermen from the bank of Netravati River, some distance away from the spot where he was last seen on 29 July.
Delhi Government to provide free electricity to households consuming up to 200 units of power

Delhi CM Arvind Kejriwal has announced that all Delhi households consuming 200 units of power or less will now get a zero bill every month. However, existing electricity rates will apply is a household is using more than 200 units. According to the Delhi Government, the decision will encourage people to consume less power and conserve more energy.
Vishweshwar Hegde Kageri elected as Speaker of Karnataka Assembly

The Karnataka Legislative Assembly elected BJP MLA Vishweshwar Hegde Kageri as the new Speaker. Vishweshwar Hegde had filed his nomination for the post yesterday. He was elected unopposed as the speaker of the assembly. Former Karnataka Assembly Speaker KR Ramesh Kumar had resigned from his post soon after BS Yediyurappa government won floor test in the house.
Man vs Wild: PM Modi to feature in Man vs Wild with Bear Grylls
Prime Minister Narendra Modi will be featured in the special Man vs Wild episode on the Discovery Channel with ace adventurer Bear Grylls. The episode was shot in Jim Corbett National Park and will air on August 12 at 9 pm.
Prithvi Shaw suspended by BCCI for 8 months for doping violation

Prithvi Shaw has been suspended by Board of Control for Cricket in India (BCCI) till November 15 for violating anti-doping code. He consumed a prohibited substance included in over-the-counter cough syrup. Two other domestic players Divya Gajraj of Rajasthan and Akshay Dullarwar of Vidarbha were also found positive during anti-doping test.
Companies (Amendment) Bill, 2019 passed in Parliament

The Companies (Amendment) Bill, 2019 has been passed by the Parliament with the approval of Rajya Sabha. The Bill seeks to tighten Corporate Social Responsibility (CSR) compliance, re-categorisation of specific offences as civil offences and transfer certain responsibilities to National Company Law Tribunal.
Article 35 A: Tinkering with Article 35A will be akin to setting a powder keg on fire, says Mehbooba Mufti
Former Jammu and Kashmir Chief Minister Mehbooba Mufti warned the current ruling government that any tinkering with Article 35 A would be akin to setting a powder keg on fire. The warning statement was given by Mehbooba Mufti during the celebrations of 20th raising day of Peoples Democratic Party.