Top 10 Weekly Current Affairs: 6 May to 12 May 2018
Global retail giant Walmart on May 9, 2018 formally signed a definitive agreement to acquire 77 percent stake in Flipkart with an investment of around USD 16 billion.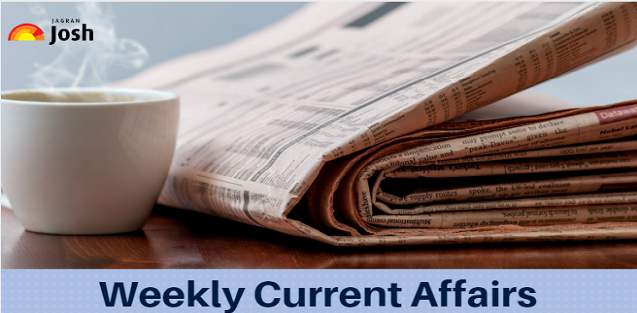 Top 10 Weekly Current Affairs: 6 May to 12 May 2018
Walmart buys 77 percent stake in Flipkart: Here are Top 10 takeaways

Global retail giant Walmart on May 9, 2018 formally signed a definitive agreement to acquire 77 percent stake in Flipkart with an investment of around USD 16 billion.
The deal will value Flipkart at around USD 20.8 billion, up from its previous valuation of USD 12 billion. Walmart will pay around USD 16 billion for an initial stake of approximately 77 percent in Flipkart.
The remaining business will be held by Flipkart's existing shareholders, including Flipkart co-founder Binny Bansal, Tencent Holdings Limited, Tiger Global Management LLC and Microsoft Corp.
Flipkart co-founder Sachin Bansal quits after Walmart deal

Flipkart co-founder Sachin Bansal announced his exit from the company on May 9, 2018, hours after the news of American retailer Walmart acquiring Flipkart broke in the nation.

Bansal stated in a post on social media that it was time for him to hand over the baton and move on. Bansal's decision comes after Walmart's condition that it could accommodate only one of the Flipkart founders in the board.
Binny Bansal, on the other hand, will retain his 5.5 per cent stake in the company and remain Flipkart Group CEO. Kalyan Krishnamurthy will also continue as CEO of Flipkart.com.
Mahathir Mohamad sworn in as Malaysia's seventh Prime Minister

Mahathir Mohamad was on May 10, 2018 sworn in as the seventh Prime Minister of Malaysia, making a stunning comeback to politics 15 years after his retirement.

Mohamad claimed election victory in the country's General Elections 2018, becoming the world's oldest Prime Minister at the age of 92. Mahathir's coalition, Pakatan Harapan, won 121 out of 222 seats.
Mahathir's coalition defeated the governing Barisan Nasional (BN) coalition led by Prime Minister Najib Razak, which has been in power for more than 60 years. BN coalition managed to win only 79 seats.
National Technology Day 2018 observed
The National Technology Day was observed across India on May 11, 2018 to commemorate the anniversary of Pokhran nuclear tests of 1998. The day also marks India's scientific prowess and technological advancements.
On May 11, 1998, India successfully test-fired nuclear missile Shakti-I at the Pokhran Test Range of Indian Army in Rajasthan in an operation administered by late president and aerospace engineer Dr. APJ Abdul Kalam. Overall, five nuclear tests were conducted with the detonation of two fission bombs and one fusion bomb on May 11 and two additional fission bombs on May 13.
Death or injury while boarding or de-boarding train entitles passenger to compensation: SC

The Supreme Court of India on May 9, 2018 held that railways will be liable to pay compensation to passengers in case of death or injury while boarding and de-boarding trains.
The court stated that death or injury while boarding or de-boarding a train is an untoward incident which entitles a passenger to compensation and will not be considered his negligence. The ruling was given by a two-judge bench comprising Justices Adarsh Kumar Goel and Rohinton F Nariman.
Trump announces US withdrawal from Iran nuclear deal

The President of United States, Donald Trump on May 8, 2018 announced US withdrawal from the landmark 2015 nuclear deal with Iran.
Trump stated through a televised address that the 2015 agreement, which included Germany, France and Britain, was a "horrible one-sided deal that should never ever have been made." He added that the United States "will be instituting the highest level of economic sanction." He stated that any nation that helps Iran in its quest for nuclear weapons could also be strongly sanctioned by the United States.
UN Chief Antonio Guterres announces to hold climate summit in September 2019

UN Secretary-General Antonio Guterres on May 8, 2018 announced to hold a climate summit in September 2019 in New York to review the commitments of the 2015 Paris Agreement on Climate Change.

The announcement was made at the opening ceremony of the 37th session of the UN Economic Commission for Latin America and the Caribbean. In March 2018, Guterres appointed former New York Mayor Michael Bloomberg as his Special Envoy for Climate Action who was tasked to support the United Nations (UN) in its climate strategy and in organising the 2019 summit.
Nasa launches InSight spacecraft to explore the insides of Mars

The National Aeronautics and Space Administration (NASA) on May 5, 2018 launched the Interior Exploration using Seismic Investigations, Geodesy and Heat Transport (InSight) Spacecraft to study the Mars' deep interior.

InSight, a Mars lander, has been designed to listen for "Marsquakes" ahead of taking off the human missions to explore the Red Planet. The USD 993 million project aims to expand the human knowledge about interior conditions of the Mars and reveal how rocky planets like the Earth and the Moon formed billions years ago. The spacecraft will dig 10 to 16 feet (3 to 5 metres) deep into the Mars, 15 times deeper than any previous Mars mission.

Adult couple has the right to live together without marriage: SC

In a historic first, the Supreme Court of India ruled on May 6, 2018 that an adult couple has the right to live together without marriage.

The apex court held that live-in relationships were now even recognized by the Legislature and they had found a place under the provisions of the Protection of Women from Domestic Violence Act, 2005. The court made the observation while asserting that a 20-year-old Kerala woman, whose marriage had been annulled, could choose whom she wanted to live with.
Packaged food labels to display if they contain GM ingredients: FSSAI

The Food Safety and Standards Authority of India (FSSAI) on May 8, 2018 proposed that all packaged food products containing Genetically Modified (GM) ingredients should clearly state it on their labels.

In its 42-page draft notification titled 'Food Safety and Standards (Labelling and Display) Regulations, 2018', FSSAI called for making it mandatory to label food stuffs as 'Contains GMO/Ingredients derived from GMO', if the items contain 5 percent or more Genetically Engineered (GE) ingredients.

The authority will formally notify the provisions for implementation after thoroughly analysing the stakeholders' opinion on the issue.