Meet Eric Garcetti, Former Leader now appointed as Next US Envoy to India, Know about Biden's Comrade here
Eric Garcetti's designation was confirmed as the US representative to India. He received 52 votes in his favour and 42 voted against him. This long-tenure Mayor of Los Angeles wins the US Senate nominations. Read the article to know more about this emerging leader and Biden's ally.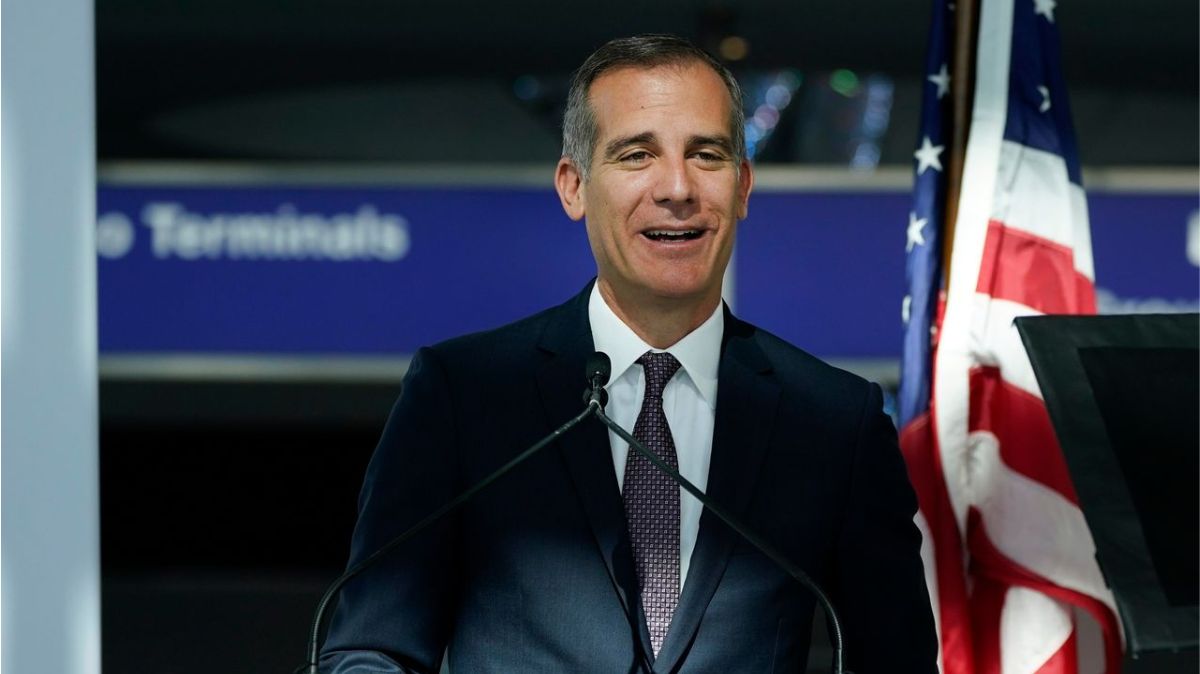 Joe Biden's choice Eric Garcetti is the new US Envoy to India.
On March 15, 2023 (Wednesday) the US Senate Committee announced the awaited appointment of Eric Garcetti. US President Joe Biden elected him almost two years back and he has finally been made the new US Ambassador to India.
He has served 4 consecutive terms as the President of the City Council of Los Angeles. A close acquaintance of Biden, Eric Garcetti has emerged as the leader of the Democratic Party. However, his tenure as a major was of nine long years and there was a controversial incident that happened in 2020.
Invoked, 52-42: Motion to invoke cloture on Executive Calendar #65 Eric M. Garcetti to be Ambassador to the Republic of India.

D's voting Nay: Brown, Hirono, Kelly

R's voting Yea: Cassidy, Collins, Daines, Graham, Hagerty, Marshall, Young

— Senate Periodicals (@SenatePPG) March 15, 2023
The scandal made him lose his job in the Biden Cabinet and he was then dismissed from his ambassador proposal. A cloture motion was put forth by the United States Senate and the decision was made on his position. This parliamentary procedure is usually adopted when there is support provided by a supermajority and the matter is further debated by the minority members.
All About Eric Garcetti
52-year-old Eric Garcetti was brought up in San Fernando Valley and he was born to the former LA County District Attorney. Talking about his educational pursuits, he obtained BA and MA degrees from Columbia University.
Eric is a Democrat who was first elected to the Los Angeles City Council in the year 2001. Later being a representative of cities including Hollywood, Echo Park and Silver Lake areas, he extensively worked to develop these sections and ameliorate the city business tax.
#WATCH | US Senate voted 52-42 advancing former Los Angeles Mayor Eric Garcetti's nomination to be US Ambassador to India. pic.twitter.com/YJfdMNfRzY

— ANI (@ANI) March 15, 2023
American Politician Eric's Career
Garcetti had been a guest lecturer of International Affairs at the University of Southern California. He taught diplomacy, public policy and world affairs before joining Politics. He also started to serve as an officer in the US Navy Reserve in 2005 for nearly 12 years. He is known as a passionate jazz pianist and photographer.
Eric held the post of city's Mayor beginning from 2013 up to 2022 and he is regarded as the youngest mayor in the city in 100 years and additionally the first Jewish person to take that chair. His other positions include being the President of the Los Angeles City Council between 2006-2012 and as a Councilmember of the 13th District prior to that.
Acclaimed for adopting an initiative of 15 dollars as minimum wage, he improved the transit system of LA. While he made significant changes like making the city more earthquake-resilient and gave regular briefings during the Covid pandemic which encouraged and supported many residents.
Former Los Angeles Mayor Eric Garcetti's nomination to be Ambassador to India confirmed by US Senate

The Senate voted 52-42 advancing Garcetti's nomination to be US Ambassador to India.

(file pic) pic.twitter.com/QyzC22I7Fw

— ANI (@ANI) March 15, 2023
Bogged Down by Criticism
Eric Garcetti left his office in December 2022 as he was criticised for the homelessness crisis across the city. Besides this, an atrocious incident came out in 2020 of the killing of Black American George Floyd by a Minneapolis police officer. In the wake of the protests, Eric's inefficiency in the funding of policing was highlighted by the critics. Corruption allegations were allegedly made at the City Council which further crumbled his reputation and record.
Lastly, the biggest setback for him has been reported in the form of sexual misconduct allegations against an advisor and Eric was questioned for not taking action against it.
Rick Jacobs Scandal
This was in the year 2020 when Garcetti's bodyguard Matthew Garza filed litigation against Rick Jacobs who was a top political advisor to the former mayor Garcetti. Garza charged Jacobs with touching him in a wrongful manner. Jacobs resigned from his role after the allegations flared up. He insisted that these allegations were false.
A report issued later by Republican politician and US Senator Chuck Grassley stated that "it is more likely than not that Mayor Garcetti either had personal knowledge of the sexual harassment or should have been aware of it."
This matter brought various obstacles in the career of Eric Garcetti. At that time he was the co-chair of Biden's election campaign and was expected to be a part of his cabinet. But due to the implications, he was not included by Biden.
In January 2022, Eric's nomination as US Ambassador to India was approved by the Senate Foreign Relations Committee. His final appointment was pending ever since and now recently he has been assigned the position after a long fight.
Also Read: FIFA Council Accepts World Cup 2026 Format, Expands Matches to 104 & Teams from 32 to 48
Take Weekly Tests on app for exam prep and compete with others. Download Current Affairs and GK app
एग्जाम की तैयारी के लिए ऐप पर वीकली टेस्ट लें और दूसरों के साथ प्रतिस्पर्धा करें। डाउनलोड करें करेंट अफेयर्स ऐप
Android
IOS