Walmart buys 77 percent stake in Flipkart: Here are Top 10 takeaways
Walmart's investment will benefit India in terms of quality and affordable goods for customers, creation of new skilled jobs and fresh opportunities for small suppliers, farmers and women entrepreneurs.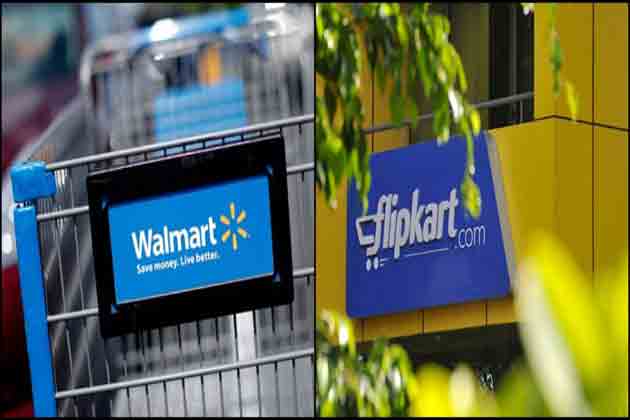 Global retail giant Walmart on May 9, 2018 formally signed a definitive agreement to acquire 77 percent stake in Flipkart with an investment of around USD 16 billion.
The deal will value Flipkart at around USD 20.8 billion, up from its previous valuation of USD 12 billion.
Stakeholders
Binny Bansal

, Group Chairman at Flipkart, will continue to serve the company, after the completion of acquisition process.
While, co-founder

Sachin Bansal

will encash his 5.96 per cent stake in the company which will amount to around USD 1.23 billion.
Softbank, Naspers, IDG

and other large investors in Flipkart will completely exit through this deal.
Tencent Holdings Limited, Tiger Global Management LLC

and

Microsoft Corp will continue on the Flipkart board and will be joined by new members from the Walmart.
Here are key takeaways of the deal:
Top 10 takeaways from Walmart-Flipkart deal
Walmart will pay around USD 16 billion for an initial stake of approximately 77 percent in Flipkart. The remaining business will be held by Flipkart's existing shareholders, including Flipkart co-founder Binny Bansal, Tencent Holdings Limited, Tiger Global Management LLC and Microsoft Corp.
Of the total deal amount of USD 16 billion, USD 2 billion will be new equity funding, while the rest will be utilised to buy stake from existing investors including Softbank, Naspers and co-founder Sachin Bansal.
To finance the investment, Walmart will use a combination of newly issued debt and cash on hand.
Upon the closing of the deal, Flipkart's financials will be reported as part of Walmart's International business segment.
If the deal closes at the end of the second quarter of 2018-19, Walmart might experience a negative impact of USD 0.25 to USD 0.30 in 2019 earnings per share (EPS), including incremental interest expense related to the investment.
Now, Flipkart's strong leadership team will be supported by Walmart, Tencent, Tiger Global and Microsoft.
Walmart will support Flipkart's ambition to transform itself into a publicly-listed, majority-owned subsidiary in the future.
The investment will be productive for both the market players, Flipkart will be benefitted by Walmart's retail expertise, grocery and general merchandise supply-chain knowledge and financial strength, while Flipkart's localised service, customer insights and innovative culture will benefit Walmart across the globe.
Though Walmart and Flipkart will leverage the combined strengths, they will continue to maintain distinct brands and operating structures.
Currently, Walmart India operates 21 Best Price cash-and-carry stores and one fulfillment center in 19 cities across nine states in India. However, the Flipkart investment will transform Walmart's position in the country of over 1.3 billion people, a strong GDP growth and significant eCommerce penetration.

Impact of the deal on small vendors
The Walmart-Flipkart deal is expected to impact the whole segment, be it the competitors or the consumers. The deal has worried the small vendors, who fear of being wiped off from the market. Walmart has a reputation of killing small businesses with its ultra-low prices.

If Walmart brings in its own private labels on Flipkart, it might make it difficult for other sellers to operate. This major concern was shared by the All India Online Vendors' Association (AIOVA), which has 3500 sellers on large platforms like Flipkart and Amazon.

Walmart has been trying to enter India for years but all its efforts proved to be futile. However, the company managed to run 'cash-and-carry' wholesale business in the country. It currently operates 21 such stores in India.
Positive side of the deal

• Walmart's investment will benefit India in terms of quality and affordable goods for customers, creation of new skilled jobs and fresh opportunities for small suppliers, farmers and women entrepreneurs.

• Walmart's investment in Flipkart will give an edge to Flipkart to compete with sellers like Amazon. Moreover, Walmarts's rich extensive experience in retailing, logistics and supply chain management will help Flipkart grow its business without any hassle.

• In terms of competition, the deal is expected to intensify the battle between Amazon and Flipkart. On one side, this war could shrink the marketplace for small vendors, while, on the other side, this war between Flipkart and Amazon could lead to a vast supply chain and generate a large number of jobs.

• Overall, this Walmart-Flipkart deal is expected to be a good boost for the ecommerce sector.
What Walmart-Flipkart deal has in pocket for India?
Walmart's investment in Flipkart will support national initiatives and will bring sustainable benefits to the country.

• Job creation: The deal would create jobs through development of supply chains, commercial opportunity and direct employment.

• Support Make in India initative: Walmart will collaborate with kirana stores and members to help them modernise their retail practices and adopt digital payment technologies, thus, indirectly supporting the 'Make in India' initiative of PM Modi.

• Reduce food wastage: Walmart will work to improve the waste management practices and will invest in supply chains, especially cold storage.
About FlipKart


About Walmart

Flipkart was co-founded by Sachin Bansal and Binny Bansal in 2007.

The company opened its first office in Bengaluru in 2008, followed by offices in Delhi and Mumbai in 2009.

In 2011, Flipkart domiciled to Singapore to woo foreign investors to fund rapid growth.

Sachin Bansal served as Flipkart CEO for nine years till 2015 and then took over as Executive Chairman.

In 2016, Binny Bansal took over as the CEO of the company.

Coming to acquisitions, Flipkart acquired online apparel retailer Myntra at about USD 300 million in 2014 and another fashion retailer Jabong for USD 70 million and payment startup PhonePe in 2016.

Flipkart's supply chain arm, eKart, serves more than 800 cities and makes 500000 deliveries daily.

Walmart is an American multinational retailer that operates a chain of hypermarkets, discount department stores, and grocery stores.

Headquartered in Bentonville, Arkansas, the company was founded by Sam Walton in 1962 and was incorporated on October 31, 1969.

The company operates under the name Walmart in the United States and Canada, as Walmart de Mexico y Centroamerica in Mexico and Central America, as Asda in the United Kingdom, as the Seiyu Group in Japan and as Best Price in India.

It has wholly owned operations in Argentina, Chile, Brazil, and Canada.

Walmart opened its first wholesale store in India in 2009.
10 major Mergers and Acquisitions other than Walmart-Flipkart
The Walmart-Flipkart deal is probably the biggest in the e-commerce space, however, there are other market players as well who have either merged their businesses with the other's or acquired the whole business or firm. Have a look at the 10 major mergers and acquisitions of the recent times:
• Vodafone and Idea Cellular merged their India operations in 2017 in a USD 23 billion deal.

• E-commerce giant Amazon bought organic grocery chain Whole Foods for USD 13.7 billion.

• iPhone maker Apple acquired Shazam for USD 400 million, a company that lets users identify songs, movies, TV shows, and commercials from short audio clips.

• Disney acquired certain assets of 21st Century Fox (FOXA), the parent company of FOX Business, for approximately USD 52.4 billion in 2017.

• US media company Meredith Corporation in 2017 acquired Time Inc., the publisher of Sports Illustrated and Fortune magazines, for USD 2.8 billion in all-cash deal.

• Global fashion luxury brand Michael Kors in 2017 bought global luxury footwear and accessories brand Jimmy Choo for approximately USD 1.2 billion.

• Chinese tech major Xiaomi in 2017 signed an agreement for business collaboration and patent licencing with Finnish mobile phone manufacturer Nokia to acquire its patent assets.

• Alphabet's Google division acquired a part of HTC's mobile division team for USD 1.1 billion.

• Anil Ambani-led Reliance Communications and Maxis Communications Berhad (MCB), promoters of Aircel merged their wireless businesses to form the fourth-largest telecom operator in the country.

• Russia's Rosneft Oil Company in 2016 acquired India's second biggest private oil firm Essar Oil in an all-cash deal valued at about USD 13 billion.