Weekly Current Affairs Quiz: 20 February 26 February 2023
For this week, Jagran Josh is presenting the top 10 questions and answers including World Bank's Presidency, Sagar Parikrama, Best International Film, etc.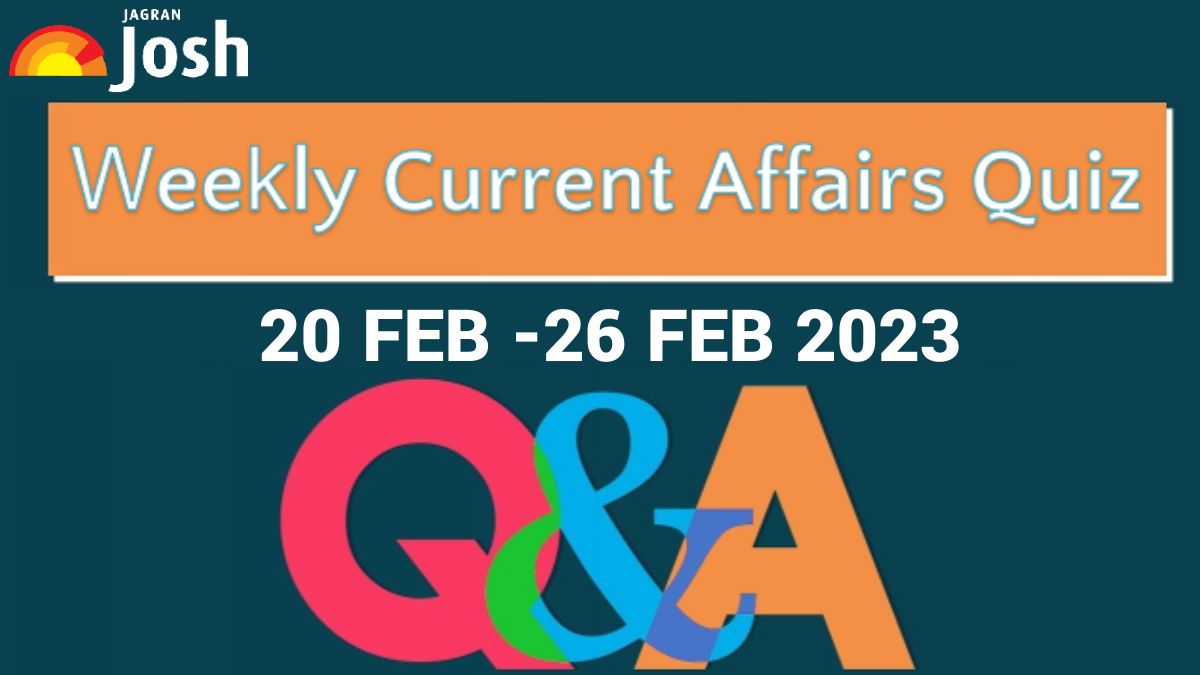 Weekly Current Affairs Quiz
Weekly Current Affairs Questions for UPSC/IAS Exams: Weekly Current Affairs Quiz section of Jagran Josh aims to help every competitive exam aspirant to revise the day with ease. This week, we have compiled 10 weekly current affairs questions and answers relevant to government exams including US City bans on Caste Discrimination, New START Treaty, and Agriculture Innovation Mission, among others.
1. With which country has India's Unified Payments Interface (UPI) launched cross-border connectivity?
(a) USA
(b) Malaysia
(c) Singapore
(d) Qatar
2. Who has been nominated by US President Joe Biden for the position of World Bank's Head?
(a) Soumya Swaminathan
(b) Ajay Banga
(c) Gita Gopinath
(d) Neal Mohan
3. Which has become the first US city to ban Caste Discrimination?
(a) New York
(b) Seattle
(c) Boston
(d) San Francisco
4. Russia recently declared a dropout from the New START Treaty, in which year this treaty was implemented?
(a) 2015
(b) 2011
(c) 2008
(d) 2005
5. Which film has won the "Best International Film" award at the Hollywood Critics Association 2023 event in Los Angeles?
(a) Avatar: The Way of Water
(b) Kantara
(c) RRR
(d) Top Gun: Maverick
6. Gulab Chand Kataria took oath as the 31st Governor of which state?
(a) Assam
(b) Meghalaya
(c) Gujarat
(d) Bihar
7. Which country has recently joined the global initiative 'The Agriculture Innovation Mission for Climate'?
(a) Japan
(b) Israel
(c) India
(d) Mexico
8. Which player of India won a Bronze Medal in Women's 10m Air Rifle in the ISSF World Cup?
(a) Tilottama Sen
(b) Apurvi Chandela
(c) Anjali Bhagwat
(d) Manu Bhaker
9. Indian Navy signed an MoU with which country to enhance cooperation in maritime security?
(a) Japan
(b) Mauritius
(c) Seychelles
(d) Maldives
10. Which Union Minister inaugurated the third phase of 'Sagar Parikrama'?
(a) Dharmendra Pradhan
(b) Arjun Munda
(c) Parshottam Rupala
(d) Sarbananda Sonowal
Answers:
1. (c) Singapore
The prime ministers of India and Singapore, PM Narendra Modi and Lee Hsien Loong have jointly launched the linkage of their fast payment methods which are Unified Payments Interface (UPI) and PayNow respectively. Through this step taken by both governments on February 21, 2023, the residents of both nations will be able to do money transfers with ease such as getting funds instantly and at a low cost from their mobiles. As per the data released by the National Payments Corporation of India (NPCI), UPI recorded over 7.82 billion transactions worth Rs 12.82 trillion in December 2022.
2. (b) Ajay Banga
US President Joe Biden recently nominated the business executive Ajay Banga for the post of President of the World Bank. Ajaypal Singh Banga is an Indian-American, born in Pune, Maharashtra to a Saini-Sikh family. His father was posted in the army and Banga is currently the Vice Chairman of General Atlantic, one of the world's largest private equity firms. The current President of the World Bank, David Malpass has announced his resignation by June 2023.
3. (b) Seattle
The northernmost city in the United States, Seattle is the first one to ban caste discrimination. The local council of the City of Seattle has added 'caste' to the anti-discrimination laws. The Council member and Indian-American citizen of Seattle, Kshama Sawant supported the movement and stated that the fight against caste discrimination is linked to raising their voice and opposing all forms of oppression. It addresses the crucial issue of the South Asian Diaspora. Also, America is the second most popular destination for Indians.
4. (b) 2011
The President of Russia initiated an important step to drop out from the New START Treaty amid the Russia-Ukraine war. New Strategic Arms Reduction Treaty defined as (Strategic Arms Reduction Treaty- START) was introduced and implemented on February 5, 2011. The main objective of this pact is to diminish the threat of dangerous weapons between the two major nuclear powers of the world. In the year 2010, the agreement was signed between former US President Barack Obama and their Russian counterpart Dmitry Medvedev.
5. (c) RRR
The blockbuster film "RRR" released in 2022 witnessed world recognition at the Hollywood Critics Association Awards 2023. During this HCA event that was held in Los Angeles, SS Rajamouli's movie "RRR" won 5 prestigious awards namely, Best International Film, Best Original Song (Naatu Naatu), Best Stunts, Best Action Film and Spotlight trophy categories. The director Rajamouli, music composer MM Keeravani and renowned actor Ram Charan along with other team members and families attended the show.
6. (a) Assam
Gulab Chand Kataria recently took oath as the 31st Governor of Assam state. Professor Jagdish Mukhi was replaced by him. Governor Gulab Chand Kataria resides in Udaipur, Rajasthan. Earlier, he served as the former Home Minister of Rajasthan and also the Leader of the Opposition in the Rajasthan Legislative Assembly. Moreover, he has also represented the Udaipur constituency in the 9th Lok Sabha Assembly.
7. (c) India
India has joined the Agriculture Innovation Mission for Climate (AIM4C) initiative. The United States of America and the United Arab Emirates jointly The US and the UAE took this global initiative in November 2021. AIM4C encourages investment and innovation in climate-smart agriculture and food systems. India has joined more than 275 partners, including 42 governments, who are collectively taking forward the mission of AIM4C.
8. (a) Tilottama Sen
Indian teen shooter Tilottama Sen won a Bronze Medal in the women's 10m Air Rifle at the ISSF World Cup held in Cairo, Egypt. This is the second bronze won by her after finishing the top eight ranking round with a score of 262. Rudrankksh Patil won the gold medal in the Men's Air Rifle for India on the third day of the event. The ISSF World Cup is conducted in Cairo, the capital of Egypt.
9. (c) Seychelles
IFC-IOR (Information Fusion Centre- Indian Ocean Region) attached to the Indian Navy has signed an MoU with the Coordination Operations Center (RCOC). Captain Rohit Bajpai, Director, IFC-IOR was also present at the event. The objective is to collaborate between the two centres which can as a result improve maritime domain awareness, information sharing and expertise development. IFC-IOR was established in 2018 for maritime security information sharing in the Indian Ocean region.
10. (c) Parshottam Rupala
Shri Parshotam Rupala, Union Cabinet Minister of Fisheries, Animal Husbandry & Dairying launches Phase III of Sagar Parikrama. This began at Surat, Hazira Port, Gujarat on February 19. This program was initiated with the aim of understanding the experiences and solving the issues of fishermen. This platform will promote direct communication with all stakeholders of fisheries including fishermen. The three-day event concluded on February 21 in Mumbai. Several schemes worth more than Rs 32 thousand crores have been implemented for the fisheries sector.
Also Read: Weekly Current Affairs Quiz: 13 February to 19 February 2023
Take Weekly Tests on app for exam prep and compete with others. Download Current Affairs and GK app
एग्जाम की तैयारी के लिए ऐप पर वीकली टेस्ट लें और दूसरों के साथ प्रतिस्पर्धा करें। डाउनलोड करें करेंट अफेयर्स ऐप
Android
IOS